Friendship with women is different from that with men. Personally I find it easier to navigate around a larger group of male friends because we're different from each other. With women, we share similar fears and insecurities, which becomes a reflection of our inner demons that we may not necessarily want to be reminded of. But once in a while, we transcend our fear and anxiety. Out of the many casual friendships we form with women, one or two would burst forth like a butterfly out of its cocoon, into the realms of sisterhood in which we share a higher level of understanding through similar life experiences and trauma bonding. Upon reaching that level, we can support each other wholeheartedly without the presence of envy nor judgment. We shower praises on our sisters sincerely without expecting anything in return, and we love them enough to call out their unwise decisions.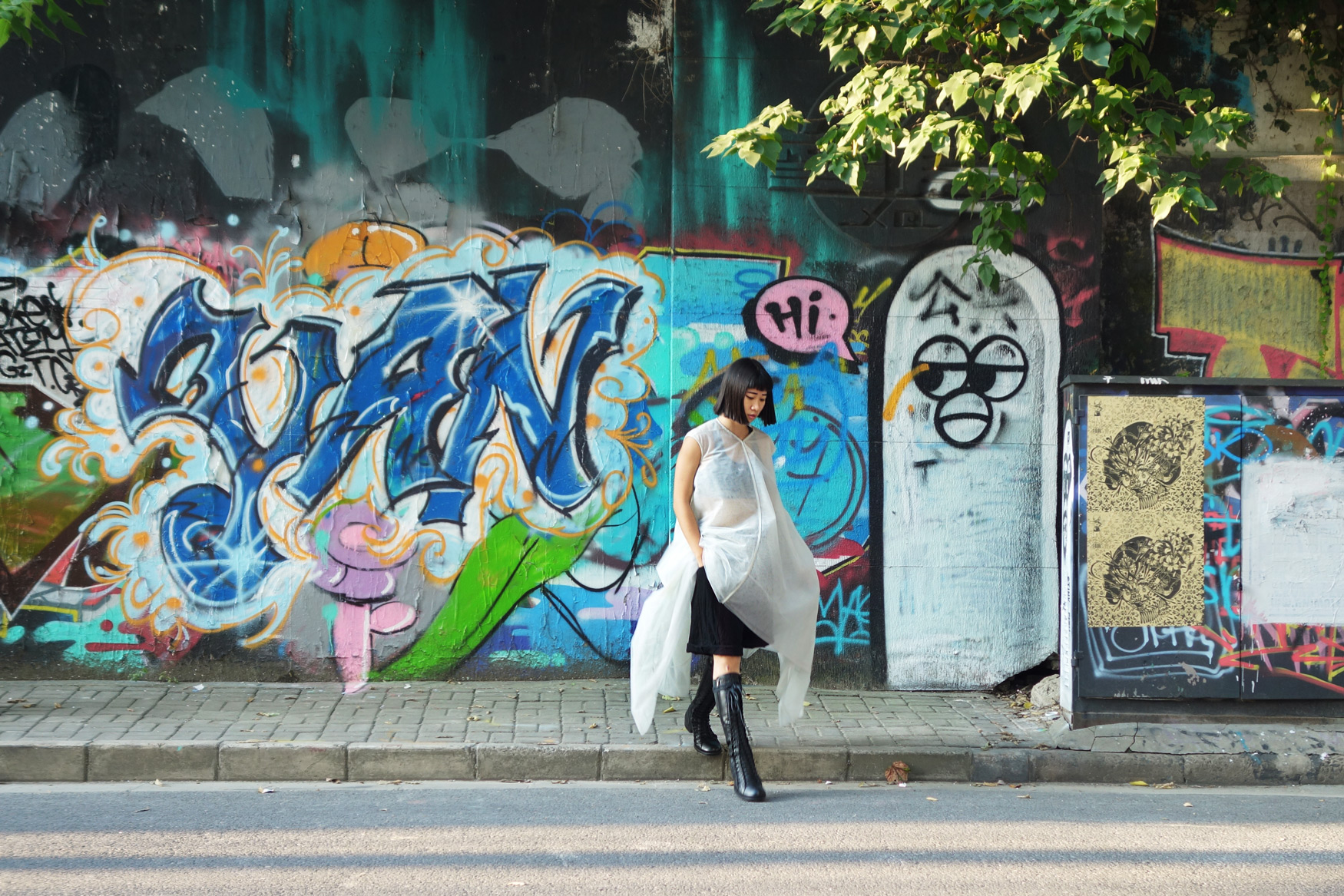 "THE SS16 SHOW WAS ABOUT "NOURISHMENT, SISTERHOOD, MOTHERHOOD AND REGENERATION", ADDS OWENS. "WOMEN RAISING WOMEN, WOMEN BECOMING WOMEN, AND WOMEN SUPPORTING WOMEN." HIS MODELS WERE NOT CAST, AS CONVENTION DICTATES, FROM AGENCIES, BUT FROM DIFFERENT PARIS GYMNASTIC GROUPS. "I DON'T LIKE TO SHOW WOMEN UNDER STRAIN ON THE RUNWAY, BUT THESE WERE ATHLETES USED TO WORKING WITH THEIR BODIES, AND I LIKED THE IDEA OF SHOWING THAT POWER."

Rick Owens / Dazed
We know what Rick Owens looks like. Sculpted torso, long straight hair, chiseled face, the epitome of primal masculinity. Hidden beneath this severe exterior lies a soft-spoken demeanour and gentle outlook that have shaped his direction for womenswear. Here is a designer who put women on pedestals, giving them the due respect many other designers, especially ones who are far removed from the realities of women and their daily lives, fail to acknowledge.
I was hesitant about showing women under strain, but we show women as sugared dolls enough. Women can also be athletes that go to another physical level to achieve an aesthetic ideal. And these women did that with a powerful serenity, which is something we can all hope for in ourselves.

Rick Owens / New York Times
Rick Owens is a designer whose idea in beauty does not lie in frou frou, who can see that women are not just pretty things strutting to the next champagne brunch and dinner parties. In the last couple of years, his womenswear have become much more functional. Gone are the needle-thin heels and impractical floor-length gowns. Instead they have been replaced with shoes women can run around in, and clothes that allow for natural movements. He understood that women of the 21st Century no longer dawdle. The powerful women who wear Rick have things to do, places to be, sisters to support, people to love, and butts to kick if necessary.
"IF I HAD BEEN THINKING ABOUT WHAT WAS POLITICALLY CORRECT, I WOULD HAVE LEFT IT ALONE. I WASN'T PRESENTING BLACK WOMEN AS NAOMI CAMPBELL. THEY WEREN'T GLAMAZONS. I WAS PRESENTING THEM AS TOUGH AND STRONG. THEY WEREN'T WEARING BEAUTIFUL MAKE-UP. THEY WEREN'T WEARING PRETTY THINGS. THEY WERE WEARING ATHLETIC CLOTHES, EVEN AGGRESSIVE ONES. YOU KNOW MY THING ABOUT MINISKIRTS. I HATE MINISKIRTS, THAT THING WHERE YOU HAVE TO CROSS YOUR LEGS WHEREVER YOU ARE WHEN YOU WEAR THEM. YOU'RE IN THIS SUPER-HIGH MINISKIRT AND HIGH, HIGH HEELS AND YOU'RE TOTTERING ALONG ON COBBLESTONES IN PARIS… I MEAN, WHY NOT JUST PUT RESTRAINTS ON THE GIRLS AND THEN BLINDFOLD THEM?"

– Rick Owens / Another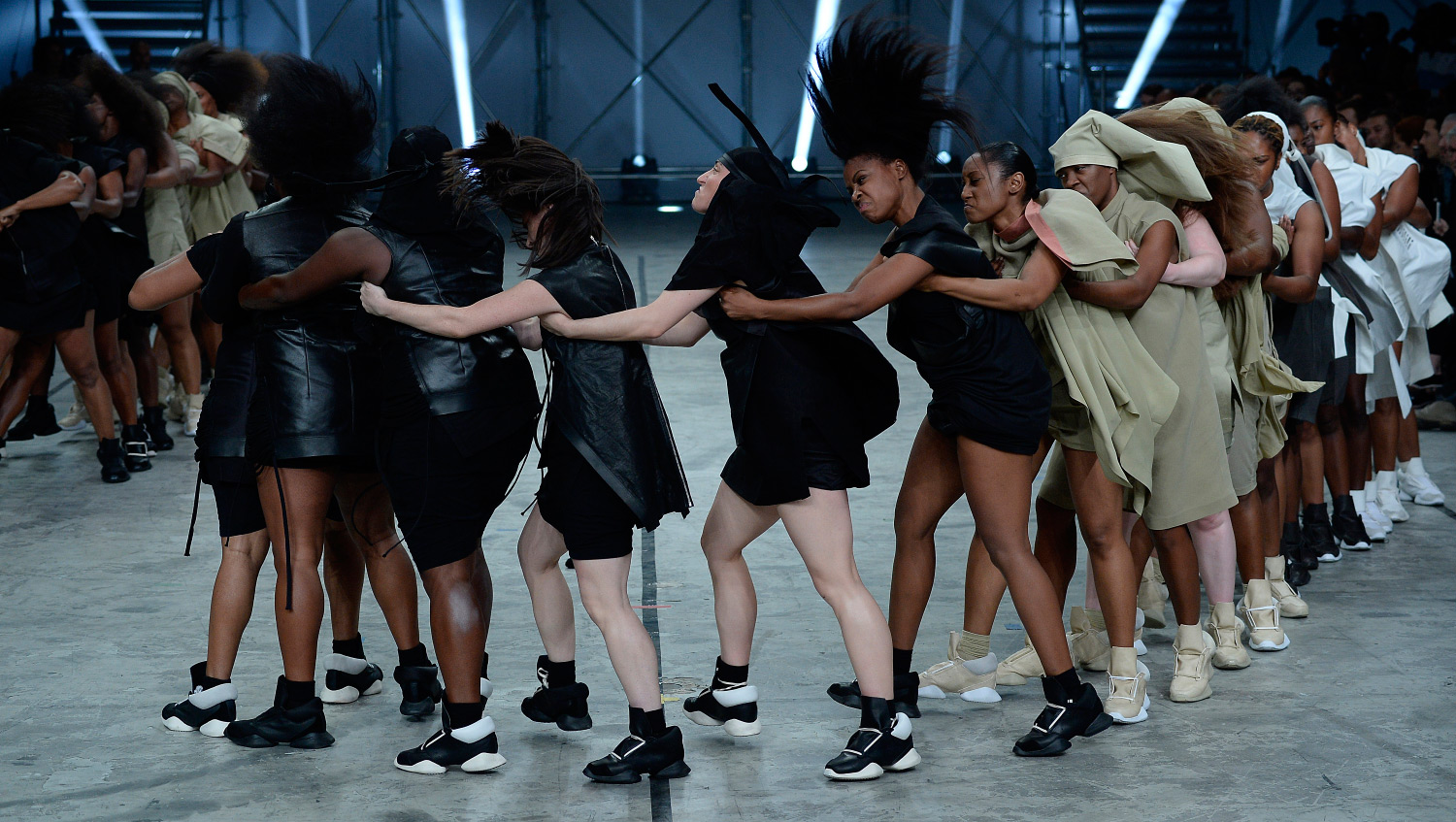 Granted he does not do pussyfooting, preferring to be direct, loud and controversial when addressing social issues. In light of this, he has stepped on some delicate toes in the past, especially those who don't seem to understand where he's coming from. He plays between severity and compassion, with an austere vision that may grate on soft sensibilities, but ultimately, he meant well. And he's unafraid to be politically incorrect so that we as the audience would jump on the discourse while coming to terms with growing pains.
It is with this high regards for women's bond with each other, stronger than the most Brutalist concrete furniture, that Rick Owens's legacy endures.