"Should I get it, or should I not?"
That's the question that I often found myself grappling with. It's certainly nothing new for most of us who have an interest in fashion.
The item in question was a The North Face (henceforth known as TNF) Summit L5 jacket. The person that I was two years ago would not give it a second look, let alone give it a long ponder, many umm and ahhs. The person I was two years ago was still deeply entrenched in the simple sportswear and intricate designer pieces. I know nothing about synthetic fabrics other than polyester a la Comme des Garçons and pleated Pleats Please. I kept myself warm in winter by wearing three to four layers of clothing – they weighed me down and tire me out within the first hour of leaving my house. If it started pouring – a frequent occurrence in Shanghai – I did not own anything in my wardrobe that let me go out without an umbrella.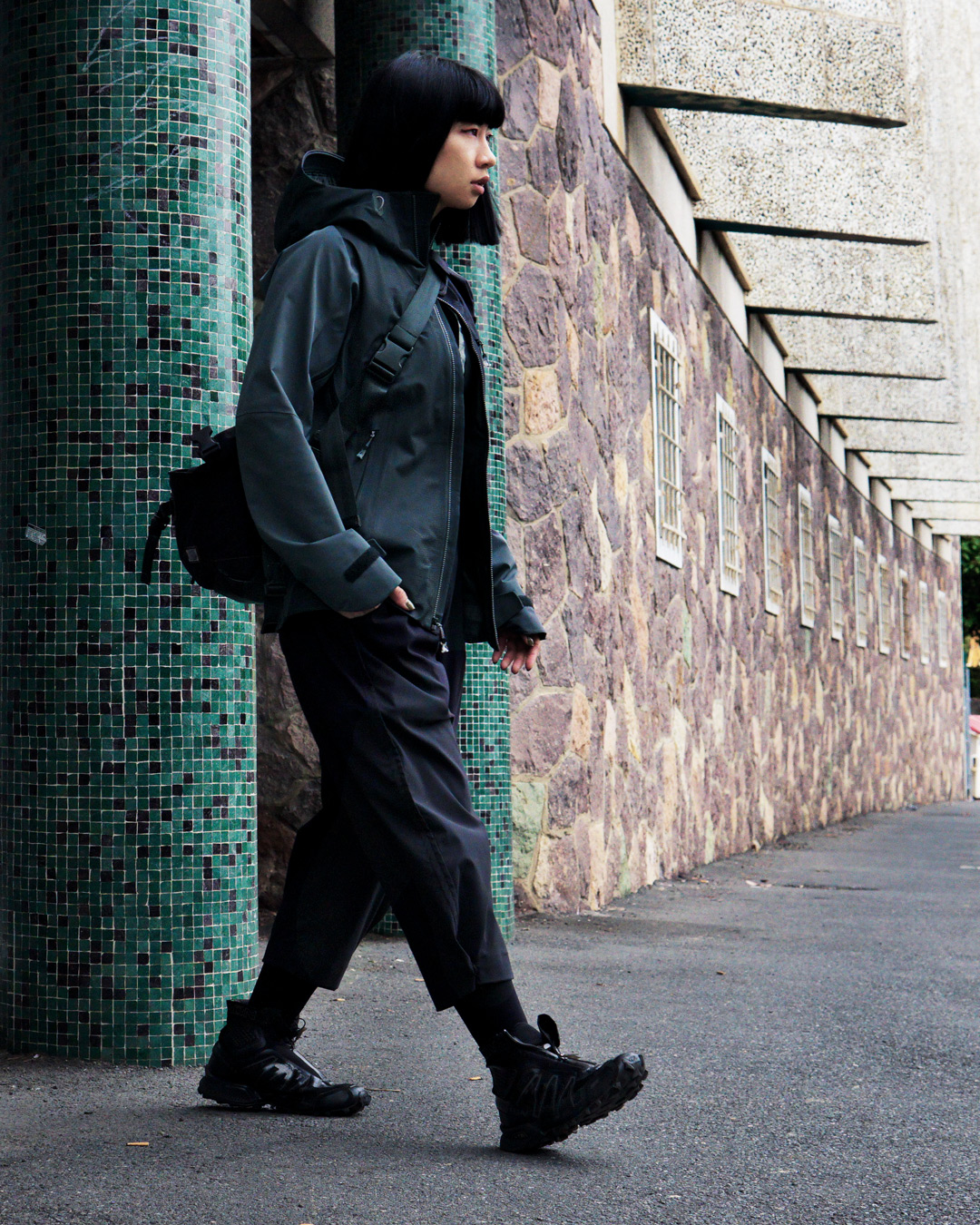 Wearing: The North Face Summit L5 Jacket; ROSEN-X Minerva trousers; Salomon shoes
I first saw this jacket at a TNF outlet store in Gold Coast. I'm not quite a fan of brick and mortar shopping as I have been truly spoilt by the Internet, but outlet shopping still holds the magic of bargain hunting. My first memory of outlet shopping was in Bicester Village in Oxfordshire, known for their list of luxury brands. The year was 2010. I had scored immensely beautiful Burberry Prorsum runway coats at 70% off – from their best season too. And just like that a pleasant memory had imprinted a positive association towards outlet stores inside my head. Conversely, it is quite likely that if a terrible experience had transpired instead – like losing my passport – it would have turned me off outlet malls in a subconscious way.
It was my partner who first brought up the existence of this specific jacket and suggested that we should look for it. He admired the built quality of the garment. I trust his expertise in the field of technical clothing. But a brand's quality of production does not necessarily kindle excitement within a consumer. For example, I know that Zegna makes good suits and fabrics, but I don't get excited thinking about the brand. On the other hand, TNF has been collaborating with my favourite designers such as Junya Watanabe and Sacai – and the collections were done rather well, though the branding could be less blatant. The positive association towards TNF has thus been strengthened, so I entered the store with much enthusiasm.
The person I was one year ago was a little less ignorant about synthetics because I had tried to make clothes with them. I had a more in-depth understanding of their intended use, benefits and array of differences in various materials, and with that understanding comes a greater appreciation. Armed with that appreciation, I took the TNF jacket in my hands. I could feel its substantial built, it's armour-like tactility that does not correspond to how light its weight is, and the matte texture that was neither rough nor plasticky, as if it's been coated with very fine powder that feels good when brushed against the skin.
"Uh oh, I think I like it. What do I do?"
This TNF jacket is part of the Summit range – built for extreme weather conditions for the most prolific athletes who dare to conquer the highest peaks of the Earth. I may have been a competitive athlete in my younger years, now a religious gym goer and the casual rock climber, but none of those would qualify me as an avid mountain climber. I have done plenty of hiking, but not the sort that involves ice-picks, snow and treacherous weather conditions. For an urban dweller such as myself, most of the breadth and depth of the technical qualities of this jacket would be lost on me. This jacket is made of Gore-Tex 3-Layer membrane; absolutely waterproof yet breathable; hardy in abrasion-prone areas, but still soft and lightweight. It is meant to protect the wearer from constant pouring rain and snow in sub-zero temperature.
"But I am neither a mountain climber, nor a frequent hiker. I'm sure it will work well in the cities that I live in, but does that warrant a purchase?"
Heidegger postulated that we are products of the time, place, and culture within which one is born, lives, and dies. If he were alive right now next to me he would be telling me that wanting this jacket is a culmination of external forces such as commercial interests and positive reinforcements of my experiences and those of the person(s) whose judgments I value influencing my decision making process. I am adrift, floating as part of the herd; being inauthentic. On the other hand Sartre might argue back to him that my personal experiences have shaped me into the person I am and I have internalised them to become a part of my identity, therefore I may possibly be trying to be authentic. As my internal dialogue carried on I tenderly put the jacket back on the rack.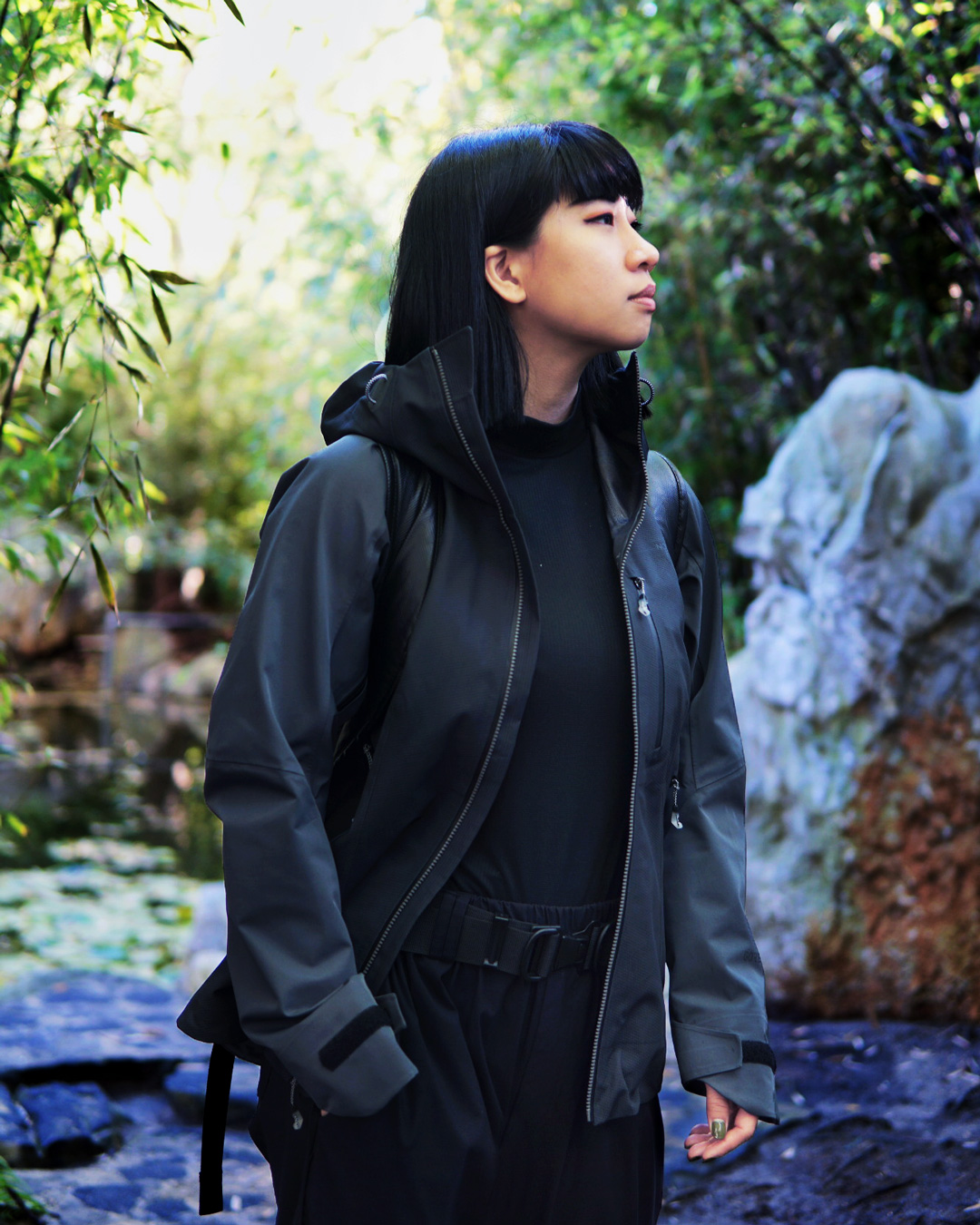 "I'm pretty sure I should get it. I don't own anything as practical as that. No doubt I wouldn't be hiking the Everest any time soon, but it would be a useful jacket as the weather gets cooler, protecting me from rain so I don't have to carry an umbrella, which means my hands will be free to carry more bags."
The mental gymnastics that I did to justify my purchase was a familiar process, but luckily one that I have not done too often these days. I have concluded that my decision buying process when it comes to clothing is part of an attempt to craft an identity; one that is built on personal background, lived-in environments, and secret fantasies. This intangible value is carefully weighed alongside its practical functions and built quality of the garment. At the end of the day though, I am a consumer. I consume. I am no saint in this Capitalist system that I partake in.
Three months later I found myself going back to the store, twice more, before I finally turned my nose up at Heidegger, and carried the wonderful jacket to the cashier.