When we talk about ethical fashion brands, Issey Miyake is usually not the first name mentioned. The brand does not boast about its sustainability efforts, nor its advanced textile production to make everyday clothes that are long-lasting and holistically egalitarian. In this day and age where companies are trying to outdo each other in scoring brownie points, brands like Issey Miyake who remain humble and prefer to let their work speak for itself often fly under the radar.
In this essay I would like to feature the various lines that Issey Miyake has produced. While the man himself has retired from fashion since 1999, he has put in place a team who continues to uphold his long-term vision of making clothes that remain optimistic about the future – serving every person no matter their background – with aspects of modernity and practicality.
In 1968, Miyake witnessed student protests that broke out in Paris. He observed the ubiquity of t-shirts and jeans that the students were wearing as they marched across the city. It became one of his major source of inspirations that materialised two decades later.
Miyake spent the first decade of his career – from 70s to 80s – working with natural textiles such as wools and linens. When the 80s rolled over, he started dabbling in synthetics. Being a forward-looking designer, he wanted to use modern technology to preserve craftsmanships that were on the verge of disappearing.
In the late 80s, Miyake was commissioned to produce outfits for the production The Loss of Small Detail for the Frankfurt Ballet. He chose to create lightweight outfits with pleating methods which would mould and move with the wearer. In contrast to the conventional method of making garments out of pre-pleated fabrics, his garments were cut and sewn first before undergoing pleating treatment. And unlike Fortuny's famous pleated silk gown, his pleats were permanent and therefore need not be sent back for re-pleating. With this newfound technology in pleating, he had modernised the mass production of this quixotic fabric treatment.
Between 1988 and 1993, Issey Miyake continued to work on this new pleating method, with many glorious, architectural iterations appearing on the runway. They were an explosion of gravity-defying, joyous celebrations of fashion that liberated women from the constraints of Western beauty ideals and promised freedom of movement for the wearer. He combined the airiness of the lightweight fabric and the stiffness derived from its pleated texture with innovative pattern-making to create garments that metamorphosed from two-dimensional flat shapes into living, breathing sculptures on the body.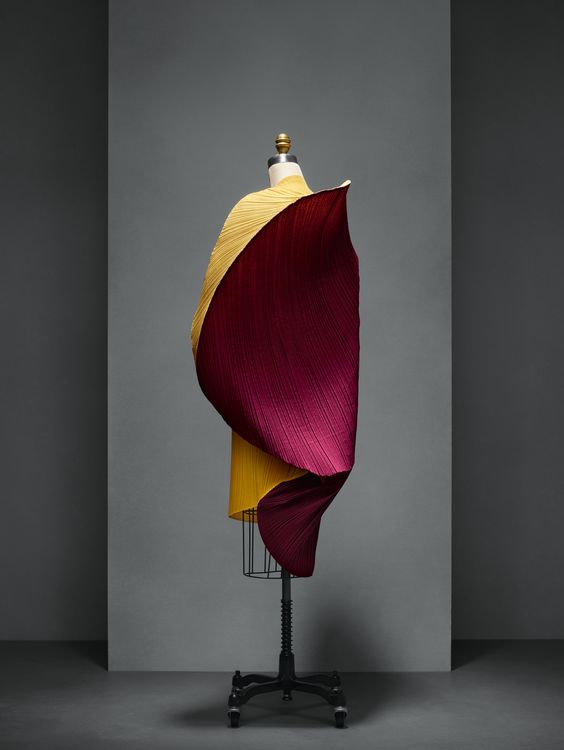 Having taken a few years to perfect his experiments, Issey Miyake was finally ready to launch his new vision for the modern woman. In 1993, the line Pleats Please Issey Miyake was born. The label offers clothing as lightweight, fuss-free and practical solutions for everyday wear.
"A quarter century after witnessing the May 1968 protests in Paris, Miyake had accomplished his goal by creating clothing as universal as "jeans and T-shirts" which suited both the times and the needs of women, everywhere."
There is almost zero information on this particular line, yet the second hand pieces are often found in the second hand market. Despite Wikipedia claiming that Fête is a "colorful women's line that 'draws on the technological innovations of Pleats Please'", there are quite a number of non-pleated garments that were manufactured under this label. This diffusion line is no longer produced.
Permanente
By 1985, Issey Miyake had been making clothes for 15 years. He decided to introduce a line that reproduces his classic silhouettes and fabrics, many of which were made in natural fabrics that were developed in-house. Judging by the lack of current designs that were made for this diffusion line, its continuity to this day remains unclear.
HaaT is a semi-independent diffusion line with its own standalone stores that amplifies Issey Miyake's focus on fabrics. The textiles are a product of Japanese attention to quality and intricacies of Indian craftsmanship.
Known as Issey Miyake Cauliflower outside of Japan, this diffusion line is an off-shoot of the Pleats Please line. Every garment is made in one size in highly stretchy materials. Its most commonly made item is the printed shirt, either short or long-sleeved, with micro three-dimensional square pattern.
This is Issey Miyake's main accessories line typified by the tile patterns. Over the years, the bag designs have diversified from simple totes to sporty duffels and crossbody bags to appeal to the mens market. The tiles also come in many different treatments, from the classic gloss to iridescent and now matte black.
While Issey Miyake's pleated garments have been around since the 90s, they weren't cut for masculine bodily proportions until Homme Plissé was launched in 2013. Just like Pleats Please, Homme Plissé was designed as fuss-free garments that are wrinkle-resistant, lightweight and compact.
There are several major differences between Homme Plissé and Pleats Please. The techno fabrics are thicker and the pleats wider. It feels like a combination of spongy cotton polyester and microsuede. As a result, Homme Plissé garments are more structured and less fitted on the body. The sculptural pieces are also more angular, compared to the rounded shapes of Pleats Please. Beyond the differences in silhouettes and fabric texture, this diffusion line embodies the overarching spirit of Issey Miyake, that is to create clothing that promises freedom of movement for the wearer.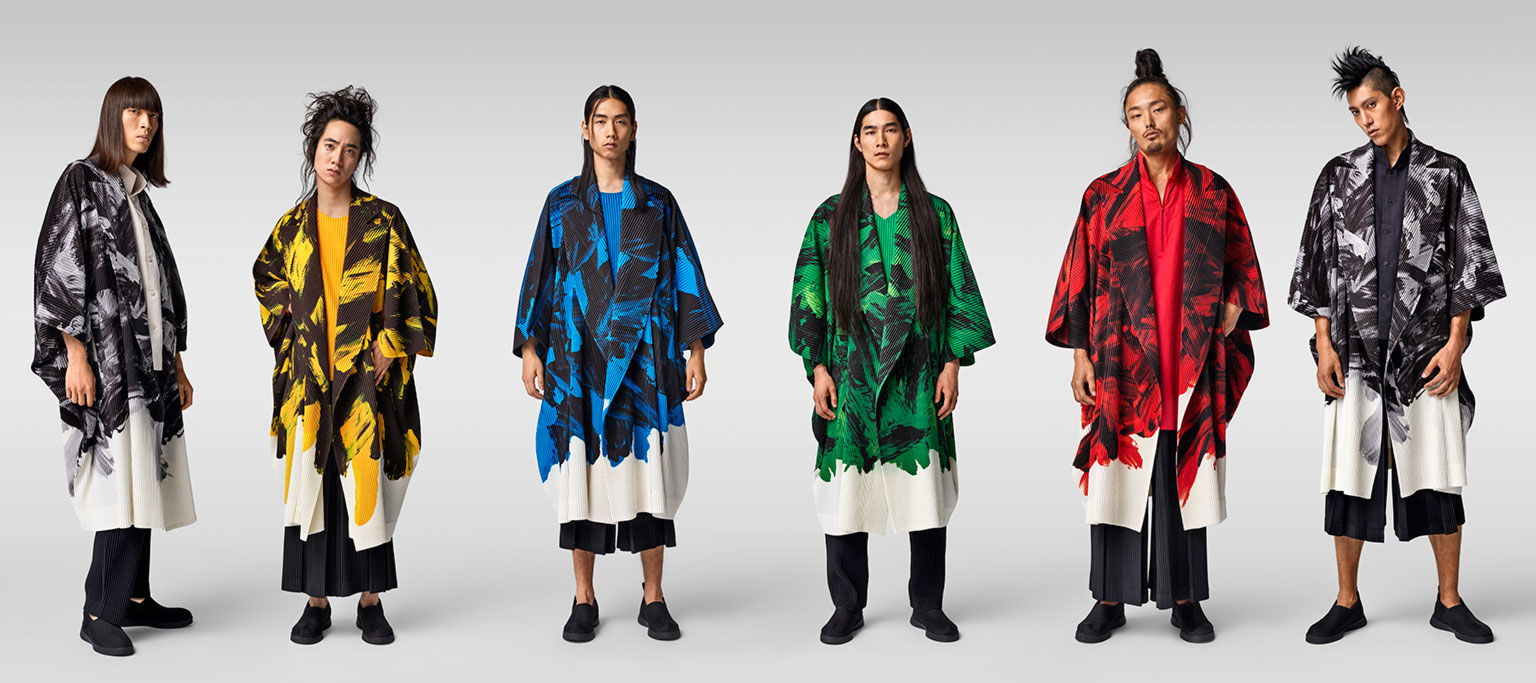 Established in 2010, this is the most technologically-advanced diffusion line to date. The designs for 132.5 Issey Miyake are conceived with the use of mathematical calculations so the garments can be folded flat like origami. When put on the body, the garments take on structured architectural shape, creating space between the fabric and the wearer. It is also worth noting that the base fabrics are made from recycled polyester.
All the diffusion lines that focus on modern textile innovations and productions (Homme Plissé, 132.5 Issey Miyake, Bao Bao etc) are the brainchild of Miyake's Reality Lab, which also happens to be the name of one of the stores in Tokyo.

Unlike most other luxury brands, Issey Miyake – and his team – have been steadfastly loyal to his vision and mission, that is to make clothing that is functional, comfortable and technologically-driven. I have the utmost level of respect for them for investing their capital in research and development to further improve clothing design for the modern consumers, rather than spending millions of dollars on marketing and PR in convincing consumers to desire overhyped logo-laden generic goods.
In my utopia, a brand's market share should correlate to the aesthetics and utilitarian values it provides to the consumers, hence Issey Miyake would take up one of the top few spots. Alas, our social media driven popularity contest puts his works nowhere near where it should be. One can only hope that future generations will remember the legacy of Issey Miyake – one of the rare few designers whose integrity should be emulated by the industry.