As always, I found myself writing an essay on the train. This time I was making my way to the Northern part of the country, on a quest to seek out one of my shifus (loosely translated: masters), a catch-all title for a vocational worker with years of experience and high proficiency in their fields. She lives in a newly-developed town that has yet to build its own high-speed rail station. On top of a five-and-a-half-hour train journey from Shanghai, I had to get on a ninety-minute drive to get to the town she lives in. It felt like going on a pilgrimage.
Fortunately I do enjoy taking the high-speed rail. The ride is always smooth and comfortable, the sceneries fascinating. There is much to observe in this country. Green farmlands stretched for miles. Low hills are dotted with wind turbines. I first visited China over twenty years ago. Getting around cities required long bus trips or crowding in airports. Public toilets were unsanitary and inconvenient. It felt like I was going back in time. I hated it. Fast forward to today, I can zip through the country at 300km/h in a climate-controlled environment. Allowing people to move across vast distances at an affordable cost in a short time opens up opportunities; opportunities give rise to hope. It makes me sad that my own home country has barely developed at a tenth of the pace despite only having a quarter of China's population. Coming from a relatively poor country, I do not take societal progress for granted.
The shifu I was meeting is in charge of some of my most complex designs. We have been working together for three years but we have never met in person. She is a highly-skilled pattern-maker and garment technician who never shies away from any of my torturous requests. Not everyone is willing to work on my designs due to their time-consuming and mentally-challenging complications. I feel fortunate to have found her.
She and a few others are the reasons why a small player like me is able to do what I do, ie. get my brands off the ground with a modest amount of financial outlay. As the domestic garment manufacturing sector embraces high value-low volume business model, experienced workers leave large-scale manufacturers to take on their own clients. The workload is not necessarily reduced, but they have autonomy in accepting or rejecting business.
It goes without saying that to produce on a minute scale multiplies the cost of goods by many folds, but when you can do a piece at a time, it reduces the cost of initial outlay per design by hundreds or even thousands of dollars. However, what one saves in financial costs has to be made up for in mental investment, from merchandising, quality control to logistics and everything in between.
Each time after releasing a collection, I get the itch to work on something new in an increasing level of complexity. The period for contentment after every release lasts a couple of weeks, a month tops. I enjoy the process of design, from colour matching to sketching to solving technical issues and seeing all our fruits of labour come to life in the form of three-dimensional garments. It is my addiction.
I also bite more than I can chew. That is why each collection is taking longer to finish than the last. I am now working on solving this operational issue with a business expansion which will see the addition of technicians and sewers to my team.
2021 saw the launch of ROSEN-X IV that introduced new signature pieces – to an overwhelmingly positive response. I felt grateful to everyone who had contributed to the birth of ROSEN-X's revolution. We also launched a project named Bazaar which sold out almost immediately upon its release. I was not expecting this level of response but it was an encouraging sign amidst the proliferation of mundane branded offerings from luxury brands.
Not too long after the launch of ROSEN-X IV, the itch to create kicked in. I started working on new designs for ROSEN 2022 about two weeks after. They proved to be much more difficult than I had imagined, so much so that eight months later, even after shooting the new collection I decided to rush to my shifu to fix certain details to make it in time for the launch.
Which was why I find myself on a long journey to meet this woman in person.
Much of the magic of beautiful garments lies in their hidden details. What we see on the surface, ie. fabrics and linings, are only the skins of a garment. Interfacing, interlining and paddings are crucial invisible components that add the meat and bones in between the skins, essentially breathing life into an otherwise limp and hollow epidermis. The types of threads and the way they are stitched are the collagen that controls the tautness of the skin. A well-rounded shifu – with specialisation in technical craftsmanship – is able and willing to do the tedious R&D to determine which invisible component will best complement the face fabrics in order to shape the garment. The more delicate the material, the harder it is to work with, especially if the goal is to create a carapace out of flimsy fabrics. It requires a certain tastefulness that takes years to develop, which is why a skilled technician charges top money for their service.
Five and a half hours later, I got off the train and ordered a car for the second leg of the journey. The arrival of Didi – China's ride-hailing app that had conquered Uber domestically – made transportation much more convenient and safe. I remember the days in which once in a while I had to haggle with cab drivers over the fare when they refused to use the meter, if I could get hold of them in the middle of the night to begin with. Stories of people being swindled were common – my clueless younger brother was a victim. For many people in China, life can still be incredibly difficult and money not easy to come by, so a few bad apples resort to underhanded means to earn an extra income. The tech giant has swooped in and created a safe environment for consumers so they know exactly how much to pay before getting in the car, and also prevent unscrupulous drivers from taking advantage of consumers. While Didi drivers do complain of certain rules that inconvenienced them, on the whole the platform fosters trust between driver and rider. For what it's worth, Didi drivers are also on the younger side, more technology-savvy and less bitter than the typical taxi drivers – who seemed to view their profession as the last option on the menu.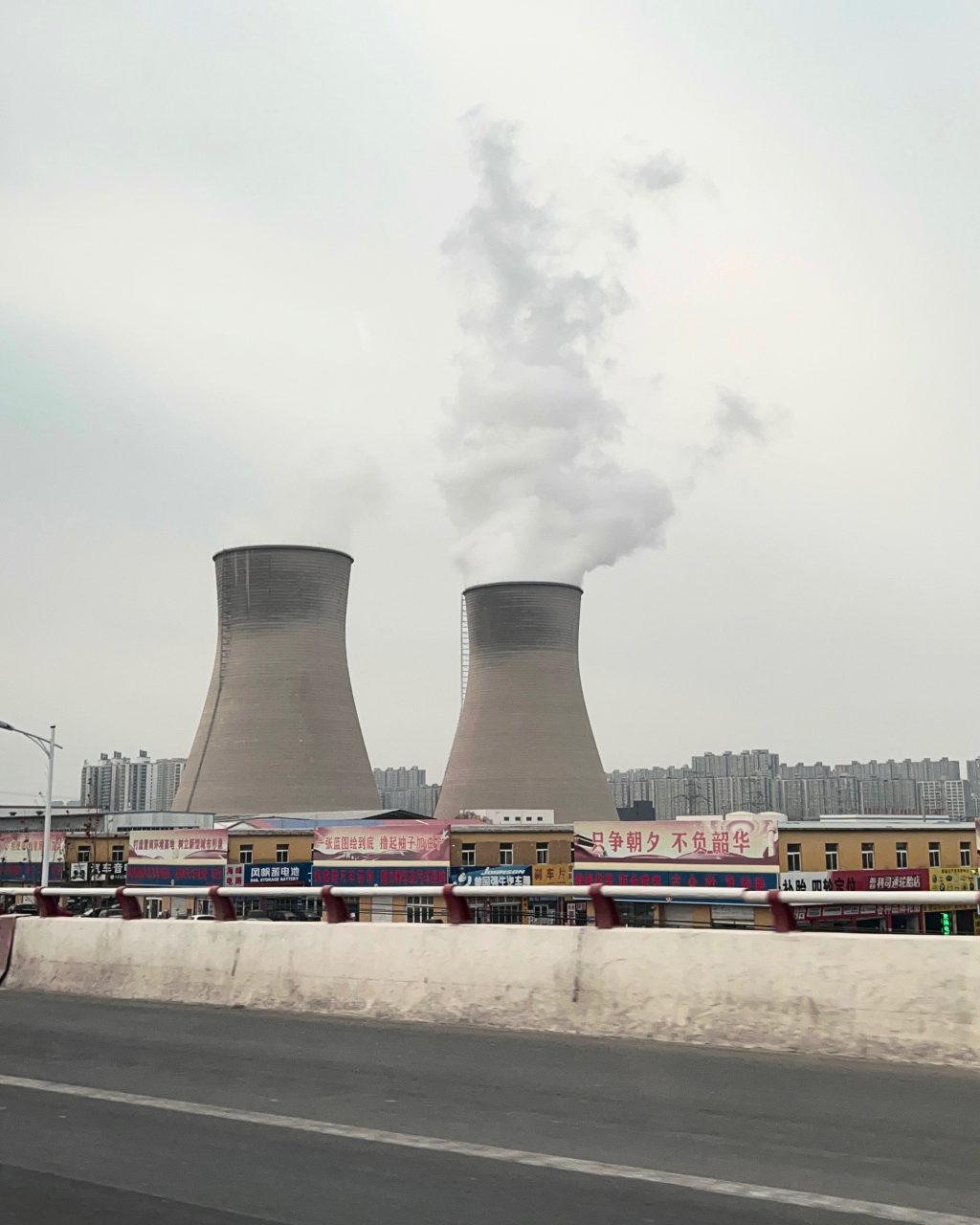 The journey took me on winding multi-lane highways and sparsely inhabited countryside, and brought me up close to the giant sloping cones of a coal power plant, a surreal sight not often seen where I live. The rural heartlands of Hebei province bear some resemblance to the China of the 80s and 90s when agriculture and heavy manufacturing reigned.
Roughly ninety minutes later, the car entered a small city that typifies the post-2000 Chinese suburb. Malls advertising familiar names and high-rise apartment complex flanked the roads. It was not the most interesting place I had ever been to, but it looked liveable for work and study.
At about 4 PM I finally arrived at my destination and was welcomed warmly. I would probably be considered rather brusque for diving straight into work as soon as I put down my bags. Having started my day at five I was not in the capacity to waste time on small talks. She invited me for dinner (which I did not refuse out of customary courtesy), and then insisted that I stay at her place for the night, which I had to decline as I had booked my own accommodation, but she would not hear of it. I was aware that Northerners tend to be more direct and earnest yet I was not ready to see it being put in practice. We discussed our individual works and the rumblings of the industry. She came from the manufacturing sector while I was from the front-facing side of fashion. We swapped anecdotes and experiences.
To develop a sustainable fashion business, one must build a strong and reliable network between suppliers, manufacturers and the design company. Those who work in large companies can easily access an establtished network. The next option would be to go to the right schools with adequate support system. Some of us who do not have that access would have to start from the ground up and build our own relationships. Not every city or country is conducive for nimble, small-scale garment manufacturing, which is why fashion is not an industry I would advice anyone to jump into without much research.
The next morning as I was leaving shifu's home, I bid her farewell and thanked her profusely for her hospitality. The overnight trip may have been long and complex, but it has lifted a huge weight off my shoulders, leaving room for hope and guarded optimism to tackle other work issues waiting for me back home. Snow started falling gently. I had not seen snow for two years.
I'll take that as an auspicious start to the year.