As fashion is becoming more fashionable, especially through the rise of visually-driven materialistic social media, people are increasingly interested in becoming famous fashion designers, preferably building one's own label. Luxury fashion presents a glamorous façade that makes the industry so appealing as it promises wealth and fame – the two things that grant people the illusion of respect and adoration from strangers who would otherwise not pay attention to them.
Having seen the rise of this desire to join the fashion industry, I wanted to highlight certain issues that should be highly considered for aspiring fashion enthusiasts, whether one is starting to build a career or is thinking of changing a career path.
Fashion – Dreams vs Reality
When all the glamour and beauty and hype are stripped away, fashion is but an industry that operates within the system of a hyper-consumerist society. Numbers matter, and in order to generate the kind of numbers that sustains a business – its long-term profitability and scalability, the salaries of all the employees in the company, manufacturing and material costs involved, so on and so forth, creativity has to be balanced with practicality. Depending on the tier of fashion that a brand operates in, fashion should aspire to weave dreams into the tapestry of worn objects while providing solutions to human needs. Unfortunately in today's industry landscape, it is also used to push branded wares that are not proportionate to their manufacturing costs in order to support the cost of creating dreams. That is why Chanel aggressively advertises its high-margin cosmetics, perfume, and leather goods in order to fund its couture production that perpetuates its status as a fantasy maker.
For younger brands, overt visual branding matters less than a unique, coherent vision that the audience can remember you by, in addition to ethical and practical business operations while connecting with customers by making products that enrich the quality of their lives. Without a vision, customers cannot differentiate you from other brands, and you will not gain the top of mind brand recall whenever they are seeking solutions to their garment-related needs.*
Before getting carried away with hopes and fantasies, it is important to ask what your strengths and weaknesses are, and most importantly, whether you are willing to toil on unglamorous work in order to deliver a sliver of sartorial fantasy to the audience.
*There are cases in which brands can overcome their lack of unique selling point, and that is to pay for heavy advertising and continuous collaborations with established brands. Not only does it raise brand awareness, but it also creates a mere-exposure effect.**
**A psychological effect in which repeated exposure to a stimulus leads to a positive perception on said stimulus as the perceiver grows familiar with it.
Where Should One Begin?
Fashion Design is Not The Only Profession
Education and training are almost always the surest path to a career, fashion included. Within the entire fashion industry, there are many professions to consider which offer alternatives to actual design work, with accreditations and skills that you can pick up in your career progression.
Examples of these important roles are patternmakers, garment technologists, sample machinists, textile engineers, textile designers etc. These professions are very much sought after by design houses, large and small fashion brands, as well as factories of all sizes. A good pattern-maker is valuable to all companies, and will have better career stability than fashion designers, even if they are never in the limelight. The more analytical and capable you are in solving practical issues, the better suited you will be for these roles. With enough time and experience, you can open your own consultancy or workshop to advise design houses on product development and manufacturing, a service that is constantly in demand by design companies.
Other equally important supporting roles that rely on one's hands and eye for beauty are artisans for couture, design houses and factories, such as embroiderers, pleaters, leather workers and shoemakers. Luxury ateliers employ tailors, cutters, seamstresses and other technicians with valuable skillsets to bring the visions of creative directors to life. In couture houses, many petites mains ('little hands') work for decades in a single company while watching their creative directors come and go.
Fashion Design vs Fashion Entrepreneurship
When we talk about being fashion designers, most of us are probably thinking of building our own brands. For the sake of clarity, we will define the difference between a fashion designer and a less-known title fashion entrepreneur. A fashion designer designs clothes for their actual profession in a company regardless whether it is theirs. A fashion entrepreneur is someone who builds and runs a young fashion company but may or may not engage in the actual design work, so a fashion entrepreneur can also be a fashion designer in their own company. For example, Kim Jones is a fashion designer but not a fashion entrepreneur. Rick Owens is a fashion designer slash fashion entrepreneur-turned-businessman (as he has firmly established the presence of his company in the industry, thus he is no longer a greenhorn).
Fashion designers take on different roles in different companies. Some dictate the entire vision of their brand, some interpret the sketches of the creative director they work for. Nevertheless, this is a creatively-demanding job that requires the ability to juggle fantasy with reality.
Is It Necessary to Study Fashion Design?
The short answer is no. When we look at the lauded designers in the industry, not all who have made it have been through fashion school. However, many of them have had some art or design educational background, or some form of vocational training in garment-making. It leads one to believe that design education provides an important foundation in colours, proportions and aesthetics. To go back to the example of Rick Owens, he was an art school dropout who learned about pattern making in a trade school and on the factory floor. Rei Kawakubo studied the history of art. Raf Simons was trained in industrial design.
On the other hand, we should not dismiss the overwhelming number of fashion graduates at the helm of well-known fashion brands as of recent times. They include Craig Green, Simone Rocha, John Galliano, Phoebe Philo, Riccardo Tisci, Alessandro Michele. etc. And let us not forget the Antwerp Six. Yohji Yamamoto is one of Bunka's famous alumni, and so is Junya Watanabe.
If you would like to work for luxury fashion companies, evidence shows that you should aim to study in the best fashion schools around the world such as Central Saint Martins, Royal College of Art, Parsons, IFM (or École de la Chambre Syndicale de la Couture Parisien of which Issey Miyake is an alumni) which have established connections to luxury companies. Each of these schools do not simply accept students based on their ability, but also how their ideas fit into the overall culture that they want to instil in their graduates. That is not to say that it is impossible for students of less-known institutions to break through the ranks in the industry. One just have to be more persistent in knocking doors and grow a thick skin to deal with rejections.
Be prepared to work on unpaid internships for several years until you have proven to be an indispensable part of the company. Starting as a design assistant, you can work your way up to various positions in the design team and even Head of Studio/Atelier. Unfortunately at this day and age, there is no guarantee that you will end up being the creative director because the industry is now playing musical chairs by bringing in outsiders who have star power. Such is the reality that we live in right now. Luckily one can always set up one's own brand if necessary.
To join a design team in large, mass-market brands such as Nike, Salomon and Zara, you can apply for a (hopefully) paid internship, then work your way into a full time position. Going to a well-networked fashion school, or doing a product design major would help in getting your foot in the door.
To put it broadly, here are some pros and cons of doing a fashion design major.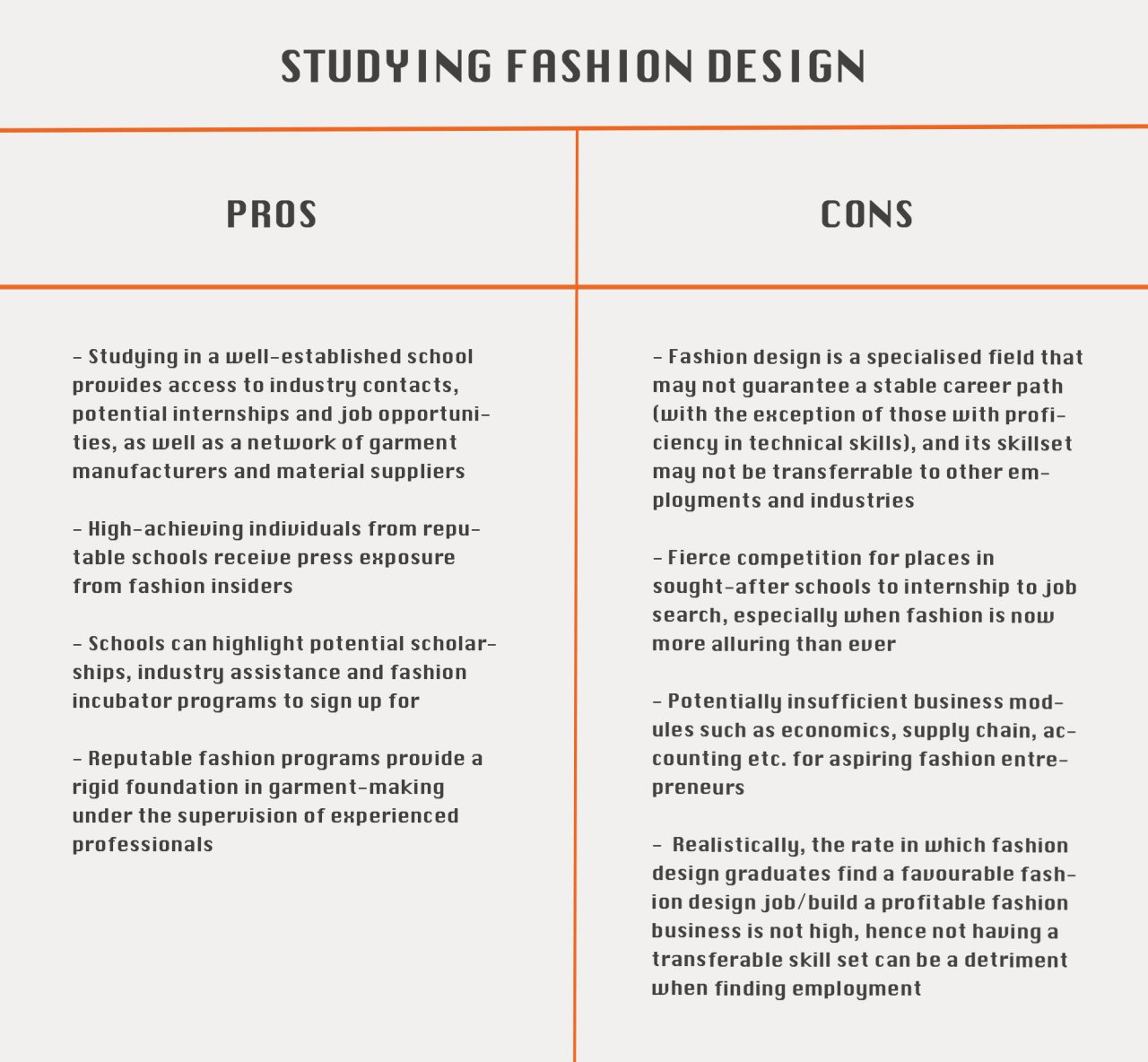 Beyond Education
You must cultivate your own point of view!
I would like to emphasise that going to a fashion or any art and design school does not guarantee having a refined taste in aesthetics. Good taste has to be cultivated and it does not happen overnight, nor by buying clothes once in a while from designers we like. It requires repeated exposure to fine art, architecture, couture, traditional clothing, and other finely designed objects across cultures and history, as well as films and music. Museums and documentaries are great learning sources. And from there we interpret the works of old to make them relevant for modernity, through one's perspective in life.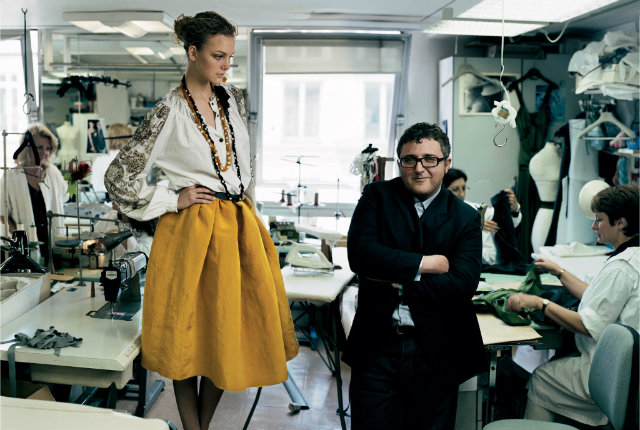 Use Google. Great. But dream and think afterwards, because Google is not the final collection. Google is just the beginning of the process of making your work.
Alber Elbaz, 2016
I firmly believe that it is important to understand the rules before one goes about breaking the rules. Another important rule in design is that it has to take into account human desires, needs, wants, fears, in order to solve problems and enrich people's lives, fashion included. That is why I personally think it's necessary to read history, science and philosophy on top of art and design materials, in order to create clothing that goes beyond hype. And this is only the starting point in clothing creation, without going into all the difficulties in building a brand from the ground up. 
Understand how a business is run!
It is important to remember that fashion is ultimately a commercial endeavour with balance sheets and financial statements to take care of.
The revered Alber Elbaz (1961-2021), in a speech given to Parsons students which I will paraphrase, stressed on the importance of designers needing to meet halfway with the marketers, merchandisers, wholesalers and other operational departments in the company. While independent brands do not need to produce 16 collections a year, the ultimate health of the brand is dependent on sound business strategy and practices. No matter how much fantasy we can weave in the form of packaging and presentation, if the actual substance does not meet the needs (both physical and psychological) of the target audience, the business will not be sustainable. In fashion, dreams can only be built upon reality.
Today, a lot of the CEOs around the world [..] They have a designer that on one hand said, "Oh I want to be inspired by Maharajah for winter, and I want white."

And they hear white, and their hair is getting white.

Alber Elbaz, 2016
In my experience being a fashion entrepreneur, the design work (gathering inspirations, sketching, petting fabric swatches, colour matching, etc) itself only takes up 10-15% of my time annually. The rest of the times are spent on:
Product development and testing
Logistics and supply chain management
Marketing
Accounting
Customer Service
Government bureaucracy and administrative responsibilities
Human resources
Project management
Editorial production and creative direction
Since every person only has 24 hours a day, it is not possible to carry out all creative and operational facets of the business singlehandedly. Many designers have business partners who take on those above mentioned tasks. As someone who is more business-oriented, I depend on my staff to take care of the technical operations***. Small design houses also outsource product development and sample making to consultancy firms and small workshops, before making full scale production in factories. 
So if you are thinking of being a fashion entrepreneur, you should be prepared to take on as many roles as possible. The less you take on, the more people you have to hire, which will increase your fixed costs. Some tasks can also be outsourced on a contractual basis, as long as they don't have to be under your direct control. 
***This is why I stress on the importance of technical roles in fashion. Without their contributions, fashion as we know it would not exist.
Location, Location, Location
While the internet has brought designers and producers closer together, there is a reason why fashion businesses are often located in specific regions of the world. Large scale factories are located in cities where low-labour cost is available, while the head offices of luxury and aspirational brands are located in prestigious cities for headhunting and marketing purposes. Depending on the tier of fashion segment one has built a business in, it is important to select a location served by efficient and timely logistical operations while juggling a reasonable labour cost. Personally I favour being close to cities that import or produce textiles.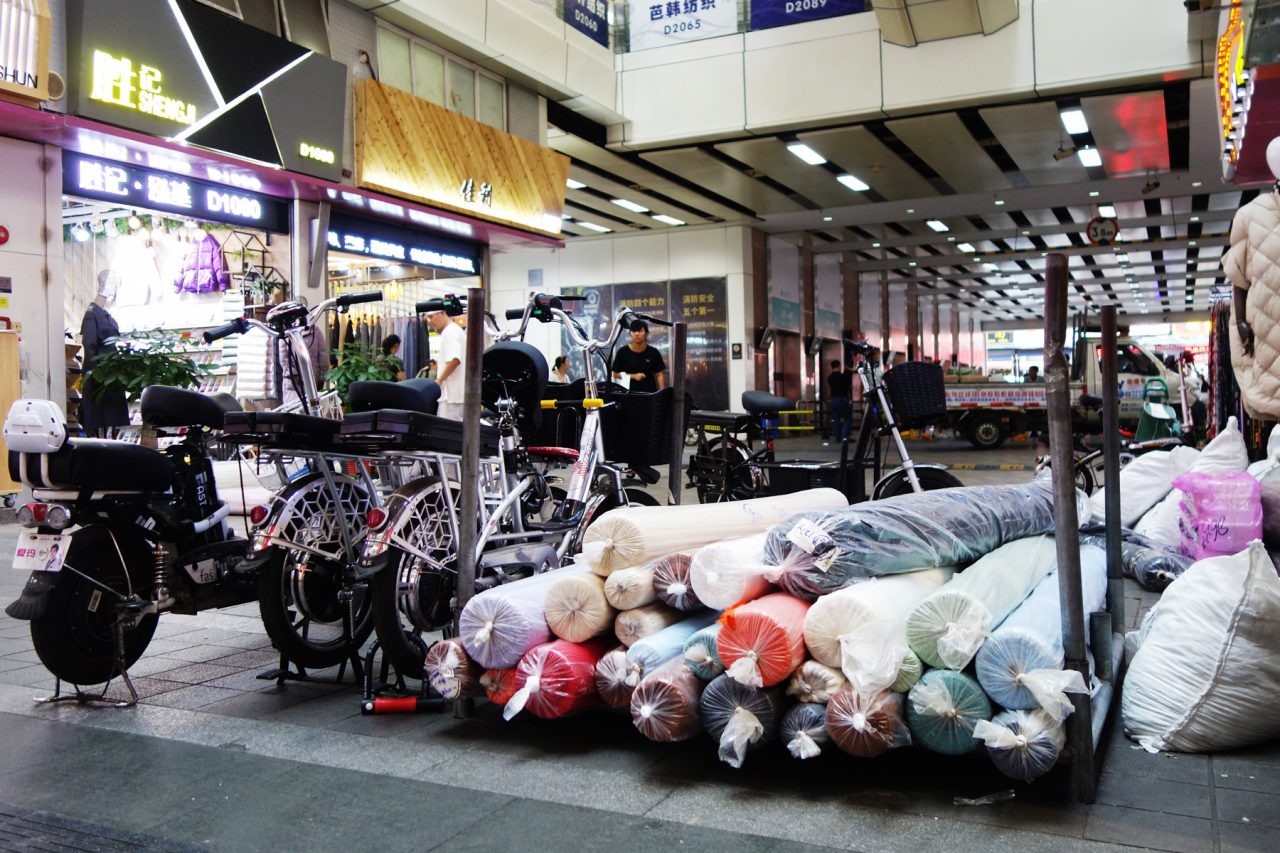 Communications Challenges and Overcoming Nepotism in The Industry
Fashion is one of the most fickle industry to break into – and to hold on to, and like many other industries, rife with nepotism. Connections matter tremendously. For outsiders who have no connections to the inner workings of the industry, one must work even harder to overcome the challenges of flying under the radar. This is why many brands who are not affiliated with various fashion organisations such as the British Fashion Council or CFDA have to invest heavily in marketing and PR campaigns that often outweigh the cost of labour and production. And for independent entrepreneurs with little budget to grease the PR machine, you have to begin from an even lower rung of the ladder.
Fortunately, we now live in a technologically-driven society that can assist industry outsiders to communicate directly to their target audience. One no longer needs to pay large sums of money to traditional gatekeepers for a sliver of attention. Unfortunately the cost of digital customer acquisition is also growing as the competition is getting fiercer everyday. This is a new challenge that requires creative business solutions.
In Conclusion
Knowing how the industry operates and understanding its unspoken rules would give one the ammunition to tackle challenges that stand in the way of ambitions. With that said, fashion is an industry that employs millions of people in many roles. Fashion design is only a minor part of what makes the industry so enticing to the general population.
Before embarking on an expensive investment in education or changing careers, it is important to consider all the potential avenues within the industry and/or business requirements to build a brand from the ground up, and ask yourself which role is most suitable for your own strength and weaknesses.