Fashion is an industry that is obnoxious, loud and extroverted. To do well, one must discard one's shame and fear of rejection. This is because the business of fashion is not about making clothes, but about selling them. And the mark of a good salesman is charisma, smooth tongue and the ability to predict people's behaviour.
The creative minds however, are often not of that sort. While there are indeed vivacious gay men capable of taking criticisms like water off a duck's back, sitting at the mast of the luxury ship as creative directors, there are many others who are introverted, soft-spoken and prefer to share their ideas in low-key environments.
And that was the impression I had when I met Zhu Chongyun.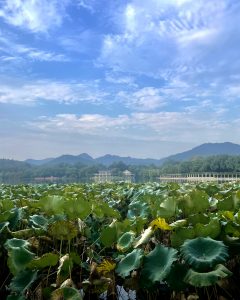 Some weeks ago I hopped over to Hangzhou, a mere hour away on my favourite mode of transport – the high-speed rail. It was here that Zhu Chongyun – the brand – decided to hold its ten-year anniversary showcase. Despite being headquartered in Shenzhen, it was only fitting that the event was to be held in by the shores of the dreamy West Lake, a sight that has inspired a great many paintings and poems throughout the ages. A thousand years ago, Marco Polo called Hangzhou the finest city in the world. With its picturesque West Lake and surrounding gardens, pavilions and stone bridges, the city offers a natural and historical splendour that can still be admired today. Except instead of poets and scholars, we have endless streams of morning joggers and contingents of retirees descending upon the stone bridges at the crack of dawn.
I was supposed to arrive at noon in my hotel before heading to the venue of the event. Instead I was stuck in the traffic for eighty minutes – a journey that had usually taken me fifty. I blamed this on family-in-sedans-not-able-to-leave-the-house-before-noon contingent.
By the time I had detoured to the hotel on the periphery of a tea plantation to drop my belongings and then zoomed to the event, I was squarely in late territory. In fashion terms however, I had only missed ten minutes.
I had not fully understood what I had been invited to. I was informed that there was a to be a runway show as well as salon activities involving tea and small bites. Tea involves nothing short of a ceremonial affair in Hangzhou, where the famed Longjing variety is grown. The only thing I was certain about was that the event was held in a century-old hotel with a nightly minimum rate of US$1500. Low-key as this event was, no expense was spared.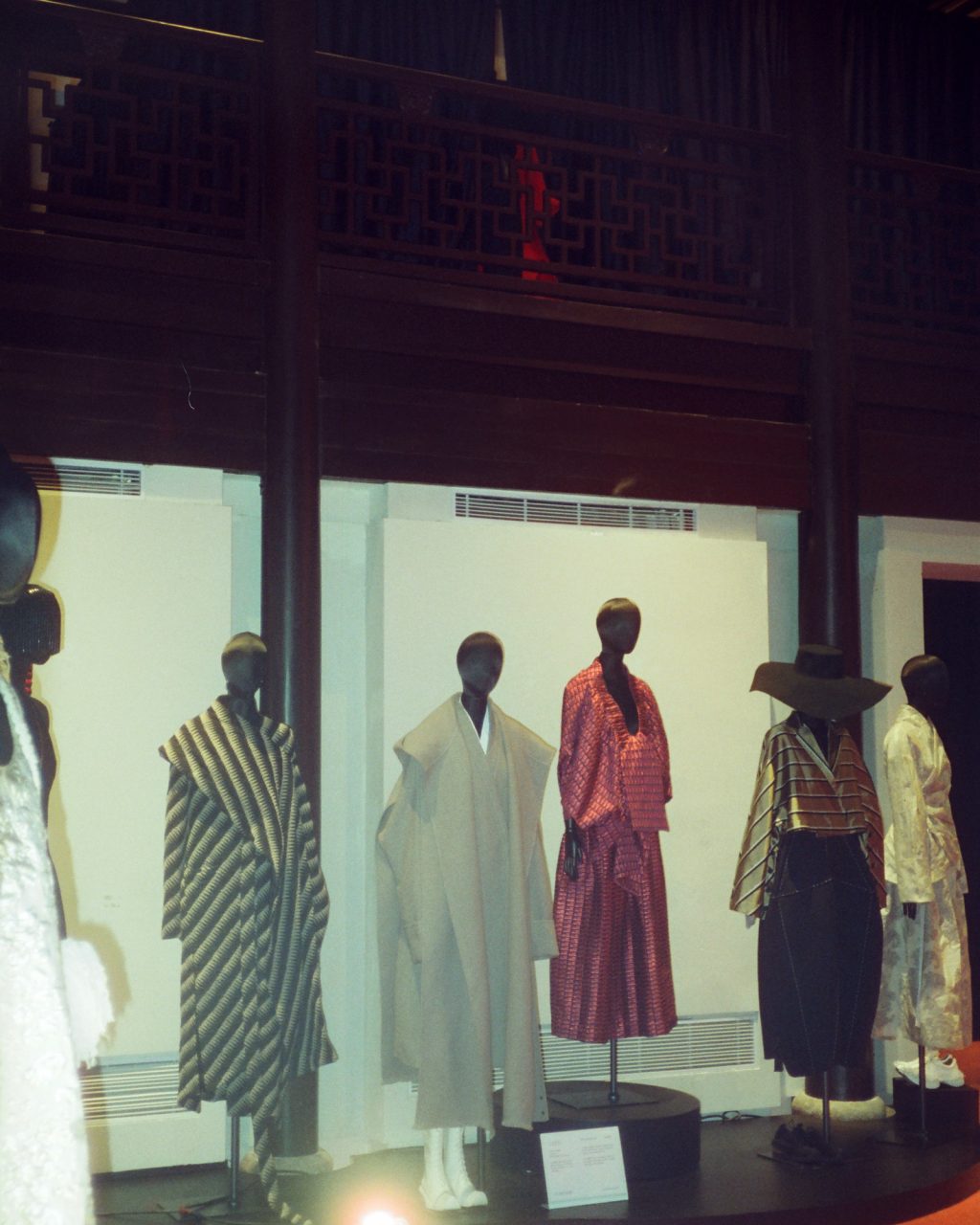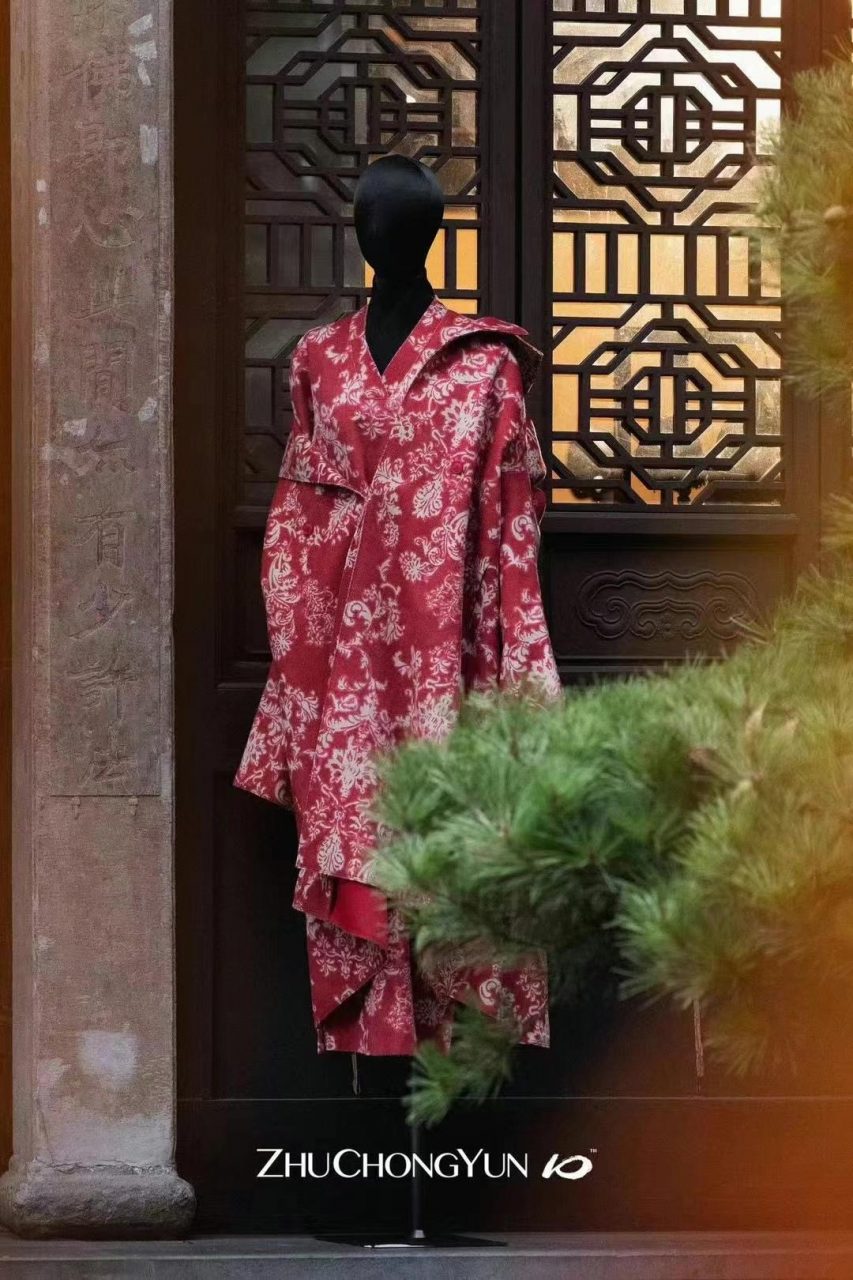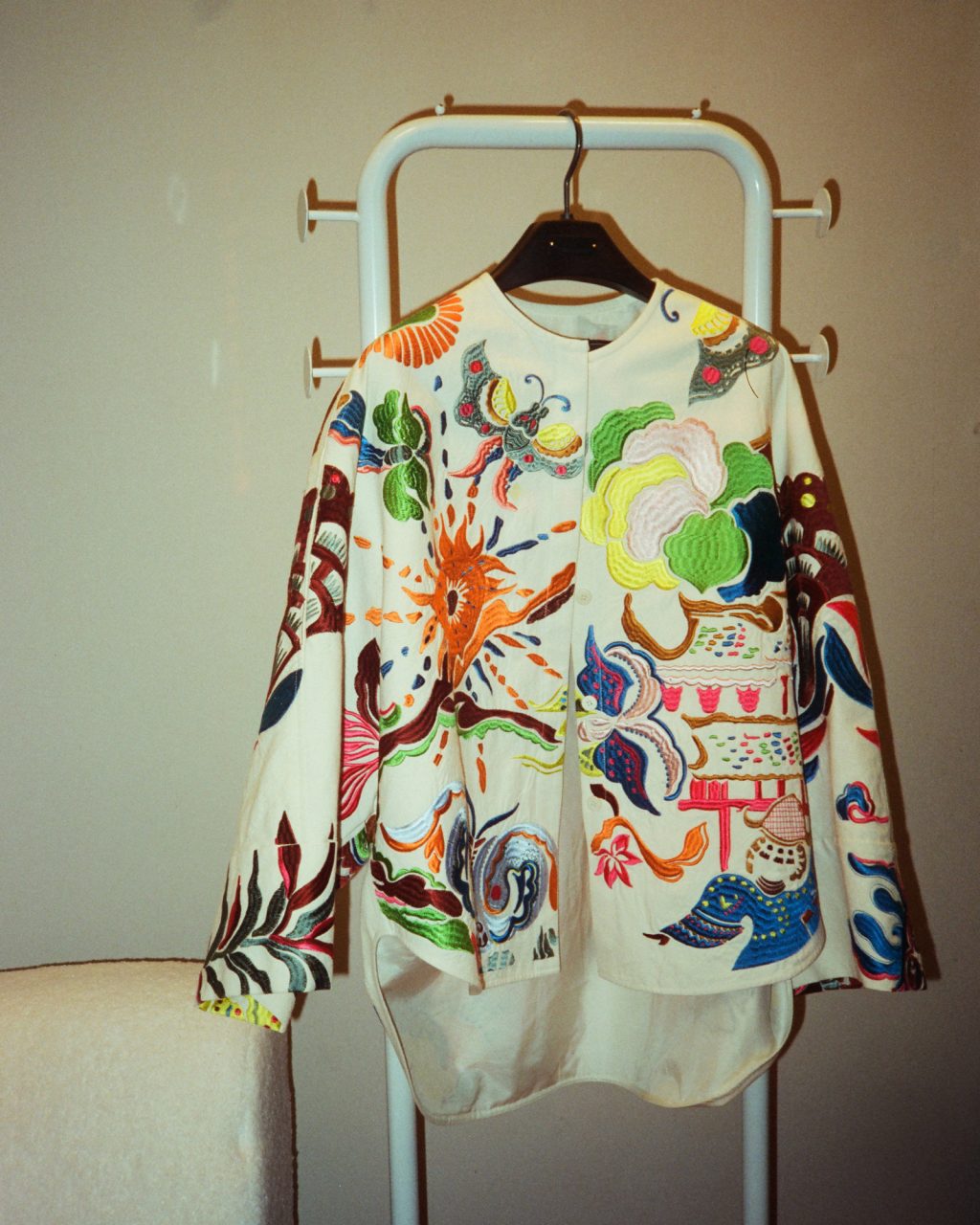 My late ass was escorted to the side of the hall by my ushers, who also happened to be the sales assistants from the Shanghai store I shopped in. They too had been whisked to Hangzhou for the event. Once I had settled into my spot, I soaked in as much visual information as I could. Under the auspices of magnificent dougong-construction crossbeam ceilings, flanked by enormous red wooden pillars, a hushed tone permeated the large, two-storeyed hall.
As with any typical fashion shows, the middle had been left empty as a mark of the runway. A model paraded in a beautiful look, but instead of disappearing into the backstage immediately, she remained at the head of the runway aisle while two speakers described the look in detail, from fabrics to construction – reminiscent of fashion shows in the mid-20th Century. It was an unusually warm and intimate approach compared to the shows we see today.
I ran my eyes across the audience sitting across the runway. They were mostly middle-aged women, well-dressed and well-coiffed. Most, if not all, sported something from the brand. I too, was wearing her shoes with my own clothes. Behind them were armies of sales assistants, like my chaperone who was standing next to me. I was participating in a grand trunk show for fans and shoppers of the brands.
I had by no means spent as much on the brand as the VIP ladies, though I have been following Ms. Zhu's work for seven years, admiring her steadfast vision. She does not bow down to the pressures of hypersexualisation of women, while marching to her own tune with a unique take on clothing for modern Chinese women of all ages, unabashedly unapologetic about her cultural belonging. Few homegrown designers take pride in what two thousand years of Chinese history has to offer, especially the young generation. The pandering to a global audience in this hegemonic climate steers them towards American aesthetic that is perpetually fixated on youth and sex. Think of an ingenious adaptation of Y2K meets the cold clinical AI that are amalgamations of postmodernist cultural milieu. Yes it's as baffling and convoluted as it sounds. My point is that China needs to rebuild its Song Dynasty-tier cool-factor.
Only a handful of the best looks were paraded down the runway – a wise move for the climate of attention span deficit we live in. Most of them consisted of heavy embroidery on sharply tailored garments, breathtaking pieces from the bespoke line. They were made in collaboration with Miao women – an ancient tribe who resides in Southern China – known for – you guessed it – embroidery. To the outside world, they were known as the Hmongs, though Hmongs makeup only a subset of the Miao tribe. Ancient Egyptians carved on walls, Chinese invented ink and paper, the Miao people painted stories with needles and threads to pass on their folklores.
As soon as the show was finished, I made my way to the adjacent room where the runway clothes were displayed. Naturally I headed straight for the embroidered pieces. It turned out that they were available for immediate sale.
In China, there is no tapping or swiping of cards, rendering wallets unnecessary. I personally have not carried one in seven years. Some still pay with cold hard cash – they tend to be the older generation, or tourists. For their convenience, Beijing has mandated that no cash payment can be refused, and that means keeping small change on the premises at all times. But these attendees were wealthy patrons with the latest iPhones and Huaweis, armed with multiple bank accounts ready to be accessed with a single scan. When transactions can take place within mere seconds, it reduces the barrier for consumption. In the midst of the flurry, sales assistants whispered about a customer who had just dropped US$20,000.
Note: I will be using monetary references in the dollar currency to reflect the majority of my readers' locations.
Ever since I started making my own clothes, I find myself more stringent with what I choose to spend on, opting to purchase items that are outside the scope of my production. Having learnt a thing or two about clothing manufacturing, most luxury products are disappointing, knowing that the companies offer mediocre products in fancy packaging and feel-good marketing to justify high price tag. It puts me off buying other people's stuff.
But not Zhu Chongyun's clothes. To want all of the embroidered pieces was an understatement. Here was Ms. Zhu's tastes, paraded for all to admire. Each embroidered outerwear was expensive, but surprisingly not expensive enough when compared to the prices I have seen on Net-A-Porter for a plain silk dress. An embroidered blazer I was eyeing cost about half a month's rent in New York's Nolita. Though I am marginally comfortable in my financial situation, I am by no means in the position to make large impulse purchases. My excess earnings are stashed away for business investments and emergency feline rescue. I will have to give the jacket a proper think.
Armies of sales assistants mulled over the guests that each of them had invited, ready to cajole them to try anything they fancy. As someone who went to business school – and runs a modest operation – I am acutely aware of marketing tactics. The well-dressed sales girls didn't necessarily fawn at everything the customer tried, but they could sense the slightest whiff of interest, and that was the nail they hammered.
These sales tactics were practiced together with an ornate compendium of experiential marketing – under the grand roof of a magnificent century-old hotel, surrounded by Ms. Zhu's greatest hits from the last ten years, and a professional photographer on site to snap a customer posing with potential purchases on the beautiful hotel garden. As cynical as I am, I do not have a problem with marketing. It is a necessary strategy to promote one's creative business. What I have a problem with is marketing being given the driver's seat, leaving product development as a secondary consideration. It is the reason why I get the feeling of looking at turd being polished when I walk into LVMH stores.
Zhu Chongyun herself was there to meet her enthusiasts. Standing between five-eight to five nine, she presented an imposing figure among us 5-sixers and below. I noticed that she was wearing the jacket I was eyeing; padded with strong shoulders and full embroidery on the back, giving her a much sharper and statelier appearance than the first time I saw her in person. Six years ago, I had attended her show in Shanghai. When it was over she was standing near the runway receiving her guests, one of whom was Uma Wang. Clad in black while conversing with the white-robed Ms. Zhu, they appeared to be the literal manifestation of yin and yang. The latter was soft-spoken and mild-mannered, every movement resembled the gentle flow of a river. And just as I did that night six years ago, I walked up to her to convey my admiration of her work, but this time I added that one day I hope to be able to learn a thing or two from her – now that I came as someone who works in the manufacturing side – in any capacity possible. She looked at my O-Ren coat in my favourite silk-wool and we gushed over fabrics, like two nerds discussing the shades of white and typography on a name card. She asked to see more of my work, and then for my WeChat contact, a move I was not expecting.
There have been many forks in the road of my life, each path offering no clue to where it was headed. All I could do was pick a side and never look back. Ditching scientific academia for visual communications was one. Leaving the Western ecosystem for China was another. Having a direct line of communications to someone whose work I admire did not feel like so much like a fork in the road, but more akin to having a road sign in place, telling me that I am where I am supposed to be, and where I should head to.
left the venue in a buoyant spirit. Amidst all that is happening around the world, life carries on elsewhere. Common people have to make a living; we trade our time and labour in exchange for money to buy goods and services that sustain us, and that includes everyone in the garment industry. Amongst the greedy upper echelons in fashion who have figured out how to swindle their customers, it is heartening to see that a few visionaries still strive to uphold a grand vision of art and beauty – especially for women – without the need to be an obtrusive masquerader.
Pictured: Euclid Coat & Planck Shirt
I made my way through the evening throngs of visitors by the West Lake – massive groups of retirees, young couples on a date, families on a getaway. Though I hate crowded places, I do not take the vigour of a healthy society for granted. It takes a tremendous level of diligence and conscientious bureaucratic planning to allow for love, trust and laughter to flourish on a large scale. Bathed in the glow of the red setting sun, I looked forward to getting acquainted with my hotel's rotund feline security guard, before retiring to a beautiful quiet room at the side of a secluded tea plantation.