In the previous segment of this writer's outfit project, I went into great detail about how individual pieces were modified from products that have existed in the ROSEN universe – from the parachute coat to the shirt and matching trousers. I had imagined an 80s style sarariman look meets Parisian beatniks of the 70s – louche, loose and nonchalant.
To the surprise of noone, the coat that I received transported me back to 19th century Russia, ready to pen novels about the pain and suffering of humankind while tackling a gambling addiction. I blame it on my love for heavy fabrics and voluminous silhouettes that often lead me down to larger-than-life garments. This essay is a continuation of my adventures in garment design, intended to better my knowledge in construction across a wide gamut of fabrics.
Much like an Olympic sport, garment creation is not something that is perfected within the first try. Minute changes are trialed and erred in order to shave off micro seconds. Likewise, we have to dissect and improve less-than-perfect details, one cm at a time. While the advancement of 3d garment design has improved the predictability of pattern drafting, I find that it is yields the best results for fabrics that are stable. Laminated and pre-treated synthetic fabrics are not prone to changing its shape, which also reduces or eliminates the need for interfacing.
In the world of natural fibers, expecting garments to be perfectly formed within the first try is like expecting a cat to eat a broccoli. Natural fabrics are susceptible to shape-alteration under heat, steam and pressure – necessary elements to get sharp seams and flat panels – hence why many parts of the garments have to be fused with interfacing, notably on the collar, cuffs and plackets. Knowing how to use the right type of interfacing requires experience in dealing with various natural textiles. Fabrics on the luxury scale are finicky, time-consuming and a pain to work with. In some cases, only the most experienced hands can reproduce them on a commercial scale. In contrast, the typical mass-produced casual garments – be it a hoodie or a shell with excessive zippers and taped seams – can be broken down into hundreds of tasks, each one done over a specific machine, manned by a freshly-plucked high school graduate getting paid a few cents per piece. Whenever I come across a mass-produced synthetic garment demanding the price of a wool coat, I have to fight the urge to roll my eyes at this marketing-driven, law-of-physics-defying Ponzi scheme.
---
My giant coat weighed over ten pounds. Although I firmly believe that happiness has to be preceded by pain and suffering, I did feel that the coat should shed a pound, or four. Fortunately it is more than evident that the coat needed to shed excess volume on the torso and bulk on the back. There is a fine balance between purposely oversized garment and drowning in your portly grandfather's coat.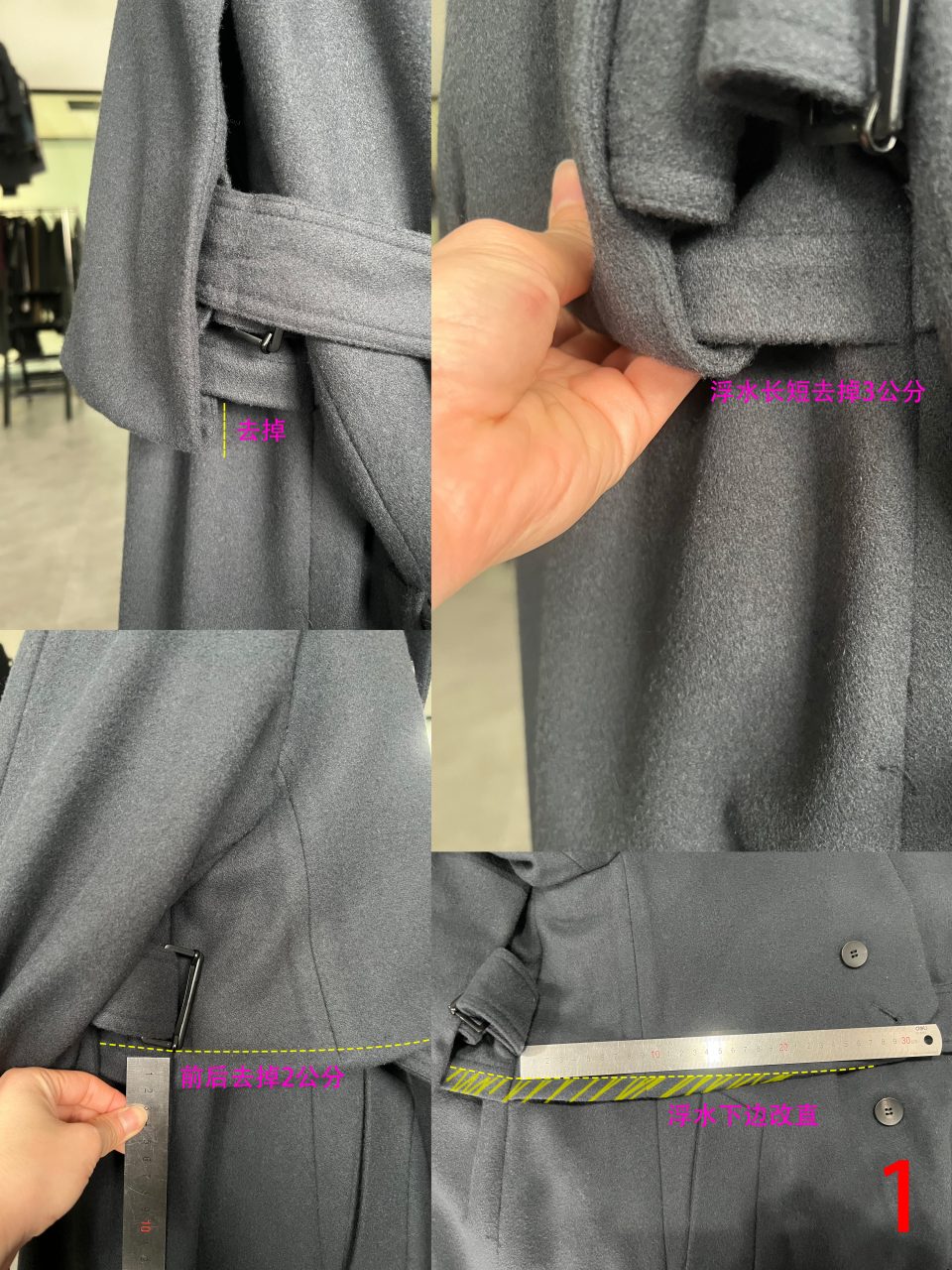 The shirt arrived in excellent form – with high collar and massive French cuffs as I had intended. The only drama that it brought was the lack of button holes. You see, not everyone owns a buttonhole machine. They're so expensive that there are businesses that solely run on sewing button holes. It so happens that these trimmers (button hole is a form of trim) are often the earliest to pack up for their Chinese New Year holiday. Receiving the clothes right before this period left me with a shirt that I couldn't button. The solution: handsewn button holes by yours truly. The result: a solid D minus. I had the whole placket redone when everyone got back from their holiday.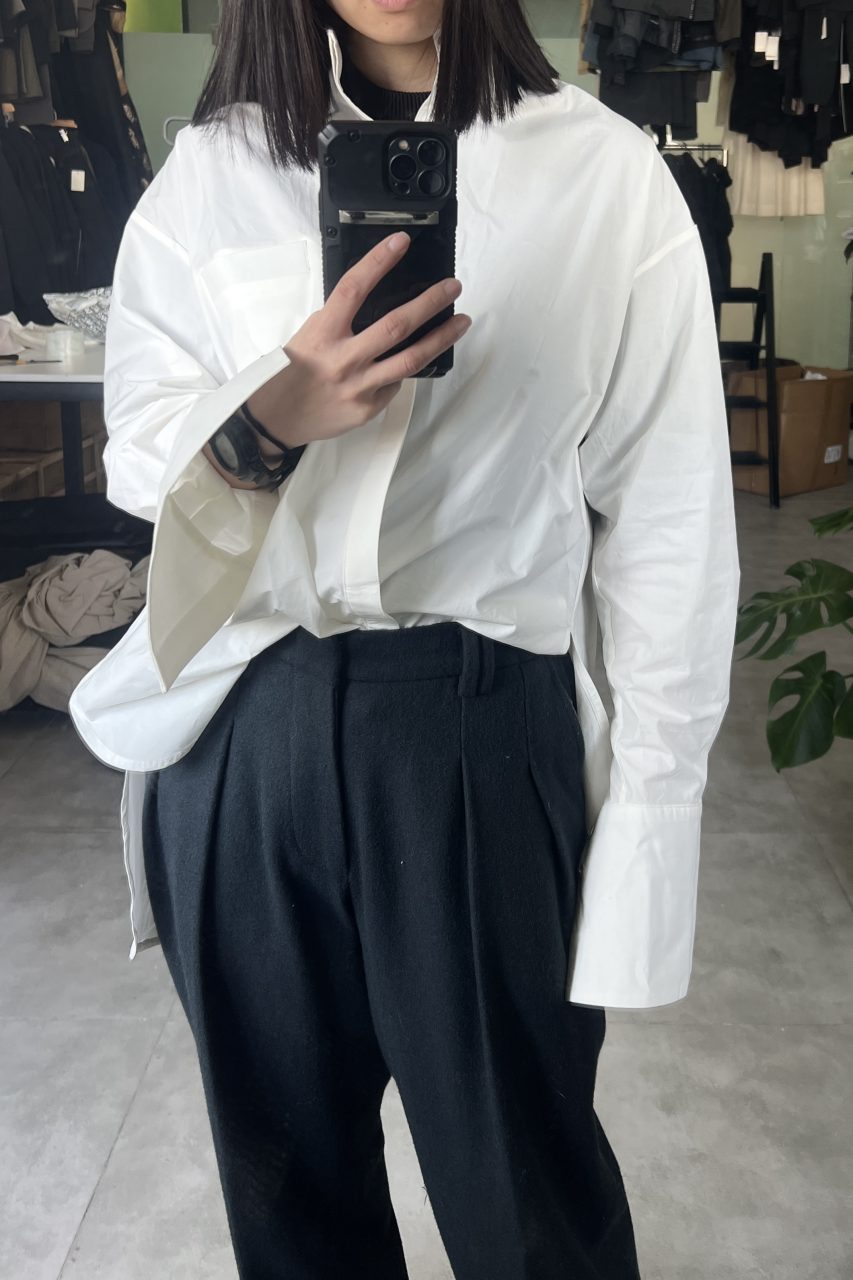 For anyone who's new to tailoring, making a shirt from scratch if a good starting exercise. There is less room for mistakes and that good feeling in making something successfully will buoy you towards making more complex garments.
The trousers on the other hand, highlighted an issue that I have long suspected, namely that traditionally-trained tailors do not enjoy working with elastics, especially for thick fabrics. Only the most patient tailors will slowly run the fabric together with the elastics on the sewing machine to create an evenly spaced out overstitch for the waistband. It was clear that the tailor I had contracted the job to was in a mad rush for the holiday, judging by the hilly ridges one could hardly call a waistband. This is a repair job that I have reserved for my newly-hired sample machinist. One of the tests required for sample machinists to do is to create half a suit jacket. A good machinist is judged based on how well the sleeves are joined on the shoulder, as well as how smooth the welted pockets are constructed. My personal addition to the test is how well they can do a stretchy waistband.
And so off the coat and trousers go to my newly-hired machinist.
My persistence in correcting minor issues is perhaps unwise when all that time and monetary investment is tallied up, but I took up this profession as a higher calling. I have yet to succumb to making oddly-shaped garments disguised as post-modern irony, and for the love of good clothes, I hope I never will.