One noisy night in the middle of a cold January, my mind rebelled against the sweatshirts and cargo pants winter uniform I had been wearing seven days a week.
My three fellow lodgers had decided to hold one of their tri-weekly derbies in the living room. It involved high-speed chases over, under and in between furniture, topped with the occasional hisses, yelps and yowls when someone had bitten another a little too hard. Owing to my dislike for wearing ear plugs in bed, I had little choice but to pretend that the pattering of overweight overexcited monsters were just another form of ASMR.
Stuck between mental exhaustion and the din of a party I was not invited to, my mind wandered into a semi-delirious territory, in which design ideas usually crept in. My subconscious self often reacts to daily occurrences by finding solutions to problems I have memory-holed, or comes up with random creative ideas that I cannot entertain in the middle of a work day. The turn-of-the-year period has always been my busiest sales season, which, as usual, left little incentive to have fun with clothes, especially when I did not step out of my studio for hours on end. And if I did, it would be to visit my suppliers and tailors. Unlike the version of fashion that permeates the screens, actual bread-and-butter of fashion production takes place in run down places where rent is more affordable. Sashaying in a long dress to a place where everyone toils hard for their livelihood is as tasteful as a piece of boiled chicken breast.
Like an etch-a-sketch, I began to visualise a different form of winter outfit, one that would keep me warm but also let me exercise my creative faculties – which were currently gathering cobwebs in the midst of operational obligations. And a big part of me wanted something that I could wear on my days off, typically writing in a café. It must be warm, cosy, and protective. Multiple deep pockets were necessary so I could store a notebook, phone and keys. Bags were something I no longer cared for unless I had to carry my laptop. And so the first garment that I thought of was something I already had a strong affinity for – the double-breasted trench coat, a relic of WW1 many had come to love, but have now shunned in the sloppy age of normcore and gorpcore.
Back in 2010 when I was an undergraduate in Monash, I used to visit the local Sunday Market that sold plenty of secondhand objects and knick-knacks. Coming from a place where second-hand quality garments didn't exist, I was immediately drawn to all the multitude of vintage garments; clothes that existed mostly from the 50s to 80s which in their original form would turn me into a facsimile of my mom. However, nothing made me salivate more than old military paraphernalia, from the ultra-heavy double-breasted Soviet-era Great Coats, to the gold-buttoned marching band jackets and the heavy gabardine boiler suits. I fell in love with the imposing silhouettes, large epaulettes and the overtone of armour that emanated from these garments, which to this day plays a large influence in my aesthetic decisions. I find it rather unfortunate that the manifestation of physical strength and fortitude is tied to something as devastating as war, but having lived through a life-threatening riot I could scrape the bottom of the barrel for an excuse to like militaria as a defensive armour.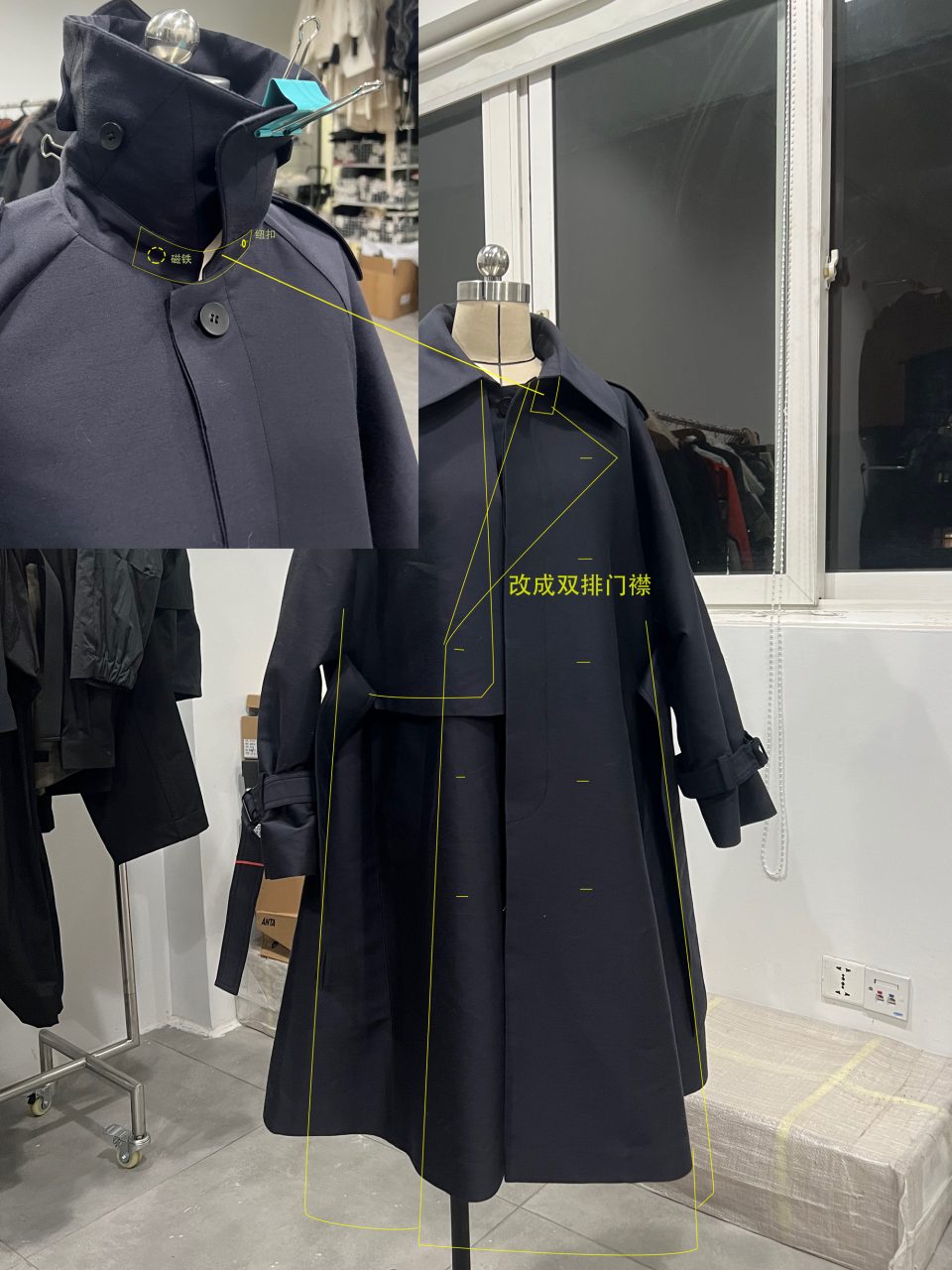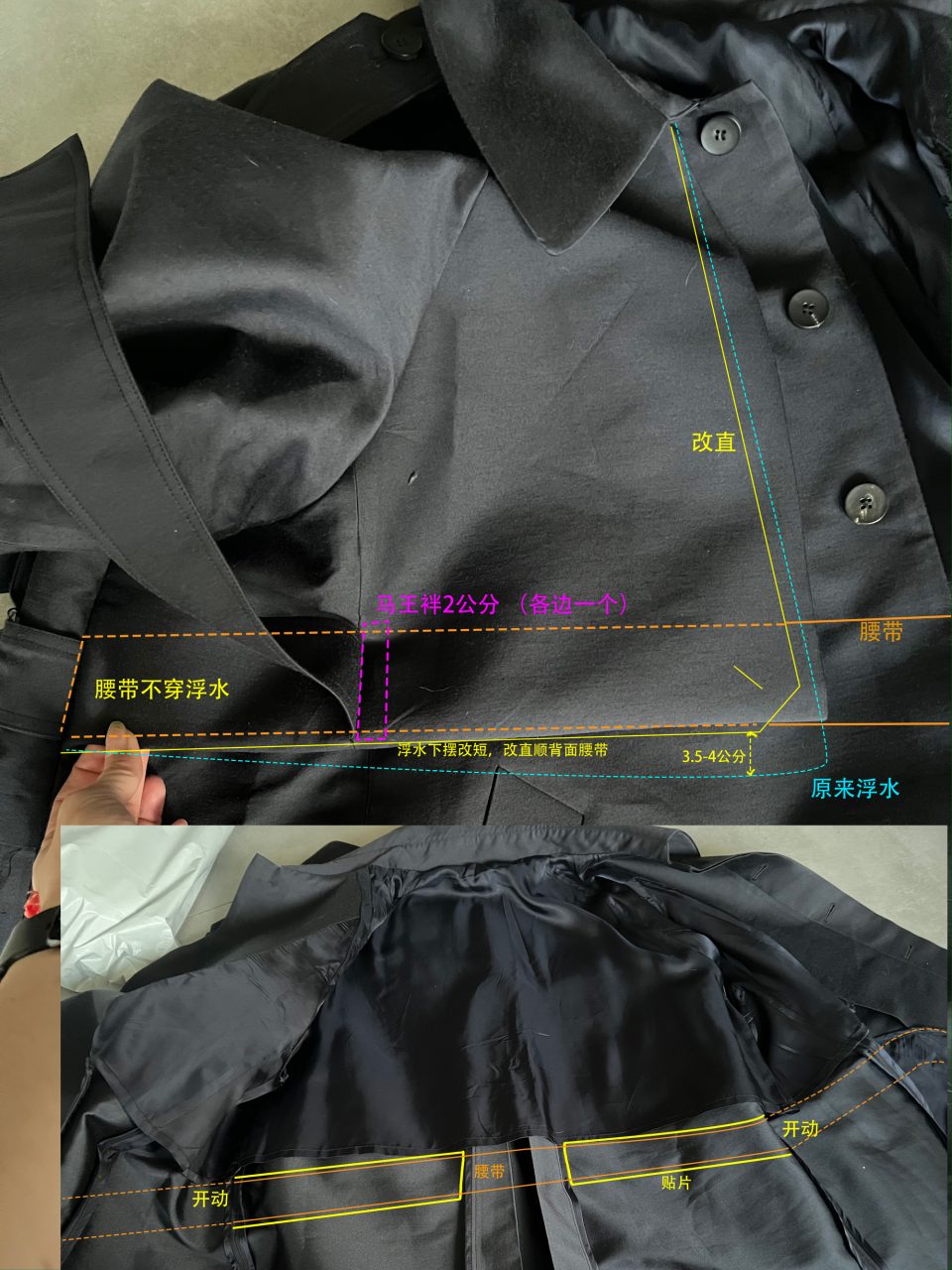 This trench coat would be based on my existing parachute coat (there's no pulling me away from the military aesthetics) that I have adored since its inception, but instead of a refined and trendy fashion piece, I wanted to bring it back to its utilitarian past. Think mid 80s Issey Miyake uniform – the classic sarariman look before Japan had its economic prowess castrated in 1985. I had grown up during the peak of Japanese TV drama; in which wholesome love stories were accompanied by catchy soundtracks, their lead actors blessed with attractive or unusual-but-pleasant features, which made the shows appealing to lonely housewives and bored teenage schoolgirls. The male actors usually wore generic loose-fitting suits with broad-shouldered gabardine overcoats. Fast forward twenty years, I have outgrown the drama but not the aesthetics, which is also prevalent in one of my favourite movie genres – Japanese neo-noir.
I imagined the coat to be a kind of sleazy louche with an underlying world-weariness; somewhere between le Carré and Leibowitz. It would be made of leftover wool cashmere in my favourite shade of teal green – warm and protective, yet evoking a bleak romanticism of winter; worn in a bleak cityscape with a massive collar worn up to guard against the wind. The coat would be massive. None of those trendy, slim-tailored styles for me, thank you very much.
And then there was the matter of the shirt and trousers.
To create a uniform, I matched the coat by using the same fabric and adhered to the codes of 80s tailoring, keeping it loose with a double-pleated construction that hasn't seen the light of day in modern bizcaz.
When it came to the shirt, I used my favourite Planck as the starting point. It has always been one of my favourite shirts ever since I started designing garments. With its high collar, tunic length and square hem design, the Planck is as sombre as a priest in a confessional booth – while I wanted a modicum of whimsy. To inject some slouch, I gave it massive French cuffs that would remain perpetually unbuttoned and reminiscent of a dishevelled Patti Smith when folded up the elbow. The square hem was modified into a curved hem with high side slits for tucking into trousers. I left the high collar untouched as as a personal preference for the severe nun look. Of all the leftover fabrics I had, I picked out a hardy ivory cotton poplin for its brushed handfeel, natural creases and crispness that would make a nice pair of French cuffs as stiff as a communion bread. You can take the girl out of the convent, but you can't take the convent out of the girl.
Together with the shirt and trousers, this outfit was intended for long, leisurely walks to calm the mind and observe the world. On a more personal level, there is always something appealing to me about making an outfit that will fail miserably as a first-date ensemble. Though first dates are no longer a concern, ever since I understood Rei Kawakubo's vision I find myself drawn to fashion that subverts sexual expectations. The entire outfit hints of a person who probably drinks too much caffeine and does not own a TV. The wool-cashmere also reveals clues about any lodgers who may pay for their food and rent by sitting on their tenants' laps.
Having ensured that I did not miss anything in the checklist of modifications, I sent the annotated images to different parties. The coat order went to my pattern-maker who specialises in translating images of my complex garments into electronic patterns, while the job of making shirt and trousers was handed over to my suiting tailor. From here on, I left production to be watched over by a nondenominational deity, and hoped that nothing would go badly wrong.