Ever since ROSEN was created, I have always used deadstock fabrics found in the local market. This place is by no means small, it has four levels that house a few hundred sellers. Generally there is no shortage of natural fabrics. My favourite sellers bring in imported wools and linens from Japan and Italy. It's also where I discovered the joy of Chinese sandwashed silks, a fabric that's far superior than cotton in terms of comfort, softness and breathability. However as I started experimenting with synthetic garments that focuses on utilitarian aspects for ROSEN-X, from fabrication to design, the options shrink to almost zero. I am extremely picky with the fabrics that I select. Comfort – this includes stretch and breathability – and tactility always come first. Water-resistance second. Since I am not doing the traditional route of factory production, certain production techniques are off-limits, such as heat-taped seams. So I carve a little nook for ROSEN-X that balances aesthetics with the simplicity of practical clothing. Despite the lack of options, I managed to produce a capsule collection by resorting to buying fabric samples online.
However, with the growing popularity of ROSEN-X, I couldn't limit my designs to the few fabrics that I have used. So when I was invited to join a friend in Guangzhou for a trip to the fabric markets there, I thought it was a good time to head down south.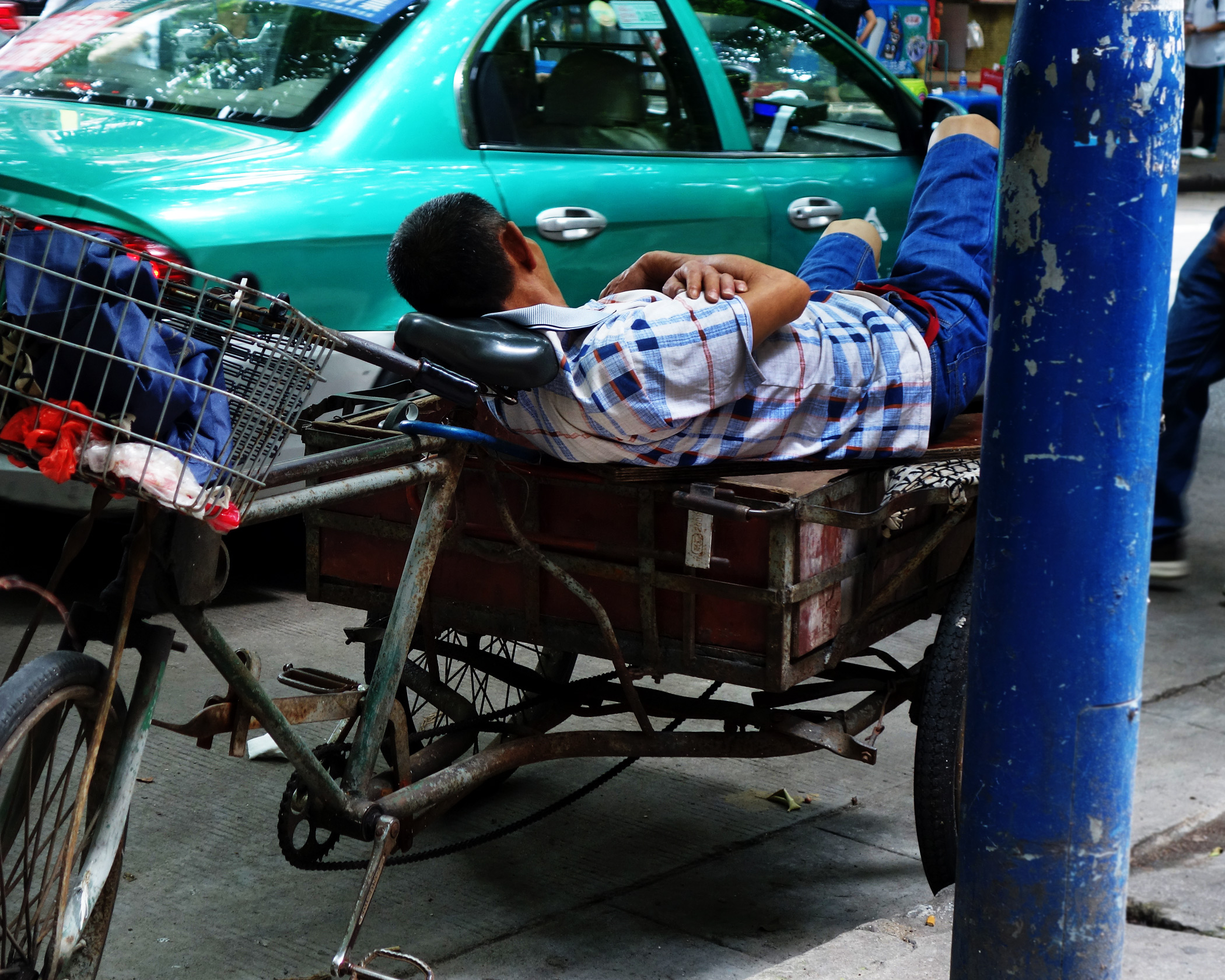 The day I arrived in Guangzhou, it rained heavily. I was here in January for a factory visit that didn't prove fruitful. This time I was determined to come back with results, though I had not much of a clue what I should be expecting. There would be a lot of walking involved due to the sheer size of the fabric mall, that much I know. On the second day, I made my way to the textile district first thing in the morning. The main mall is brightly lit, with wide walkways flanked by shops on either side. Each storey houses about a hundred shops, and there are eight storeys in this building. This is just one mall, amongst several others in the area. Outside these mall, the district becomes a maze of small, dark alleys flanked by accessories wholesalers. ⠀
Unlike the fabric market in Shanghai one does not get to walk home with the actual fabrics. The shops display their fabric samples that we can peruse and free colour swatches to take. Orders are made on the phone or on Wechat. The entire trading process is extremely informal, almost like buying from a relative. Chinese manufacturers are experimental with their linens, but from what I could tell, their main focus lies in more innovative fabrics such as viscose and tencel, that and synthetics that either mimic natural fibers, or are made into membranes. Eight hours and eighty fabric swatches later, I only managed to cover half the area, before my legs gave way.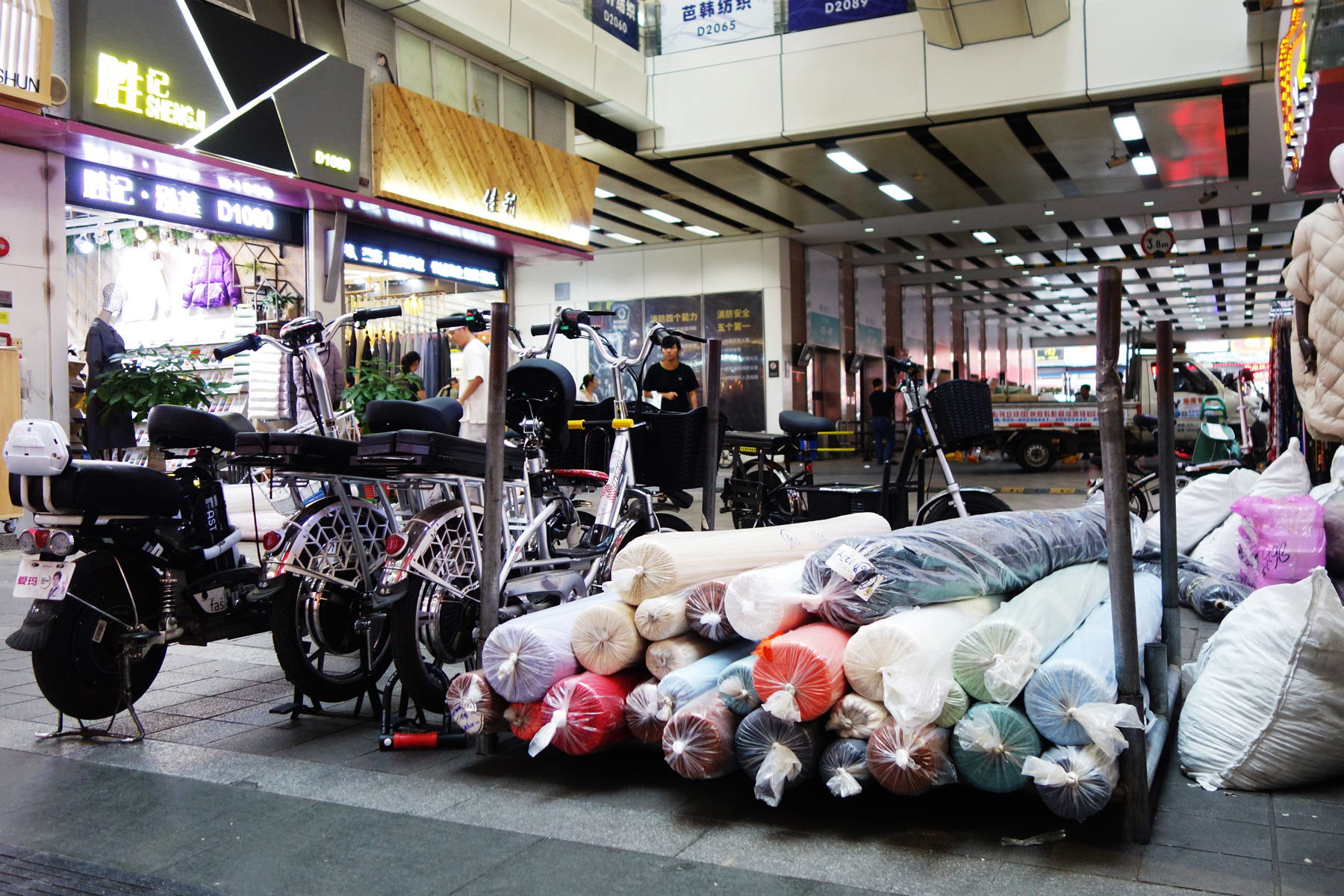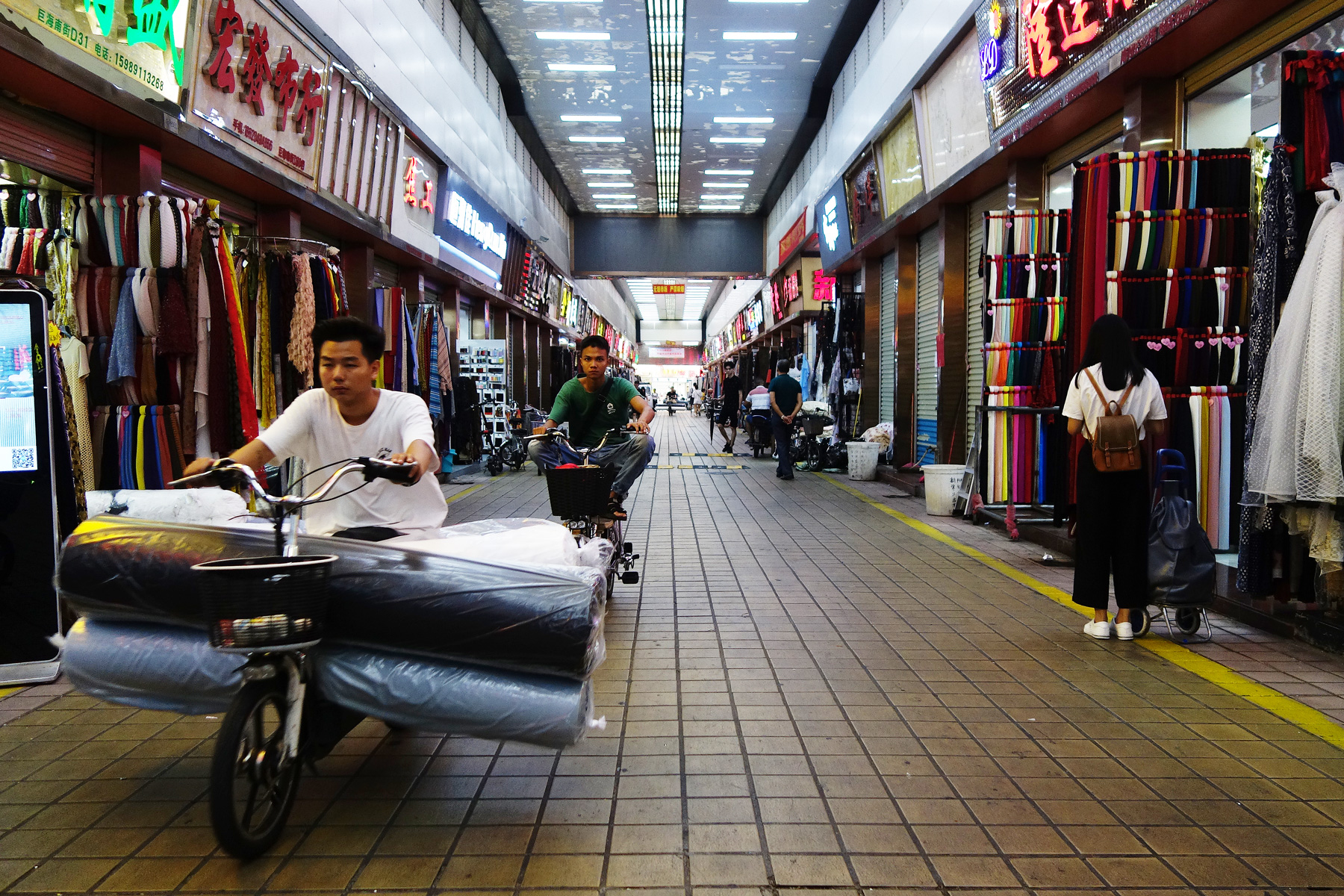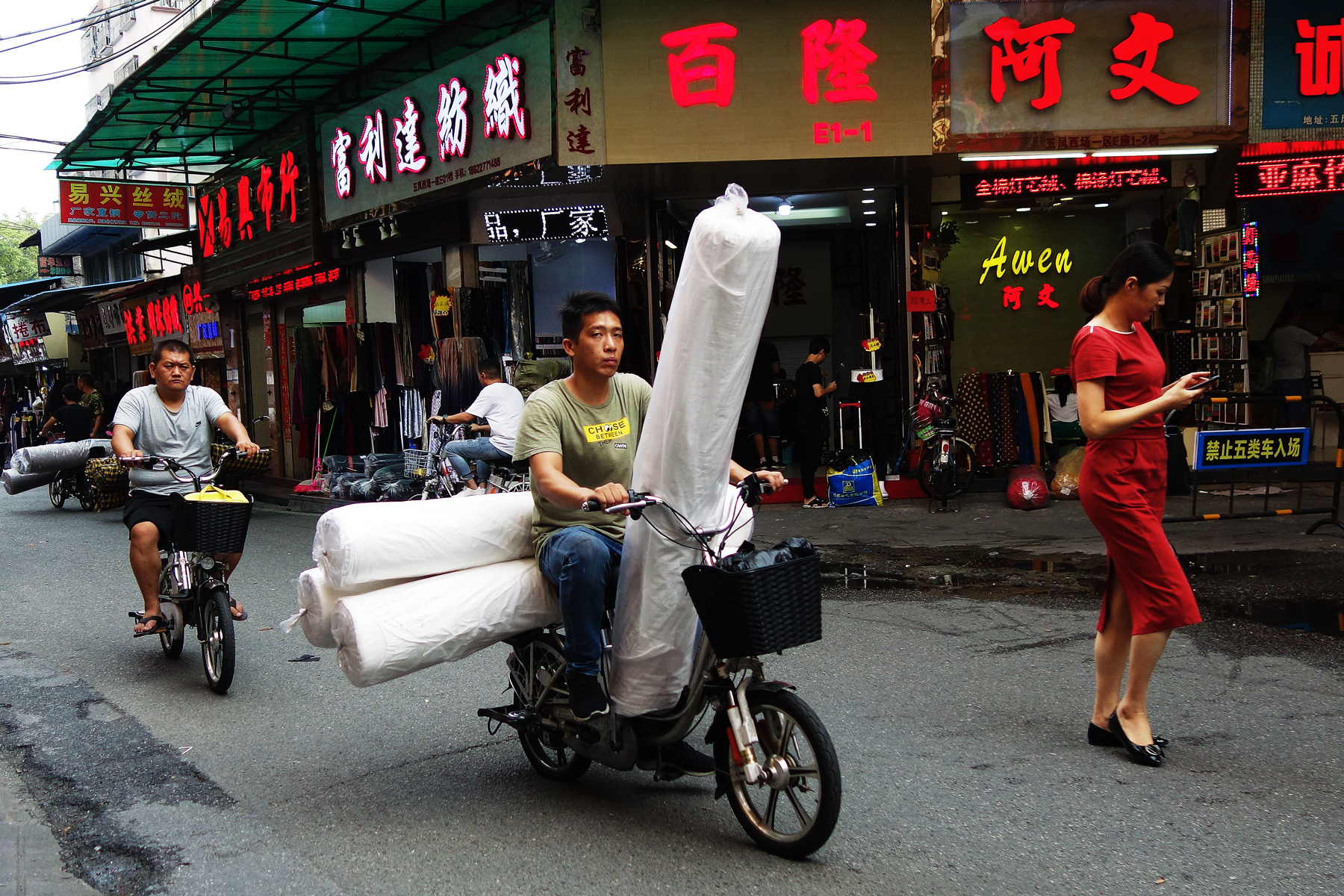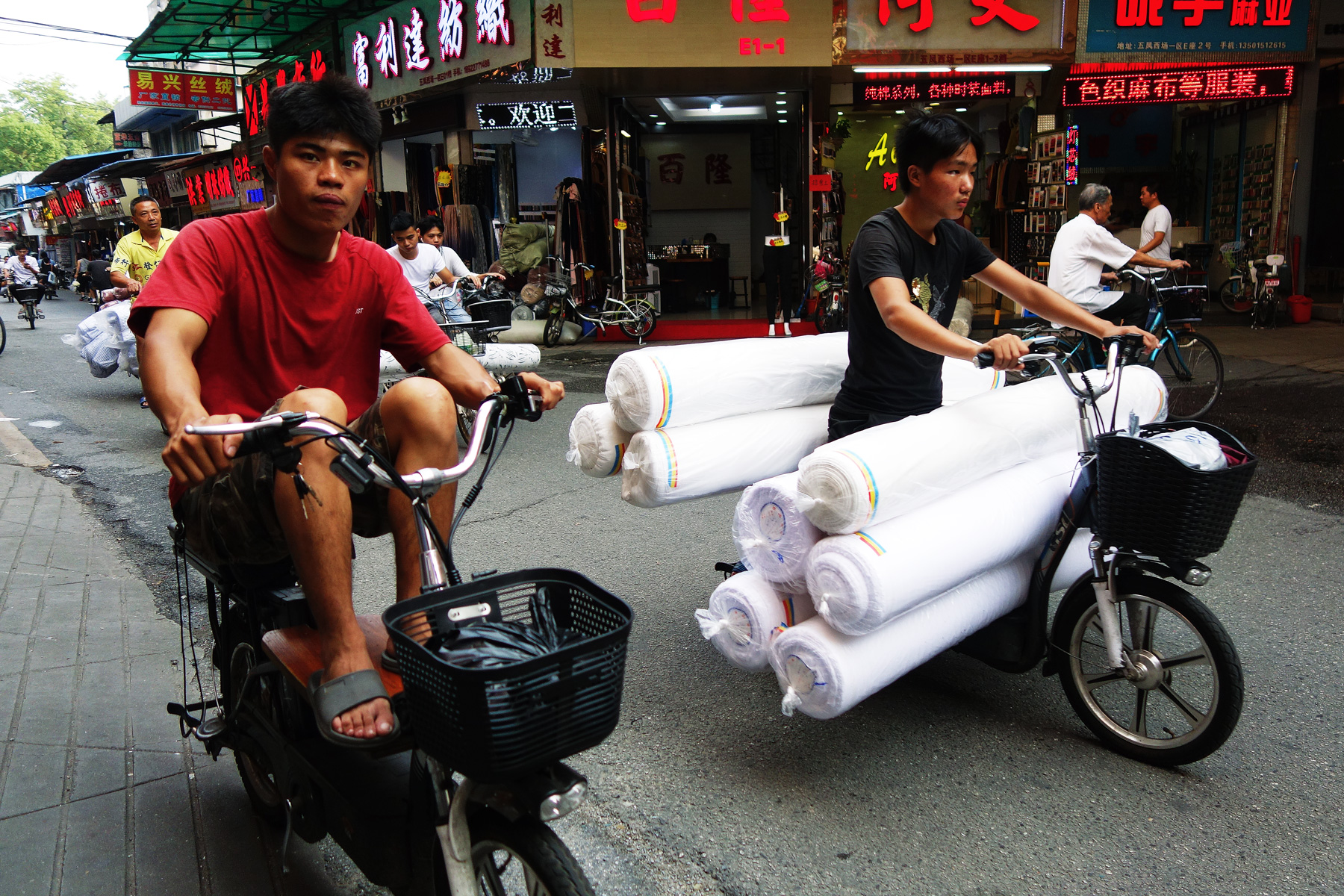 This is how bolts of fabric are moved around the fabrics district, from the warehouse, to the shops, to the courier stations. It was fascinating to see how different people have come up with different methods to juggle as many bolts as possible.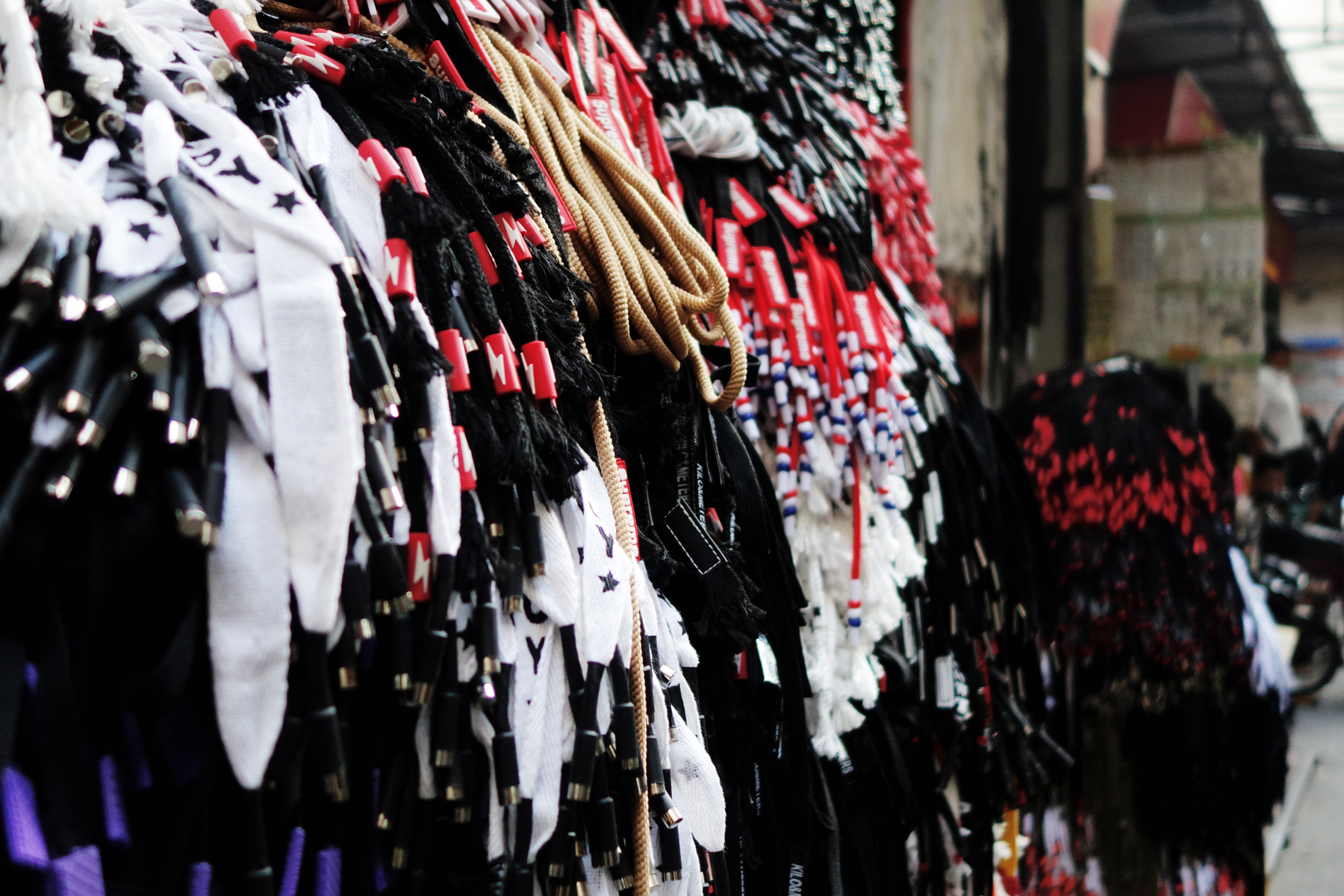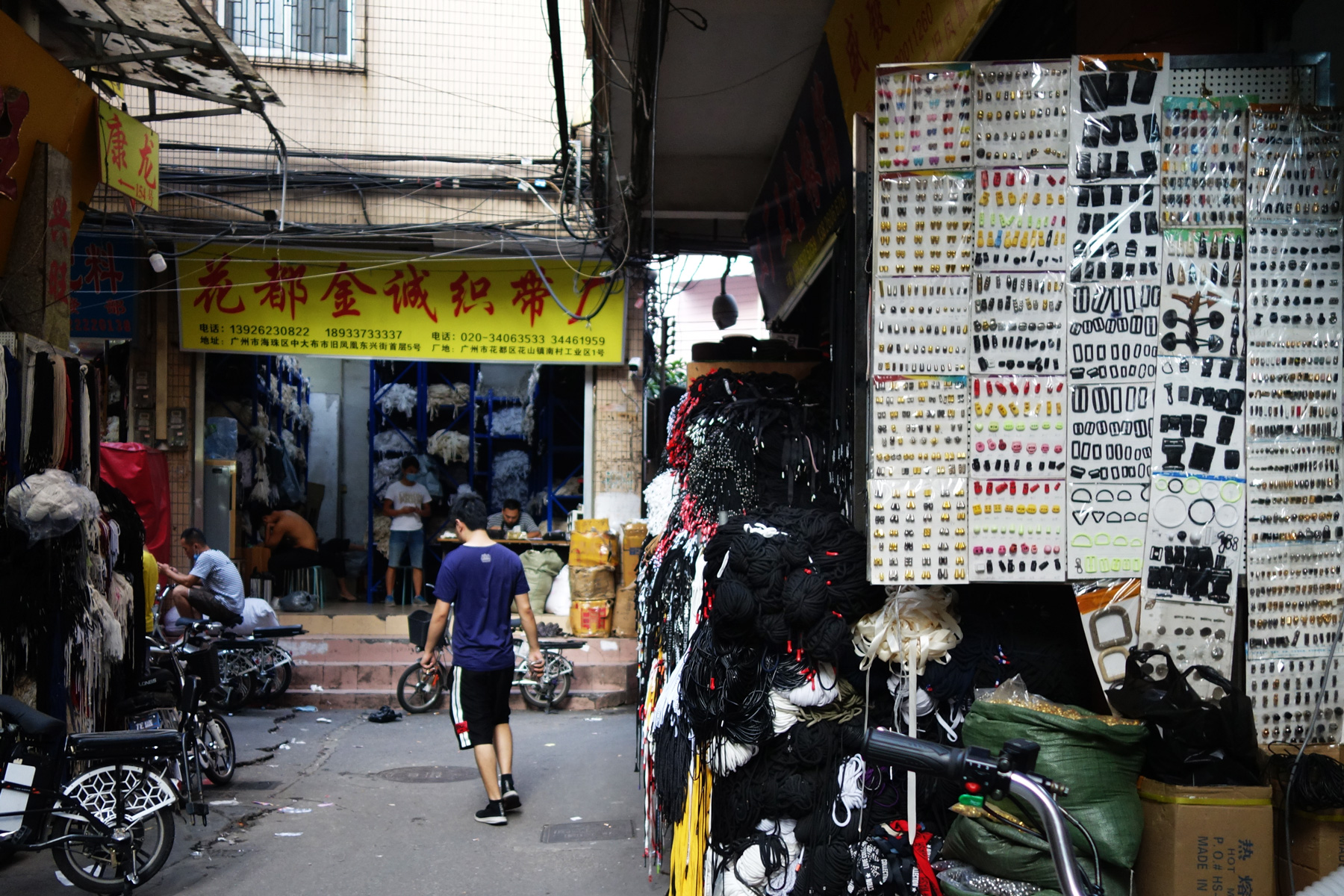 And so on the third and final day – decked out in my favourite Rad Hourani vest – I had a better idea of where to go and whom to look for. Having sifted through hundreds of shops, I have my eyes on a particular synthetics producer run by a matriarchal Teochew family who knows what a three layer membrane is. It was a breath of fresh air to be able to speak to someone who is closely linked to the manufacturing side, rather than talking to young sales assistants who have been hired to man the shops without an inkling of what they were selling.
Armed with close to a hundred fabric swatches, I went home ready to tackle the next stage of ROSEN and ROSEN-X.