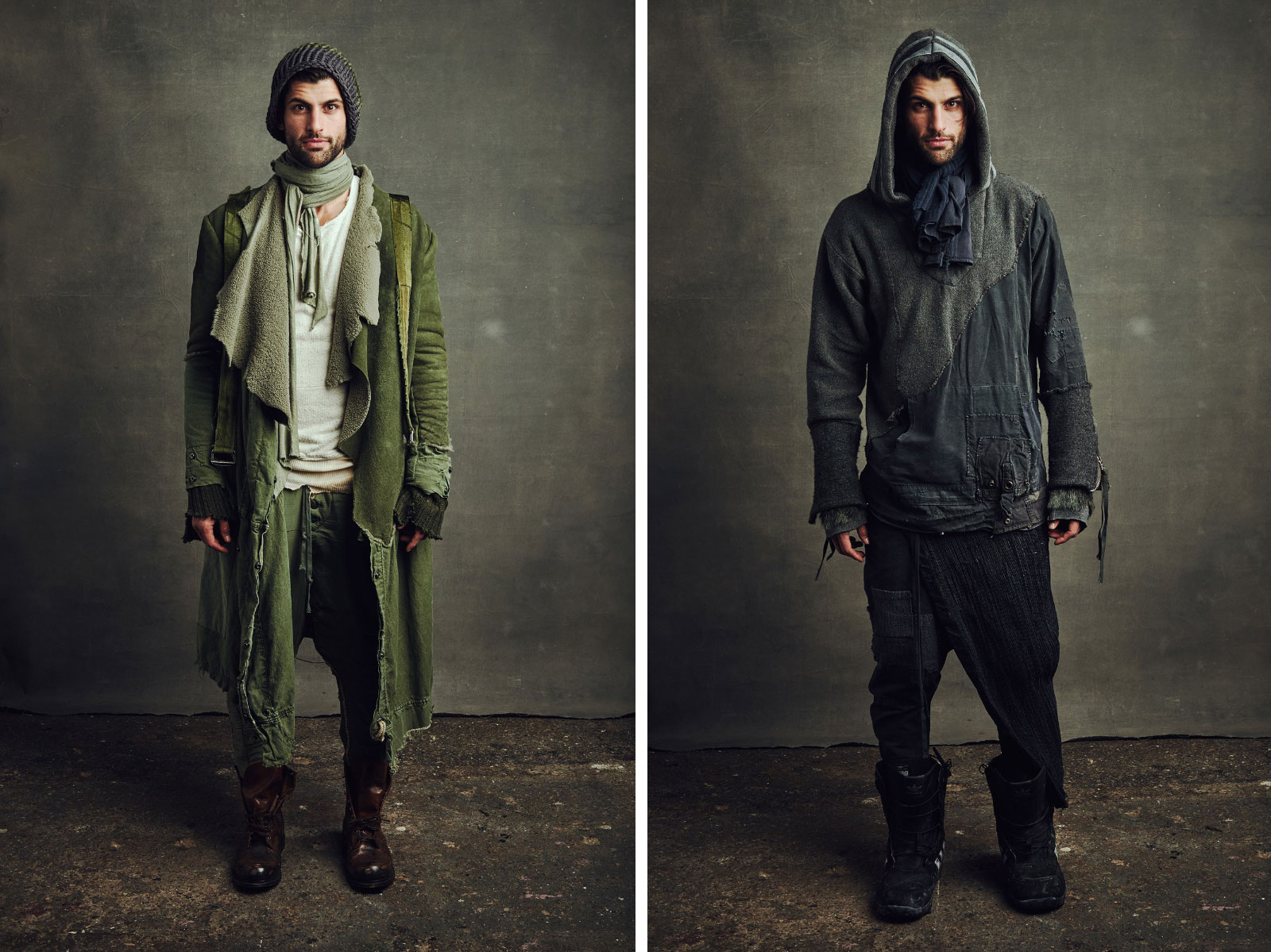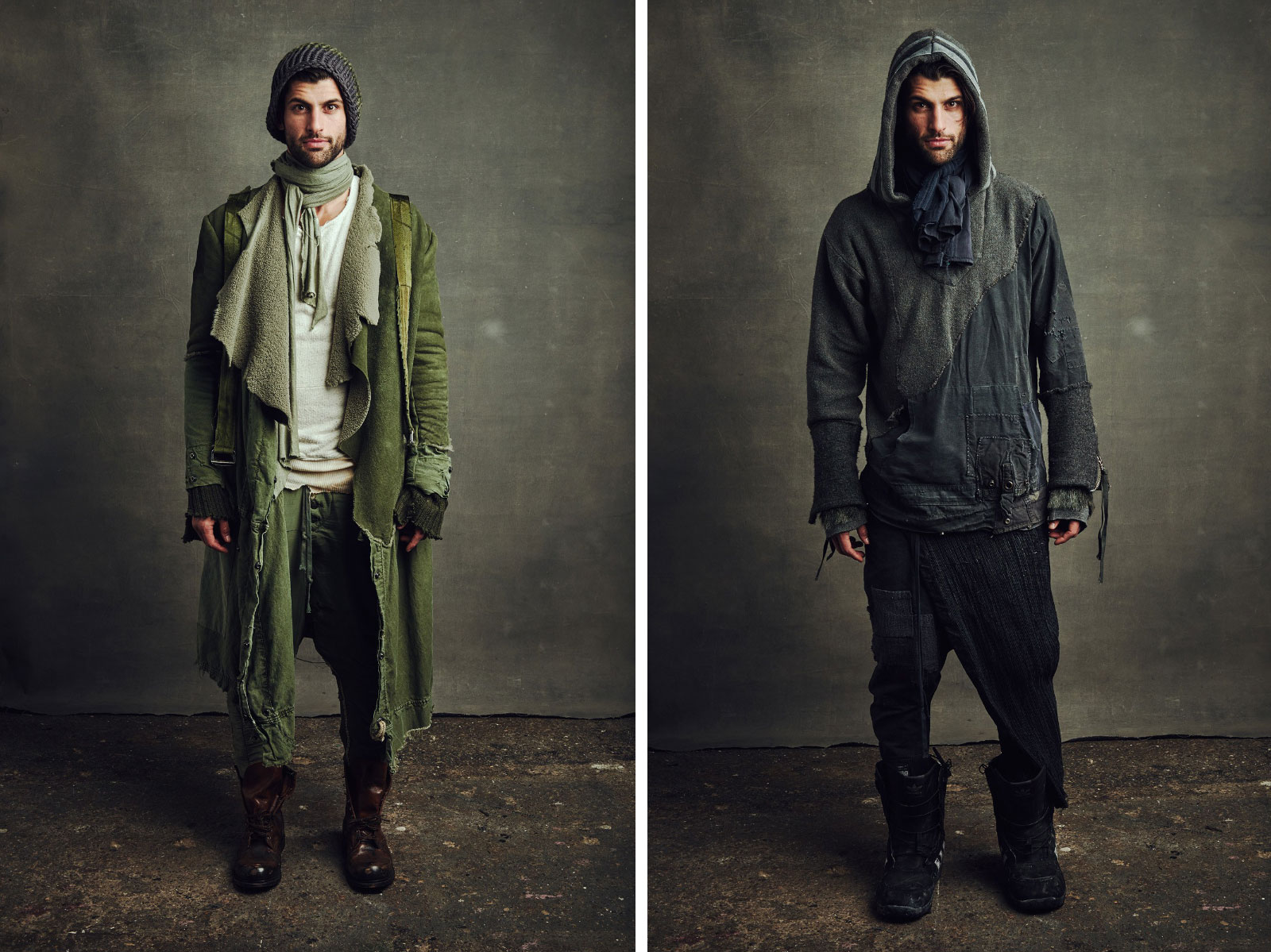 Greg Lauren FW2016 Collection
When the CFDA (Council of Fashion Design America) called Greg Lauren to tell him Banana Republic wanted to do a collaboration with him, he joked, 'Yeah of course they would. I make great clothes.' Lauren's aesthetics is hand-distressed and artisanal, without admitting that he had taken Paul Harnden's unoriginal approach to clothing design by copying Victorian peasants' lack of sartorial choice. But in his case, with Americana - which is what Banana Republic is all about. "We have so many similar reference points, even if we're on completely opposite ends of the spectrum - them doing mass market tailoring for preppy wannabes, me doing overpriced military reinterpretation for the preppies," Lauren says. Another reason the collab makes sense? Lauren was already thinking about expanding his business and how to reach more people. "My uncle didn't want to give me more money, so I have to find other ways to fund myself now." In case you haven't heard, Lauren is the nephew of the lacklustre Americana designer with the same surname who makes bank on polo shirts.
All 16 pieces are hitting Banana Republic's stores tomorrow. "I didn't want to take my most creative [runway] pieces and dilute them into something that was suddenly affordable by using cheap materials or without the handmade approach. I mean, H&M already did that with Margiela. Look where it got them - massive pile-up of unsold stocks that made it to clearance racks very soon after," Lauren explains. "The first idea I had was the stonewashed twill tuxedo. It's exactly the way I like to approach black tie. No one even wears black tie to events anymore, but it fits beautifully and you can roll it up in your bag to wear to a beach wedding or mixed with other pieces." The tux has silk faille lapels for just a touch of the traditional, and comes purposefully rumpled—no steaming required. It was an idea he had seen Comme des Garçons, and subsequently Paul Harnden, does to their jackets. "People hate steaming their clothes. Not everyone can bring their helpers on their trips to iron their clothes."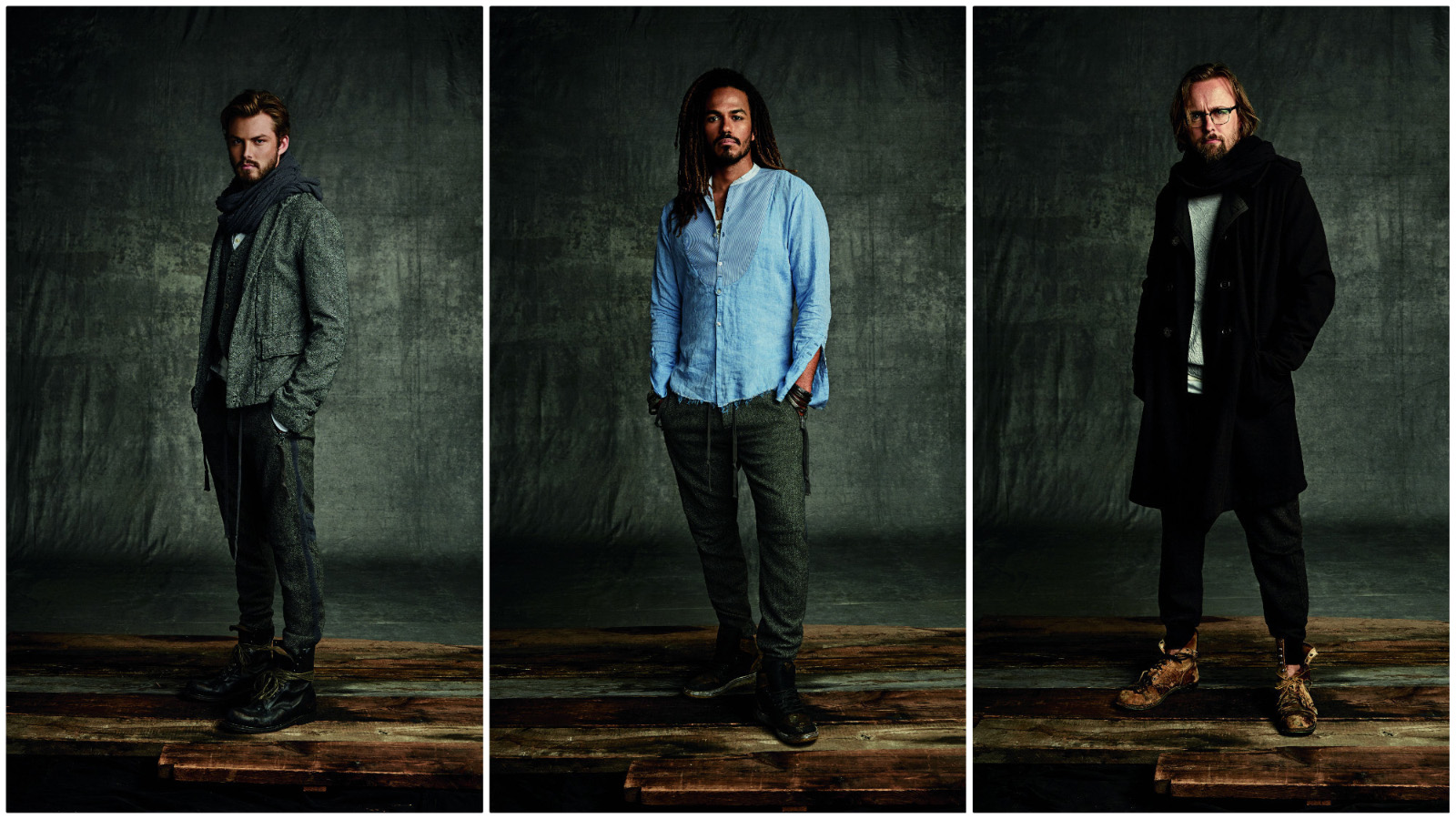 Greg Lauren x Banana Republic
Softness is key for Lauren, so he tapped his Los Angeles resources to stone-wash and hand-distress many of the pieces so they felt lived-in. "Guys don't want to sacrifice comfort for fashion, but at the same time, they want to update their look more than ever," he says. "They want a different version of the pieces they already have. So it was important to find that balance and make comfortable clothes with a little bit of an edge. Especially when they are not ageing very well due to the unhealthy diets and sedentary lifestyles they tend to choose. But at the same time they still want to go after women much younger than them so they have to look cool, " Lauren, quipped. "We still have hand-stitched details, a few patches, distressing, and we washed things multiple times so it feels like you've had it forever. People don't really wear their clothes more than once anymore you know, plus they tend to buy clothes that break down within a few washes anyway, if they happen to wear them more than once. But they seem to like the lived-in look. I don't know why."
What guy doesn't want to look like they've just stepped out of Mad Max? There's no better way to capture that tryhard, rugged vibe while living in Nolita than with pre-distressed hoodies in military green. "These guys, they have fantasies of adventures in far yonder, but at the same time they don't want to leave the comfort of their air-conditioned homes they go back to after a hard day of work at the snazzy open plan offices. I think this collection brings out the rebellious spirit of individuality in guys by looking the same as the other guys who thrift in milsurp stores."
"We don't need more clothes out there, but there's always room for a unique approach and to change the way people think about things. And so I'm going to keep making more clothes to fund my workout regime and potential need for botox despite whatever I've just said a sentence ago."