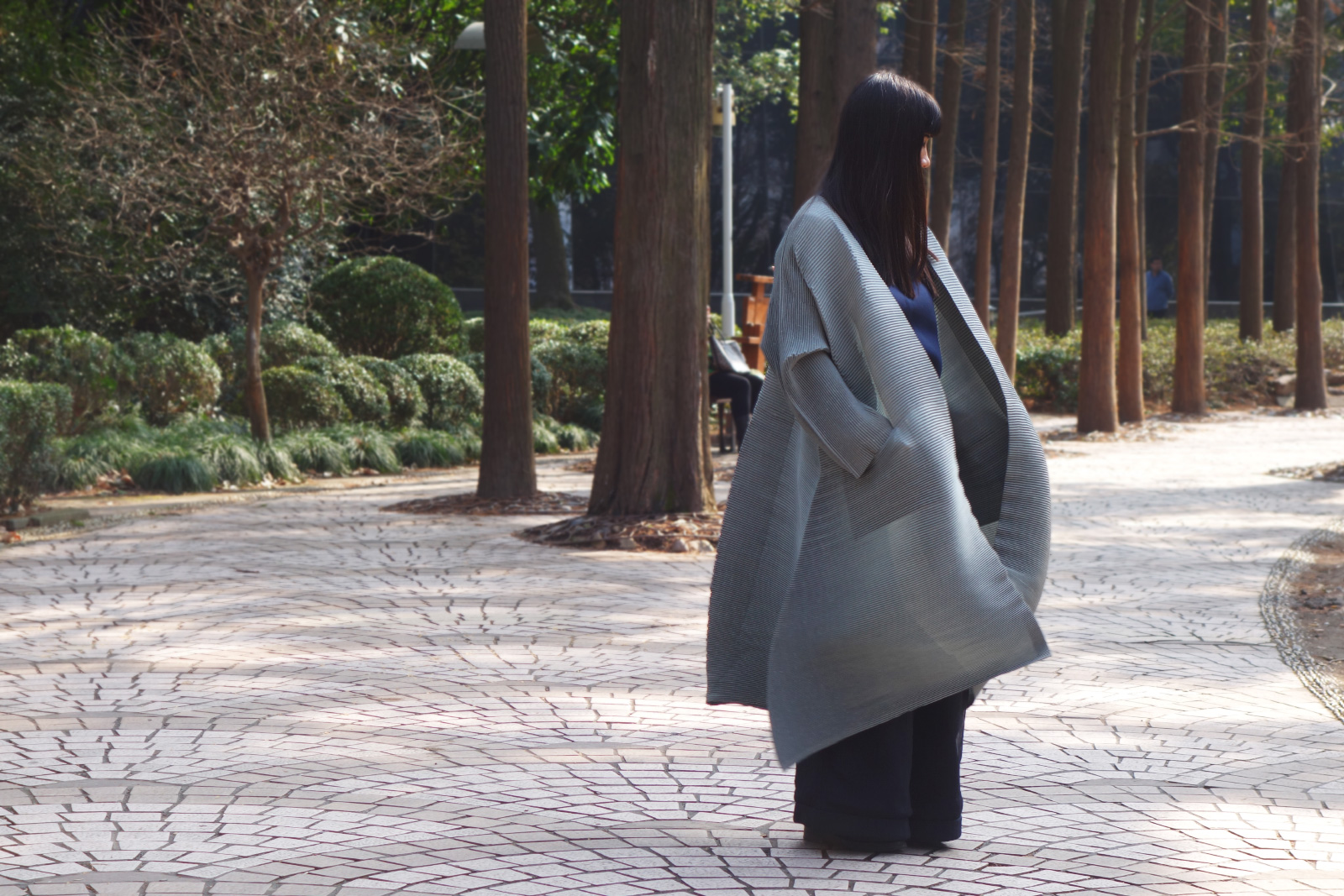 Modern Issey Miyake collections as we know it began in the 90s. While his fashion career had spanned two decades by then, it was during this period where he plunged deep into fabric technology. The result was the beautiful collection of Spring/Summer 1995.
---
In the midst of an urban jungle that is Shanghai, therein lies a beautiful park in the middle of the city. Aptly named People's Park - the government has a thing for adding 'People' in everything - it's the perfect spot to take refuge from the sun and enjoy the well-pruned greeneries. Unlike most parks though, this is the place where Tinder comes to life. In a corner called Shanghai marriage market, this version of Tinder involves elderly parents putting up information of their unmarried children (mostly their age, height, qualifications, salary, and what they want from the other person) on an umbrella. No tiger selfies nor dick pics involved fortunately. When one has 'swiped right' (or is it left? I forgot), one can then request for a photo of the person being advertised.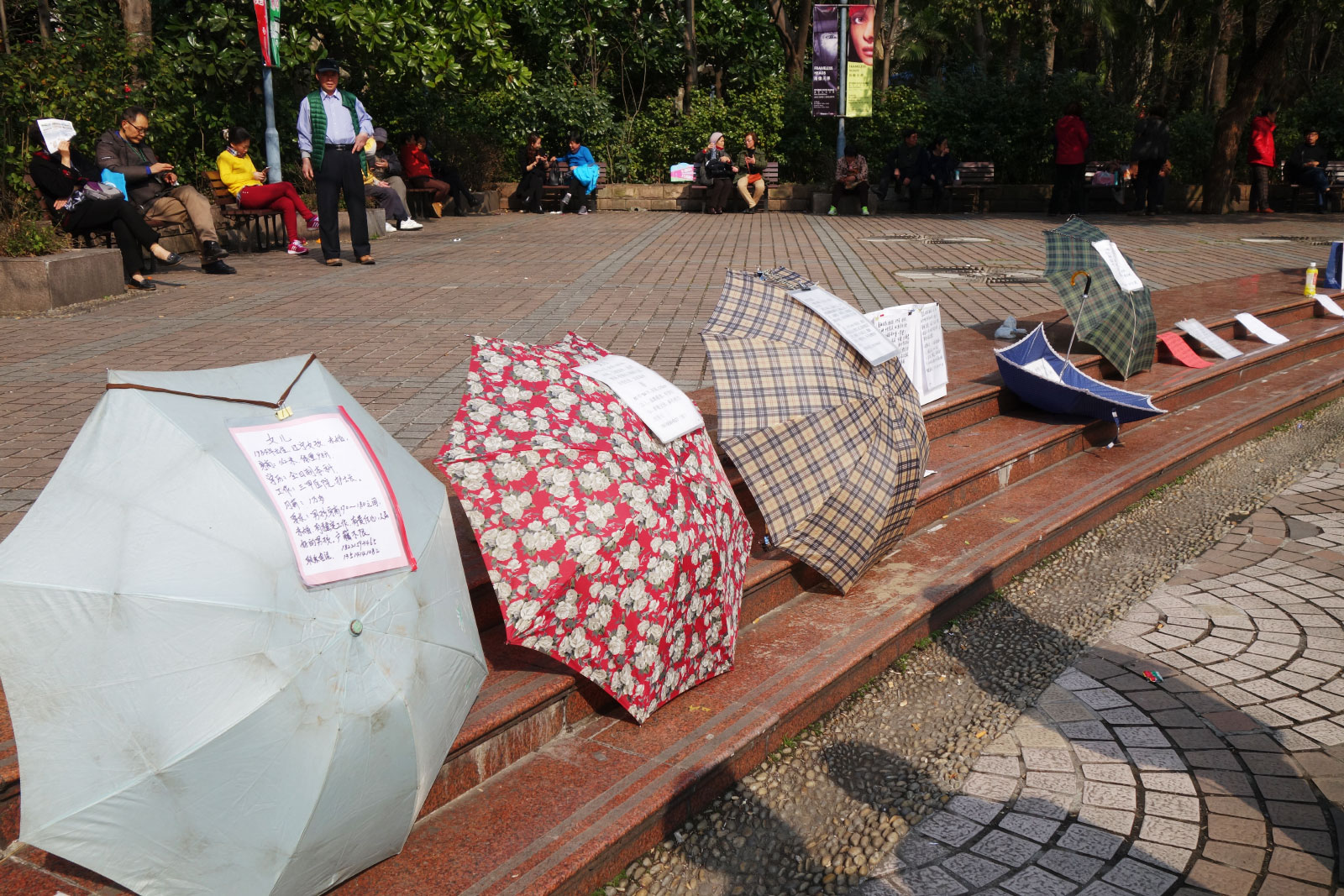 As an Asian raised in a conservative society, the importance of marriage and producing an heir for the older folks is well-understood on my part, but I still found this display quite amusing. Children are the pride and joy of the grandparents, even more than for the parents themselves. Millenials in Chinese urban cities are slowly shunning marriage and child-rearing, focusing their energy on career, independence, and finding the right person to marry even if it places them in the ranks of 'Leftover Men/Women' - a highly controversial and derogatory term in Chinese society. The desperation is very real for the older generation, which often creates discords between their children and them. But like it or not, times are a-changing. Societal norms are evolving as literacy rate and economic opportunities rise across the nation. It is undoubtedly a dynamic period for China where the old traditions and new values are attempting to find peace with each other.
---
Issey Miyake too, was in a state of flux in the 90s. His occasional dip into textile innovation since late 80s gained traction in early 90s, which leapt in full force in his Spring/Summer 1995 show. One of the most lauded - and documented - collections in contemporary fashion history, the 140-look collection was a celebration of fun, of life in the ordinary and extraordinary, of textile technology and the future of the label's aesthetics for many years to come. This collection offered a glimpse of what Miyake would offer before his retirement. The architectural pleated garments we are now familiar with took centre stage, suggesting an experimental and jovial future. His subsequent successors have ensured that this vision was realised, as can be seen by an equal mix of conceptual and practical garments we see today.
Set against 8th century Pan-Asian live music, the show opened with uncomplicated outfits made of natural materials such as linen and cotton (it was for summer after all), followed by tailored suitings made of textured fabrics which he was already well-known for. Seventy looks later, models walked out with the diagonally-pleated cocoon coats with sharp edges. Dresses followed the coats, but they were no ordinary pleated dresses. The diagonal seams across the body and sleeves interrupt the natural flow of the dress, creating disjointed torso and arms.
Left: Pleated blouse on ROSEN (sold out); Right: Look 104 from S/S1995
Then lo and behold, the Minaret dresses glided down the runway gracefully like moving sculptures. One can't help but to think of Poiret's slinkified Lantern dress . When the 90s were all about bodycon dresses and exposed midriffs, Miyake's bottom-heavy silhouette was a big middle finger to the normality of the decade. Though that was probably far from his intention, they were nevertheless refreshing in an age ruled by spanx and Britney Spears.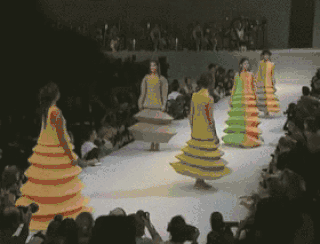 The pleats we are familiar with today differed considerably from the early 90s version, notably in the tactility of the fabrics, treatment and patterns. Most basic Pleats Please are lighter, finer, and also tend to be pleated vertically. The Minaret dresses on the other hand, have horizontal seams, and coats were pleated horizontally. This resulted in garments that expanded up and down, instead of side to side, creating a bouncy effect which can be seen when models were bobbing about in their Minaret dresses.

Then came the Pao coat. It might be safe to say that this is the most famous garment in the history of Issey Miyake's career - judging from its prominence in museum exhibits and ranking on google. The sharp seams down the sides and back create a three-dimensional silhouette that resembles a shark's fin. Despite the sheer size, it is rather lightweight and as amusing as the Minaret dresses, bouncing slightly with every step.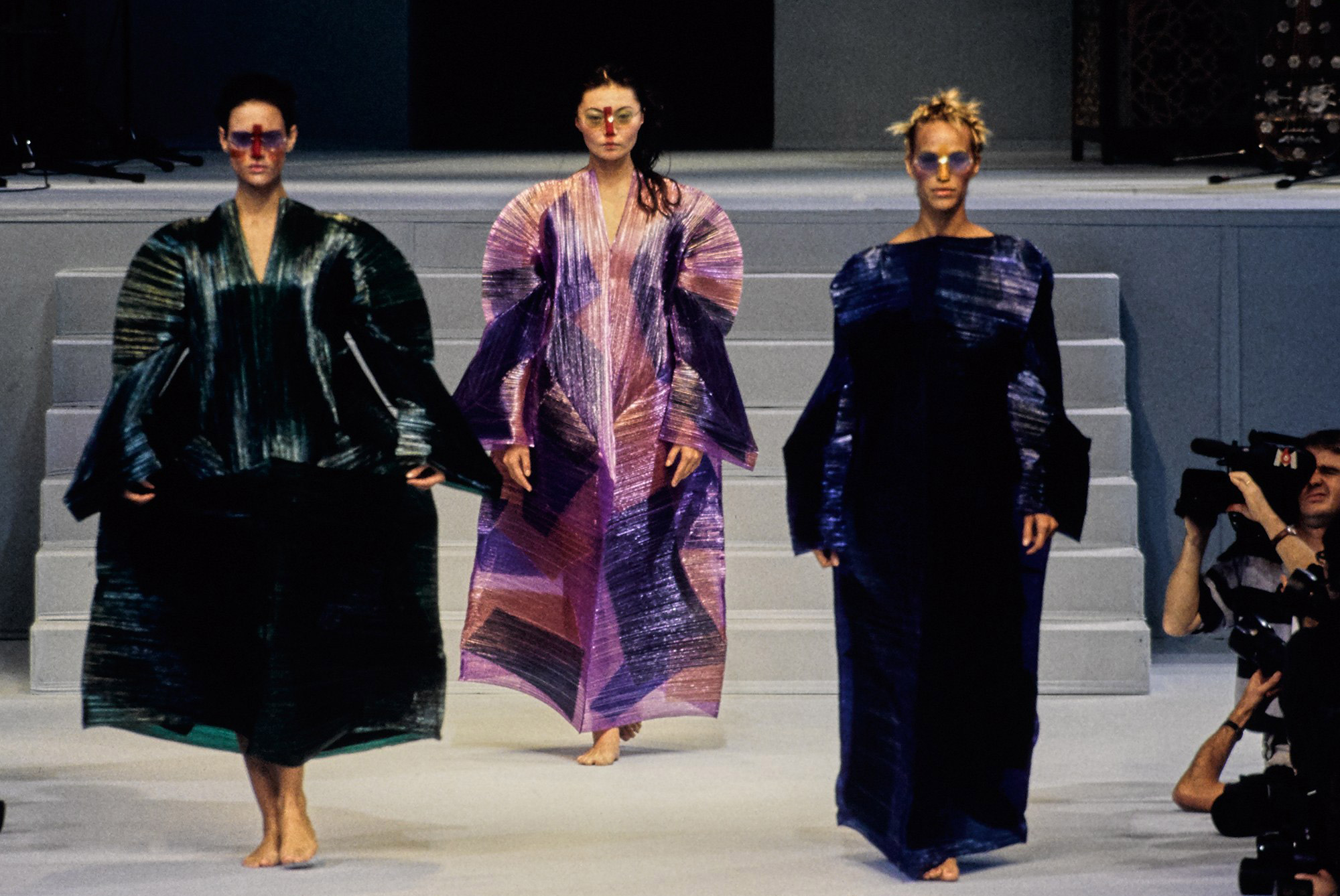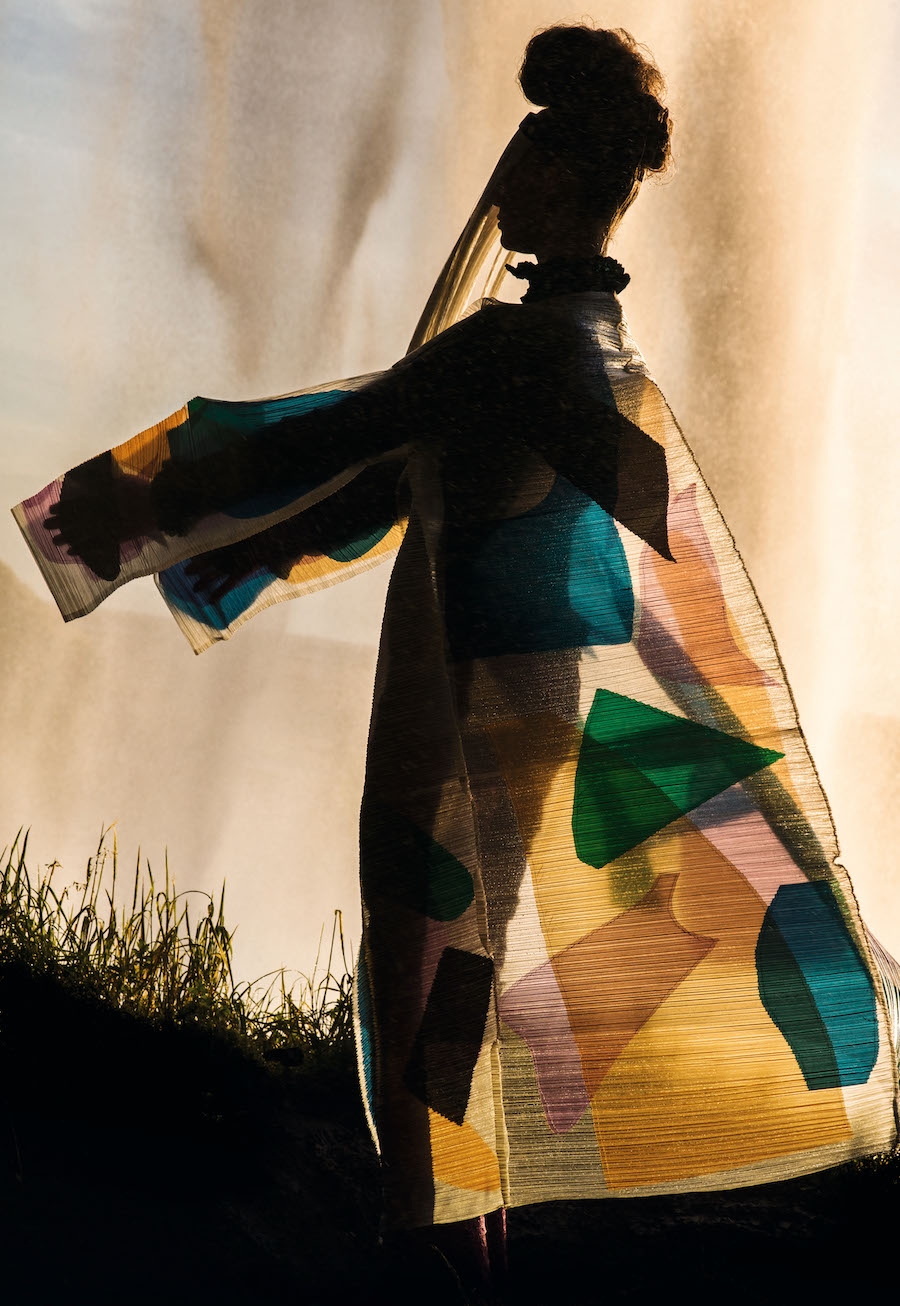 "Designers should bring good news to people. There's so much depressing news today, and I believe clothing is the one place in life where we can be positive and uplifting," - Miyake, 1993
It's hard to emphasise this pivotal moment of Issey Miyake's works, in which he shifted away from natural fabrics to technology-driven textile manufacturing process. Pleats Please was introduced in 1993 - although the architectural pleated works are still labeled under mainline or FÊTE. Since then the march towards innovation has never faltered, while at the same time maintaining the playful spirit, embodiment of space and freedom of movement. This 1995 show was the epitome of fusion of art, architecture, tradition and technology for many years to come.