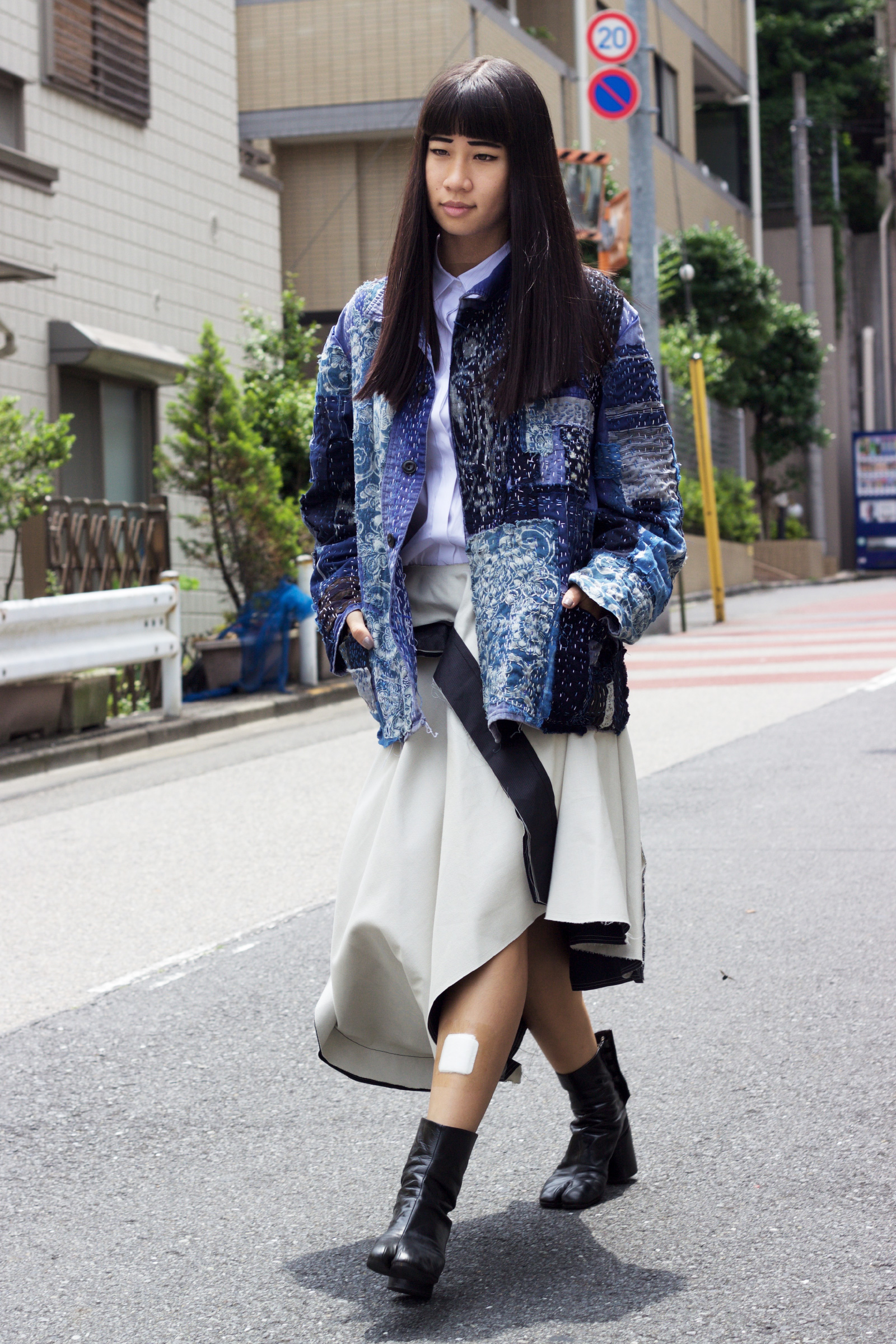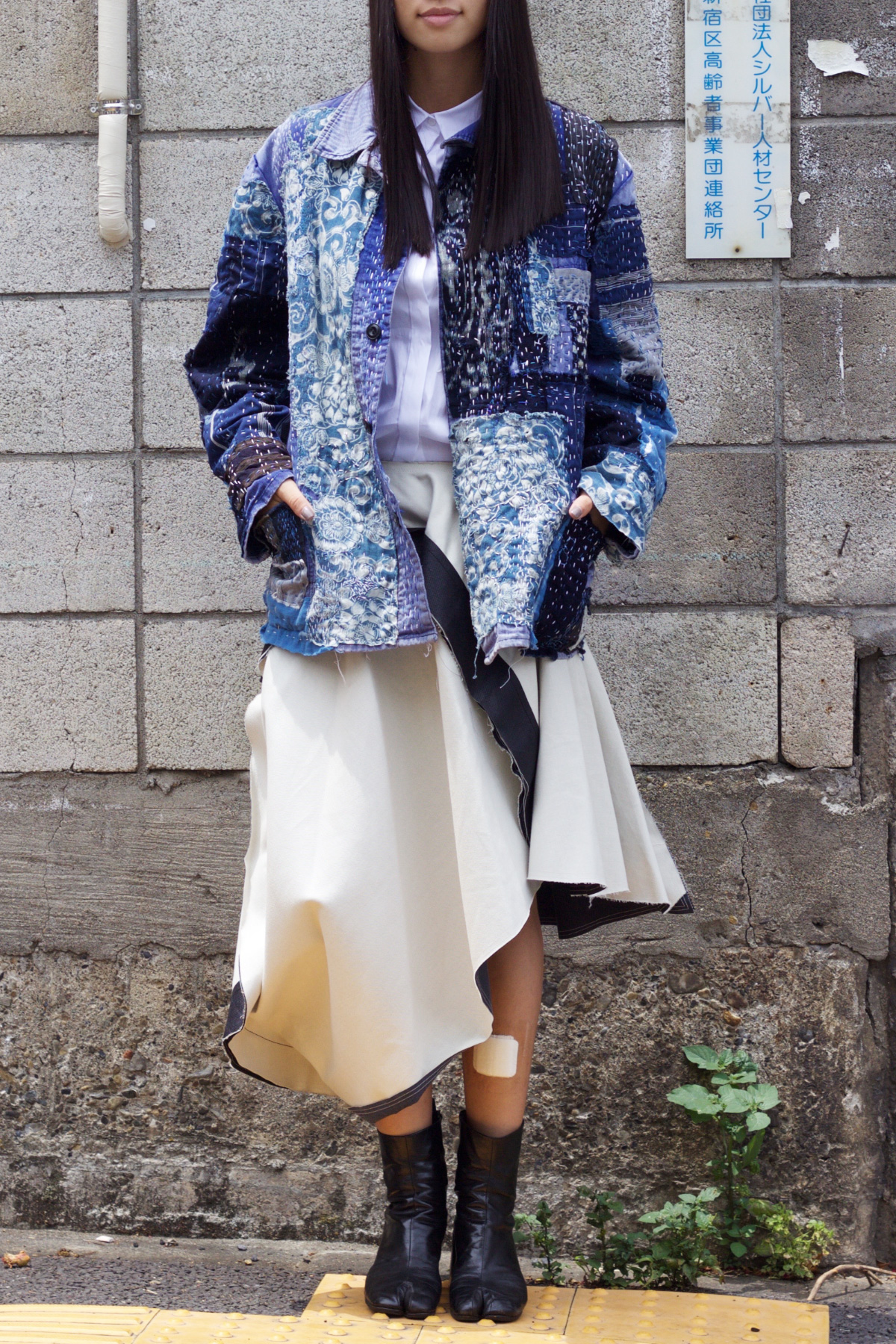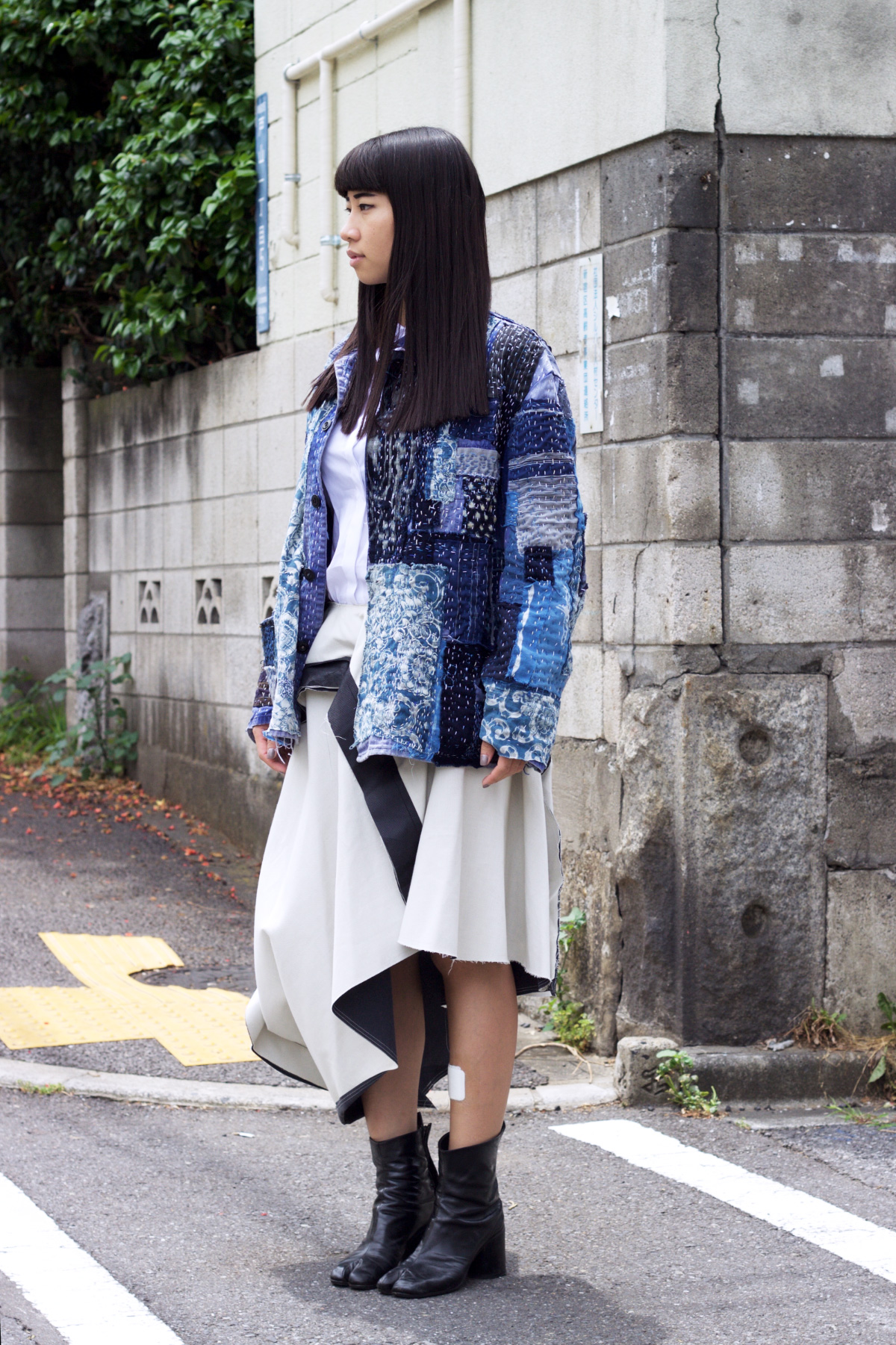 Wearing reworked chore jacket; COS shirt; almost vintage Comme des Garçons skirt and Margiela Tabi boots
In the old days of Japan where Uniqlo and Muji would not come into existence for another few centuries, the working class invented (and got by with) the concept of Boro and Sashiko. Those two terms were often mentioned together, although they're separate ideas. Boro refers to rags - or more broadly, the art of mending garments with rags. Sashiko is a specific form of running stitch used in repairing garments and strengthening the patched up homespun fabrics.
Due to the economic hardships it was simply not possible for the poor to replace clothing at the rate they went through wear and tear in the harsh outdoors. A garment will be patched up until it was no longer possible to salvage it, and the good bits would then be cut away to patch another garment. It was necessary for the rural folks to invent ways that will preserve their garments for as long as possible - we're talking about a lifetime, and many were passed down to the next generations. Wives and daughters of farmers and fishermen would spend their time in winters mending worn out textiles skilfully with Sashiko stitching using thick embroidery threads. One's sewing skills were so highly-regarded that it may have become an indication whether one was of marriage material.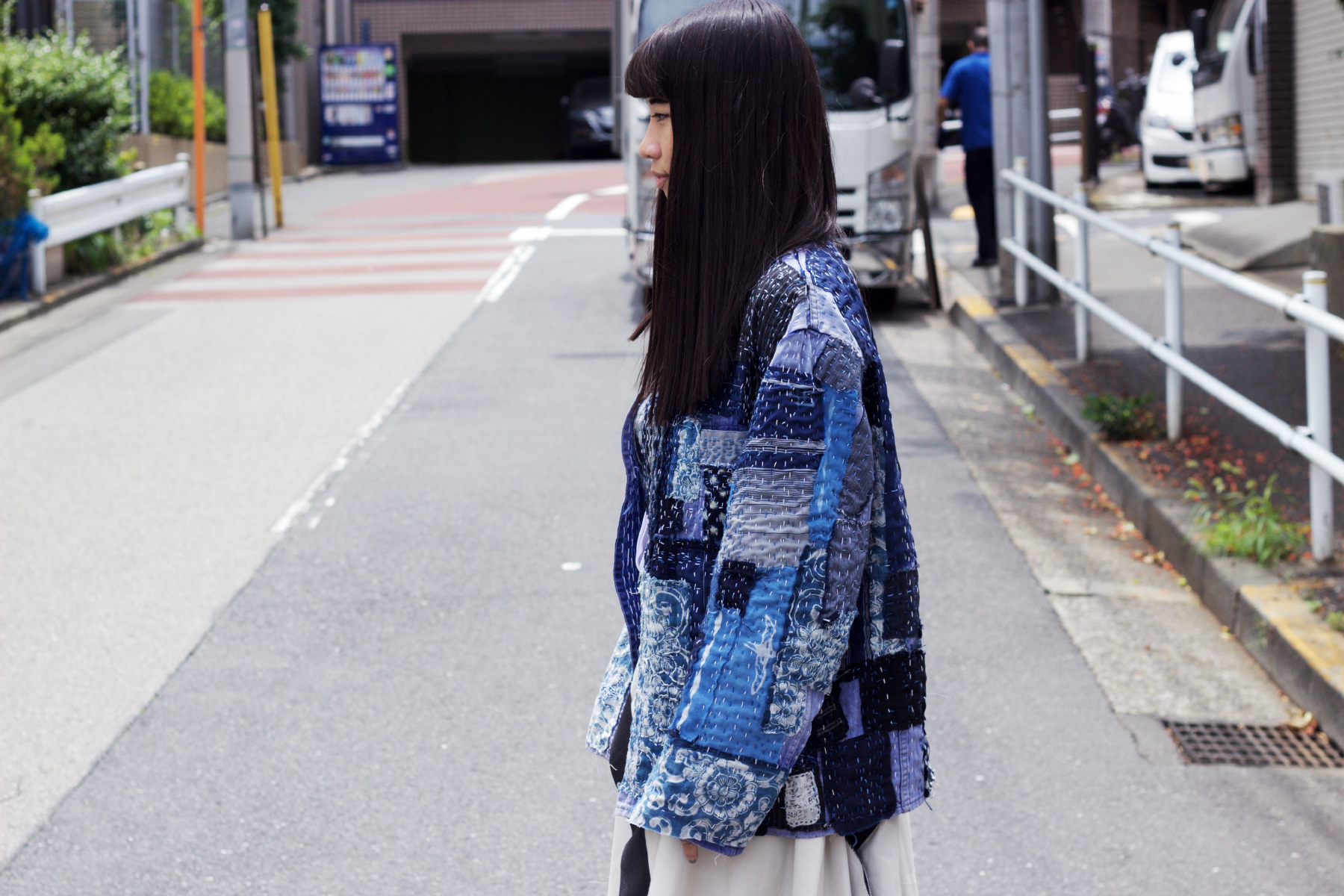 Most of these boro blankets and coats were made of hemp/ramie/linen. Before Japan's industrial revolution, cotton had to be imported. The rigid class system of Tokugawa period dictated that commoners weren't allowed to wear expensive fabrics - cotton included. That, and the peasants could not afford them. It's also almost impossible to find Boro textiles that are not indigo. Again, blame it on the elites. Not only were you denied of cotton if you didn't belong to the right social class, you couldn't even wear bright colours. So indigo was the go-to option due to its lasting nature. It was also said that indigo dyes repelled insects - a statement which I have not taken the liberty to cross check yet.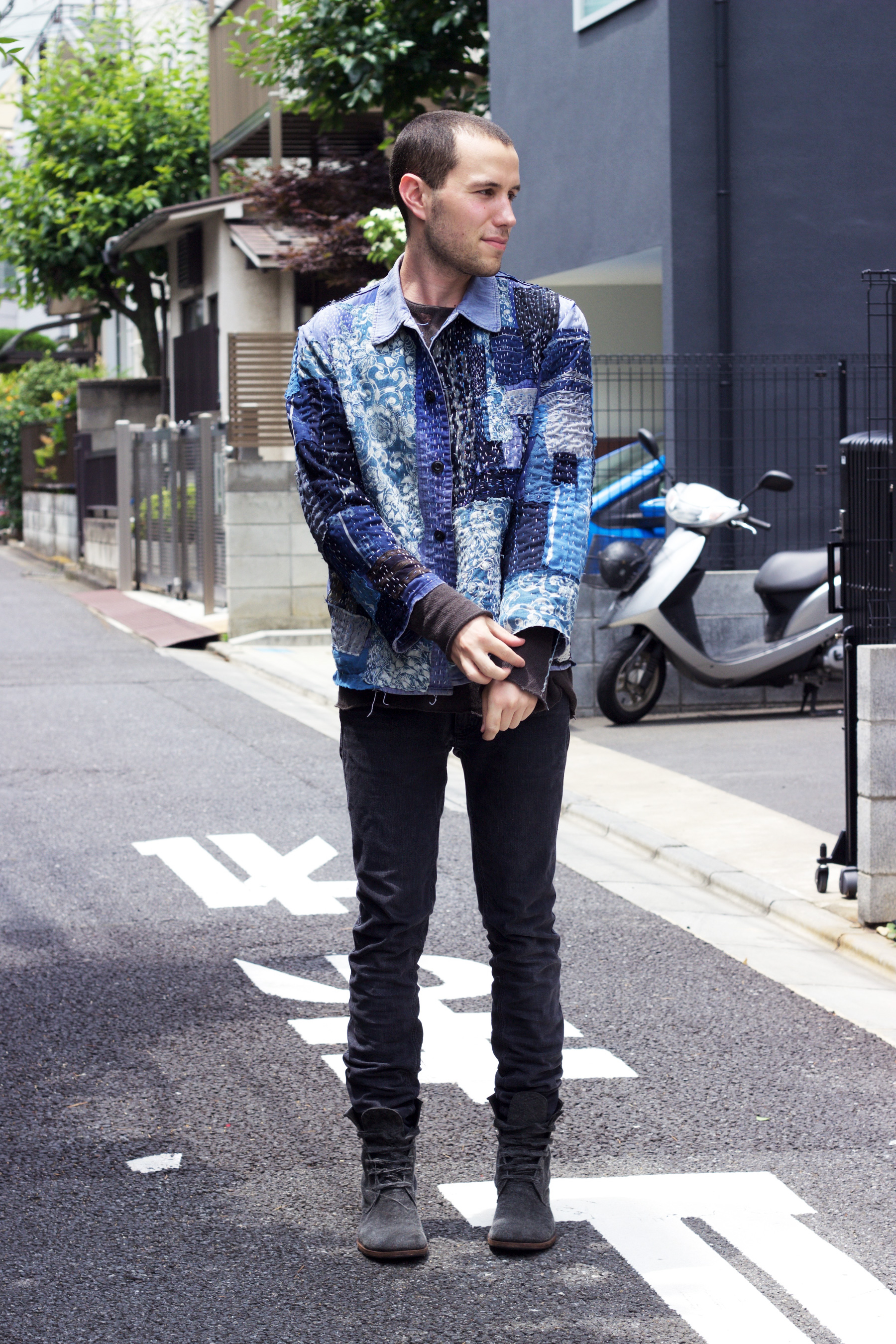 Everything about Boro has its roots firmly planted in poverty - born out of necessity and class segregation. Its popularity waned when Japan entered industrial revolution. Prices of textiles plummeted while the wealth of the working class grew. So did their enthusiasm in abandoning the ways of their cash-strapped ancestors. Today it has ironically gained a prestigious status amongst the bourgies of our time. As the wave of nostalgia sweeps through our generation, Boro is now proliferating high fashion under the umbrella concept of wabi sabi (cues Kapital and Junya Watanabe). Just look at the three of us parading in this pimped up chore jacket. Jasper's (the one with huge hair) mom had painstakingly sewn beautiful patches of fabric with running Sashiko stitches. If you'd like to make one yourself, there are books out there detailing the history of Boro garments (here) as well as Sashiko techniques (here and here). Should you find yourself wanting the real deal, they are available in various second hand platforms going anywhere from a couple of hundreds to a few grand for garments in top notch conditions.
One can only wonder what the peasants of yesteryears would think if they were able to see how much we treasure their works today.
PS. Many thanks to the top lads for letting me post their photos. You can find their sites here and here. Expect to see plenty of anime and doge, and very little fashion.