A few days ago I read an op-ed piece on whether new designers should fit with the brand ethos of historic houses, and my answer is now a resounding yes.
I am able to say this after seeing Galliano's latest attempt in Margiela.
We buy into a label because we trust that it produces what we want at any point in time, and our loyalty grows when the label continuously meet and/or exceed our expectations. Over time we know what to expect from our favourite designers, and whether the strength of our liking ebbs and flows according to seasonal shows, chances are we would stick around for a long time. This is why Rick Owens and Comme des Garçons have garnered such a huge fanbase. Despite the continuous evolution of their aesthetics, their roots remain in the same place.
So when a designer swoops in to do a complete overhaul of a label without respecting its hefty legacy, chances are the fans will feel betrayed. I know I do. I held my judgment regarding the Artisanal show because it was a little premature for me to form an opinion. There were some hits amongst a sea of misses, but overall the attempt wasn't disappointing. This RTW show was Galliano exerting his own universe, squeezing out every bit of ooze that was left from the Margiela of old. Yes I could see he was referencing Margiela's signature creations, such as the '1997 dress form' dress, or his heavy use of pinstripes. But all of these seemed so superficial. The Margiela universe was anonymous, linear, austere and at times grimy amidst a sea of luxurious fabrics. All of that gave way to clownish makeup, gaudy adornment and excessive theatrics without any substance.

Margiela's 'Dress Form' vs Galliano's reinterpretation
This seems like déjà vu all over again, first with Hedi Slimane running amok in YSL. Like Slimane with his clearly-defined yet outdated and rigid aesthetics, Galliano is certainly a master in his own right, but he's not mastering Margiela at all. Margiela is like sushi. It looks deceptively simple to make but you don't perfect it by adding unnecessary ingredients.


Galliano for Marc Ja.. I mean Margiela
Unlike Galliano, Alexander Wang is slowly paying his dues in Balenciaga - Ghesquière's Balenciaga that is. The signature egg-shaped silhouettes have resurfaced in full force, albeit with a less space-age approach and more of Balmain's opulence in terms of texture. I have the impression that he's still walking on eggshells, trying to find a balance between implementing his own vision while referencing the archives. I am far more impressed with this season than the previous ones he's done because it feels like Ghesquière again. Maybe I just miss the latter tremendously. This is not to say that newly-appointed designers should reference the archives heavily. Raf Simons is possibly the best example of a designer who has successfully revitalised a historic Maison with the injection of his own personal identity.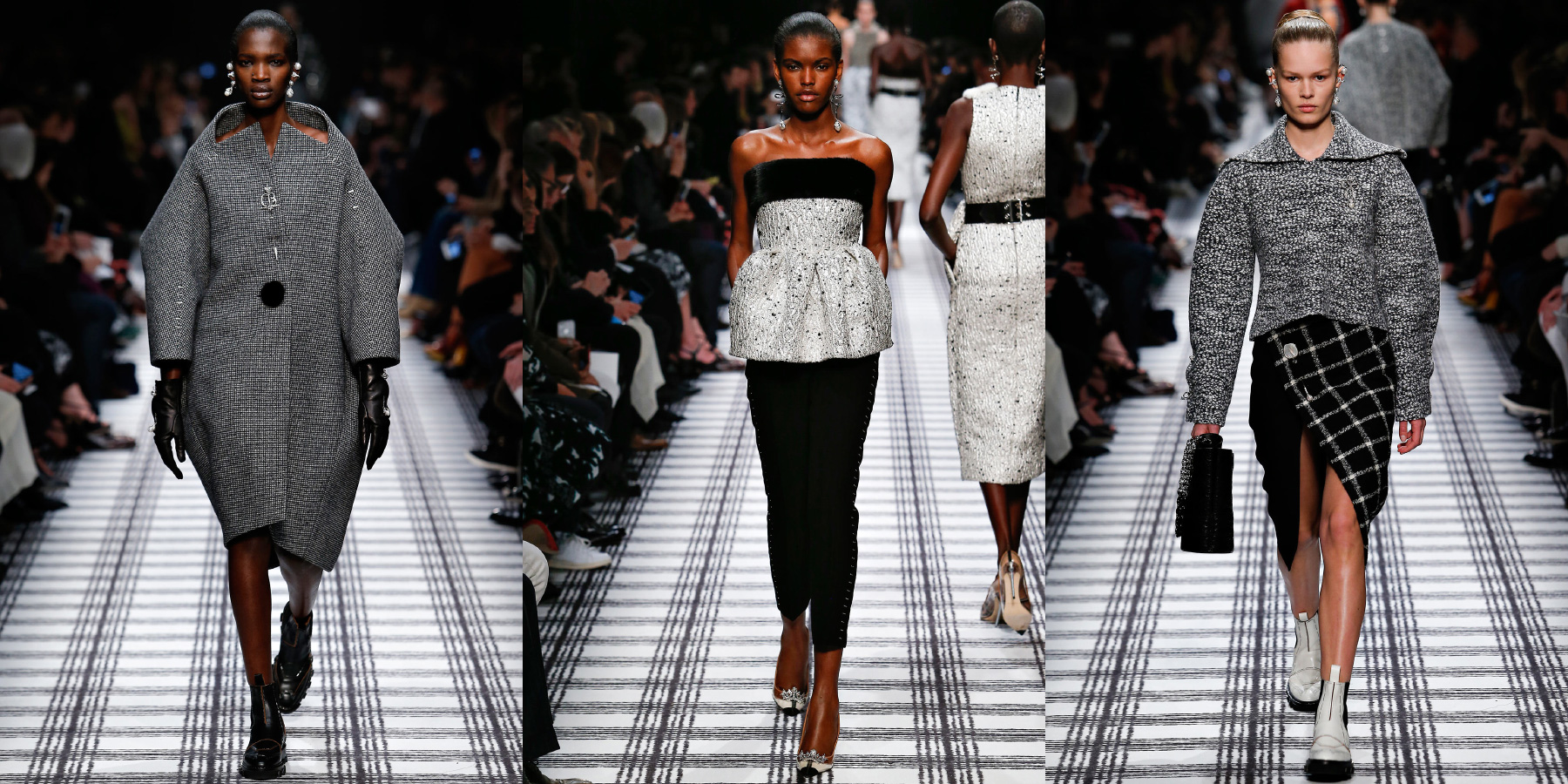 Alexander Wang for Balenciaga FW2015
Speaking of someone else doing an excellent job, Chitose Abe of Sacai has delivered again. You'd think Abe would have run out of ways to dissect a garment by now but I stand corrected. She has also introduced new silhouettes to entire outfits or heritage pieces like the M-65. Of course at this point we can expect Abe to exhibit her finesse in mixing knits and tailoring in a single garment, but the manner in which she does it is always a pleasant surprise.

Unusual silhouettes from Sacai

Displaced seams showcased with an adept mix of materials
And then there are our old favourites.
Ann Demeulemeester, Haider Ackermann and Yohji Yamamoto stayed true to their paths. There was nothing unfamiliar presented on the table. The clothes are still beautiful and inspirational, evidently showing their respective DNA. Often that's enough to get our hearts beating.
On the other hand, Rick Owens's show was stunning, literally. All that gold and glitter was a fair bit of a shock when I first saw it, so much so that I thought I was looking at Gareth Pugh (who by the way rehashed his own archives, unfortunately). He reformed familiar silhouettes (FW2009 comes to mind) and exaggerated them, eg. the stomach and back flaps, while sculpting drapes in heavy fabrics. The mix of materials and colours, though not as contrasting as Sacai's, was cohesive. They actually make sense, as I scrolled and scrolled. My arms are terribly grateful for the wider sleeves he's been churning out in the last few seasons. While I wouldn't jump on that muddy tan brown yet, I find it rather fitting in this collection. Calf hair in midnight though? I'd wear and sleep on that. I wouldn't even say no to the gold sequins!
I'd go in depth into Comme des Garçons except I simply can't. My vocabulary is not expansive enough to wax poetic about the last few collections. To me, they are an amalgamation of all that Rei has done in her entire career. Combine that with the re-released but pared down versions of her signature collections from the Comme Comme line, one begins to wonder if the end is nigh, but I hope that would be far from the truth. Should the day come when Rei decides to retire, I believe there is a team that's more than capable of protecting, respecting and continuing the label's legacy, provided if she doesn't decide to close the label.
Sadly, staying true to a brand's ethos may become a thing of the past. Despite many longtime fans' protests, designers who failed to do so seem to reap the rewards. As Alexander Fury has surmised:
"Saint Laurent's sales have doubled during Slimane's tenure; Moschino sales grew 7 percent last year. There's a customer for this. Perhaps those customers don't care whether the designers fit the label, but only whether the clothes fit them. Maybe they don't care what the label is at all."