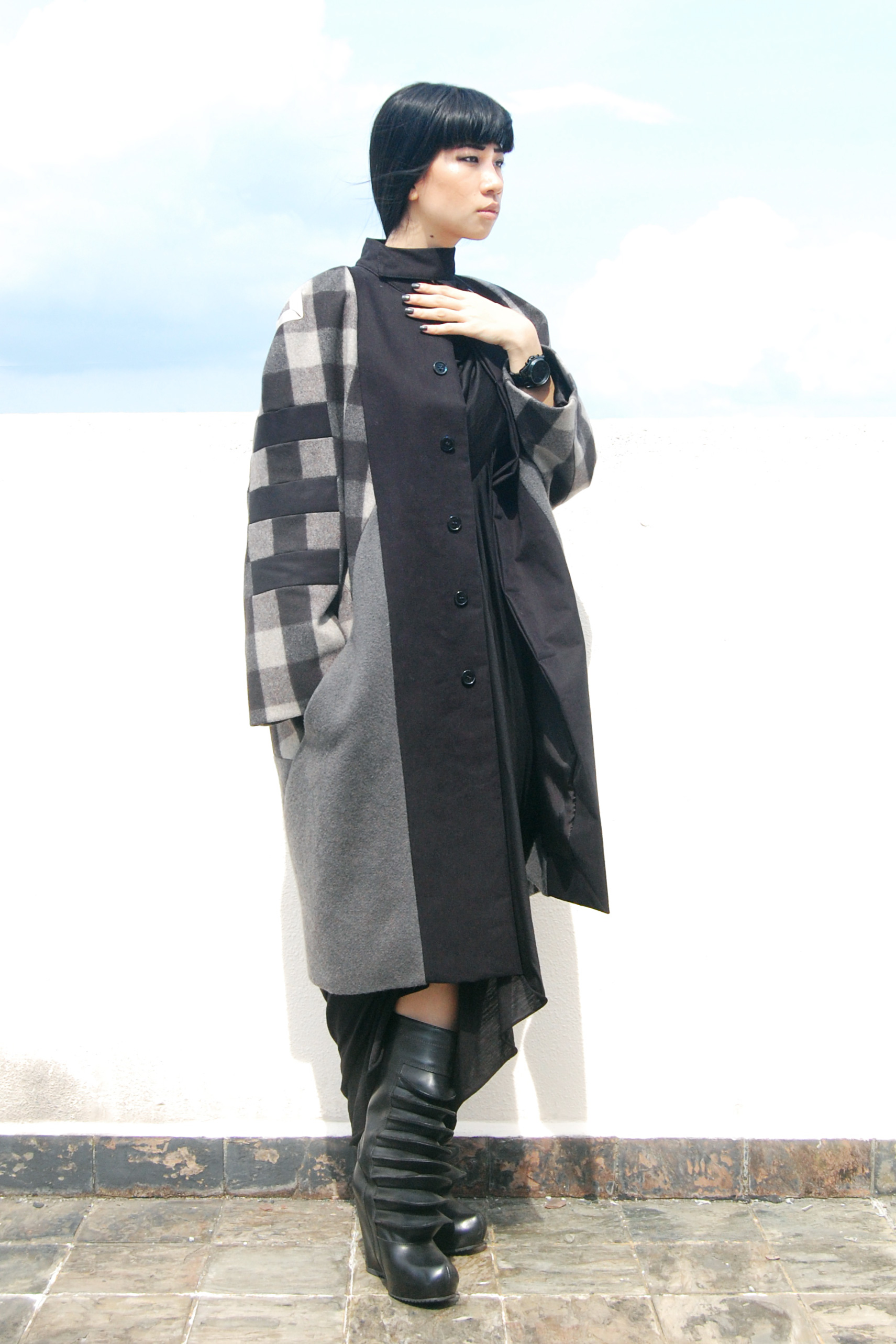 I went out for a rather lavish dinner in town, having had the pleasure to be chauffeured to and fro by a good friend of mine. I don't usually speak about the context of my outfits but I am making an exception this time. This was simply due to one thought that popped up in my head as I was passing a very pleasant evening. "The internet will not believe that I wore this outfit", I murmured to my friend.

I know many of you are aware that I live in the tropics and hence do not have much opportunities to wear thick clothing. Several contributing factors on that evening allowed me to do so. One being optimal layering – the dress I wore underneath is sleeveless and very thin, so much so that if I were to wear nipple tapes they could be seen (yikes!). It's also important the the coat I was wearing is extremely oversized, hence allowing for air circulation (wow can't believe I said that about a Rick outerwear!). Two – I was constantly spending my time in air-conditioned environments in the evening. Three – and I always stress this time and time again, my body is highly acclimatised to heat (hence dealing very poorly in the cold, which I had spoken about here), especially my feet which have no problem being covered in boots and never seeing daylight when I'm outside.

On numerous occasions, inaccurate assumptions have been made about the lifestyles, environments and bodily functions of people on the internet. Hence sometimes I find myself having to explain about my abilities to wear the clothes I am showcasing on this blog sporadically. While I am okay with doing this, I am more concerned with my regular readers who have to read the same explanations over and over. To you, my dear internet friends, I do apologise. But sometimes I must do what is necessary to keep up with the so-called integrity and 'authenticity' of this blog (what is authenticity in the fashion blogging context anyway?!).

It also raises another fascinating subject in my head. How much of what bloggers wear in real life is influenced by the need to present their outfits on the blog? Has the need for staying true to one's defined style portrayed on a blog put a parameter around what should/shouldn't be worn in real life? For some reason authenticity is such an issue for many bloggers' audience that time and time again when famous bloggers are spotted in real life, readers express disappointment that their outfits in 'real life' aren't accurate representations of their virtual image. This issue is still at its infancy in my head. Perhaps as time goes by I can formulate it better. Of course I would, really, really, reaaaaally love to hear your thoughts on this and have a further discussion so I can actually write something substantial on this topic. Your observations, personal experiences, anecdotes, theory about other bloggers… Anything! You're more than welcome to remain anonymous too.