Biker jackets, specifically the double rider, has become a ubiquitous garment in fashion. It is exemplified by the asymmetrical placement of the main zipper, wide lapels with snap buttons and a pocket flap on one side. Another name it often goes by would be the Perfecto. The jacket was first released by Irving Schott of Schott NYC back in 1928, but its popularity was only cemented in the 50s after it was worn by the likes of Marlon Brando and James Dean in their respective movies, both with rebellious undertones (Automobiles! Penis! POWWAAHHHHHH!!!).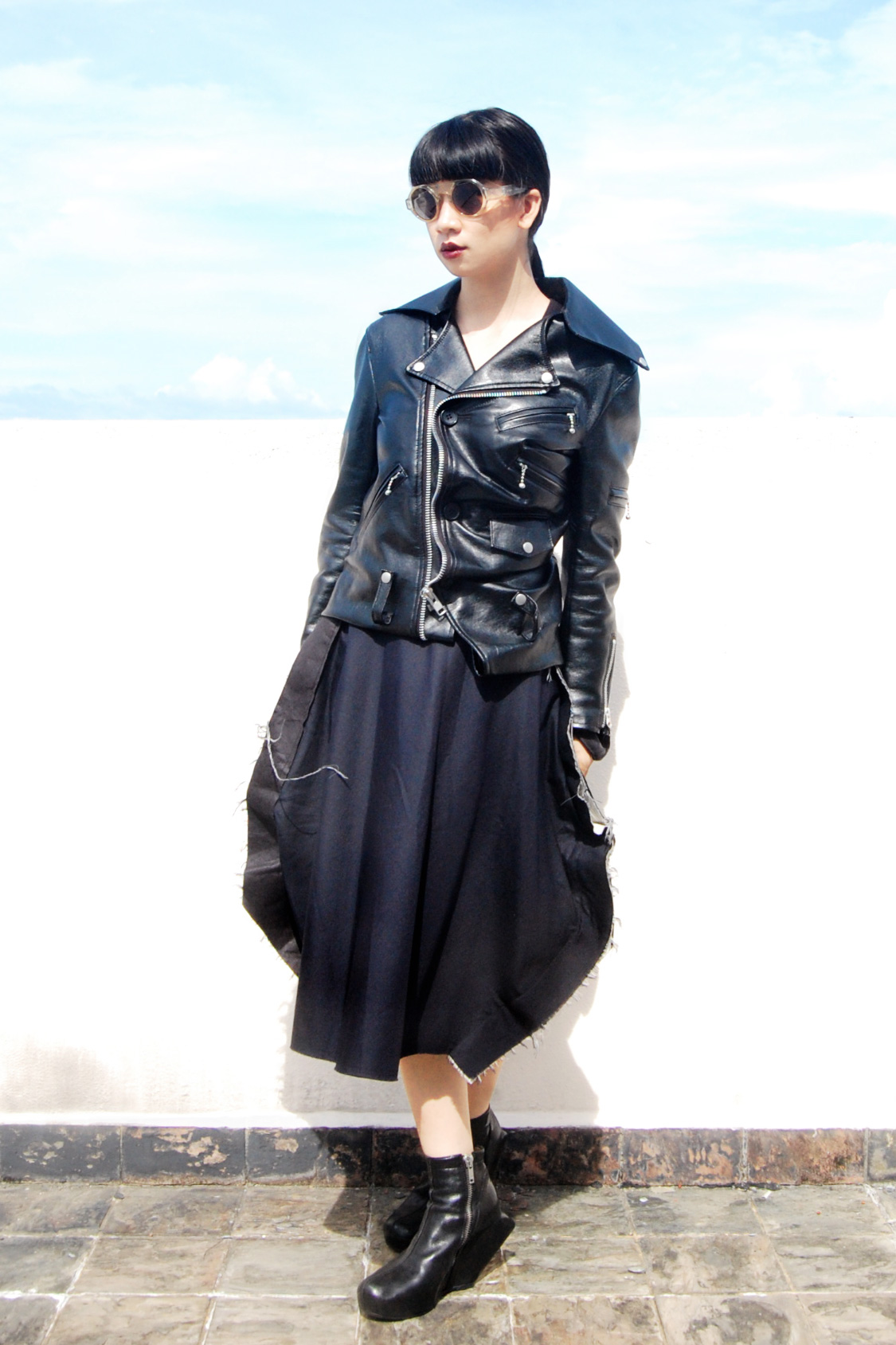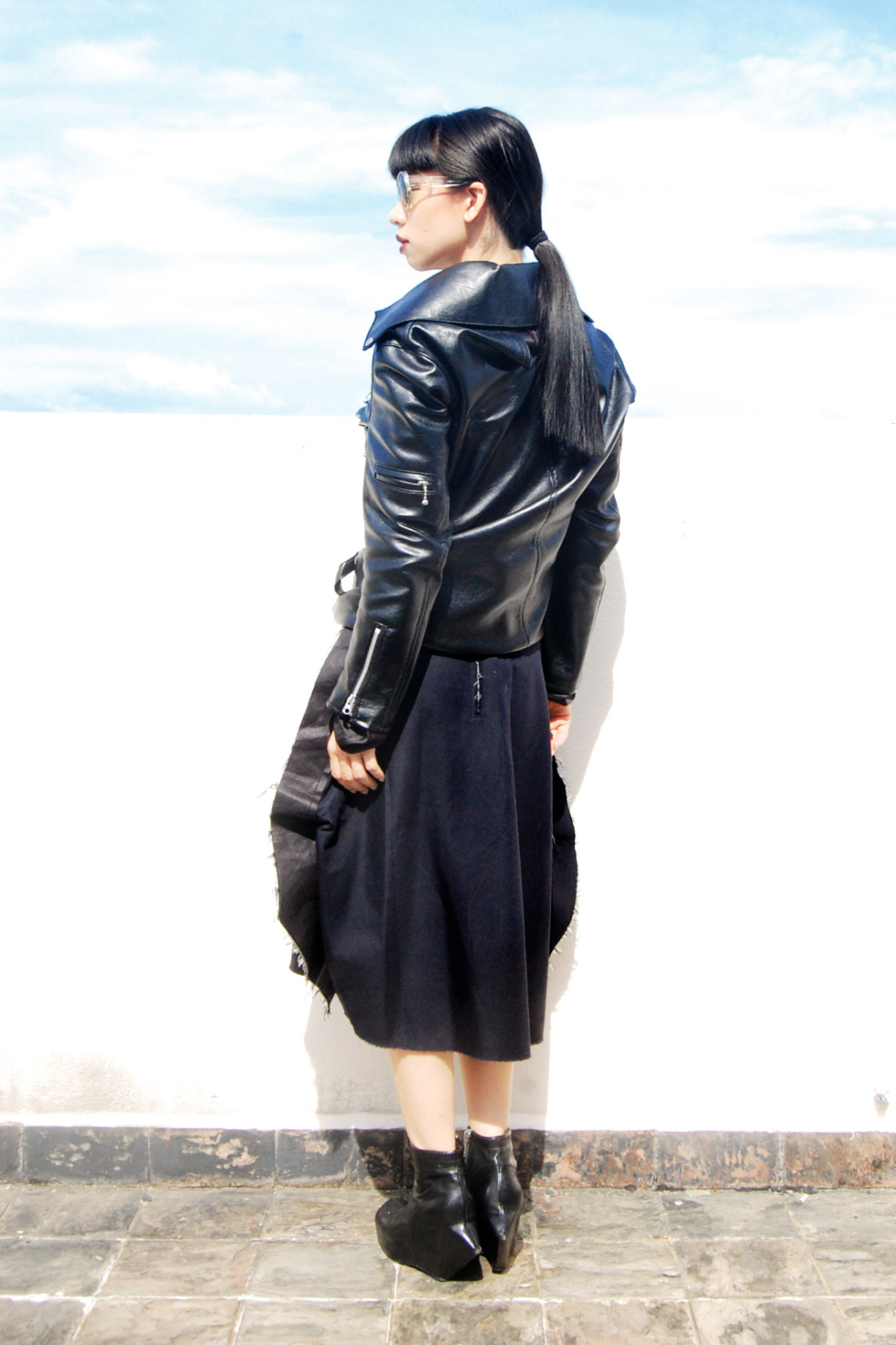 Wearing Junya Watanabe FW2007 jacket, Comme des Garçons SS2004 skirt, Rick Owens turbo boots

Fast forward almost a century later, every other designer has made some rendition of the Perfecto, from Rick Owens, Margiela, Undercover, Yves Saint Laurent, Balenciaga, to all the high street stores you can ever think of. No complaints there since it's my favourite type of garment. However in my opinion the best interpretations have always been done by Junya Watanabe. As a designer, Watanabe isn't as widely recognised as Rei Kawakubo, but he is a meister in his own right. On the mens side, he is mostly known for his interpretations of Americana workwear, with plenty of checks and patchworks. For womens however, his works are far more varied. The central themes of his collections tend to revolve around masterful drapery, patchwork denim, reconstructions of military garments, reinterpreted tailored garments such as the trench, and the prevalence of various forms of motorcycle jackets. Conceptually he doesn't push the envelope as far as Kawakubo, consequently making his runway clothes more wearable yet no less visually arresting.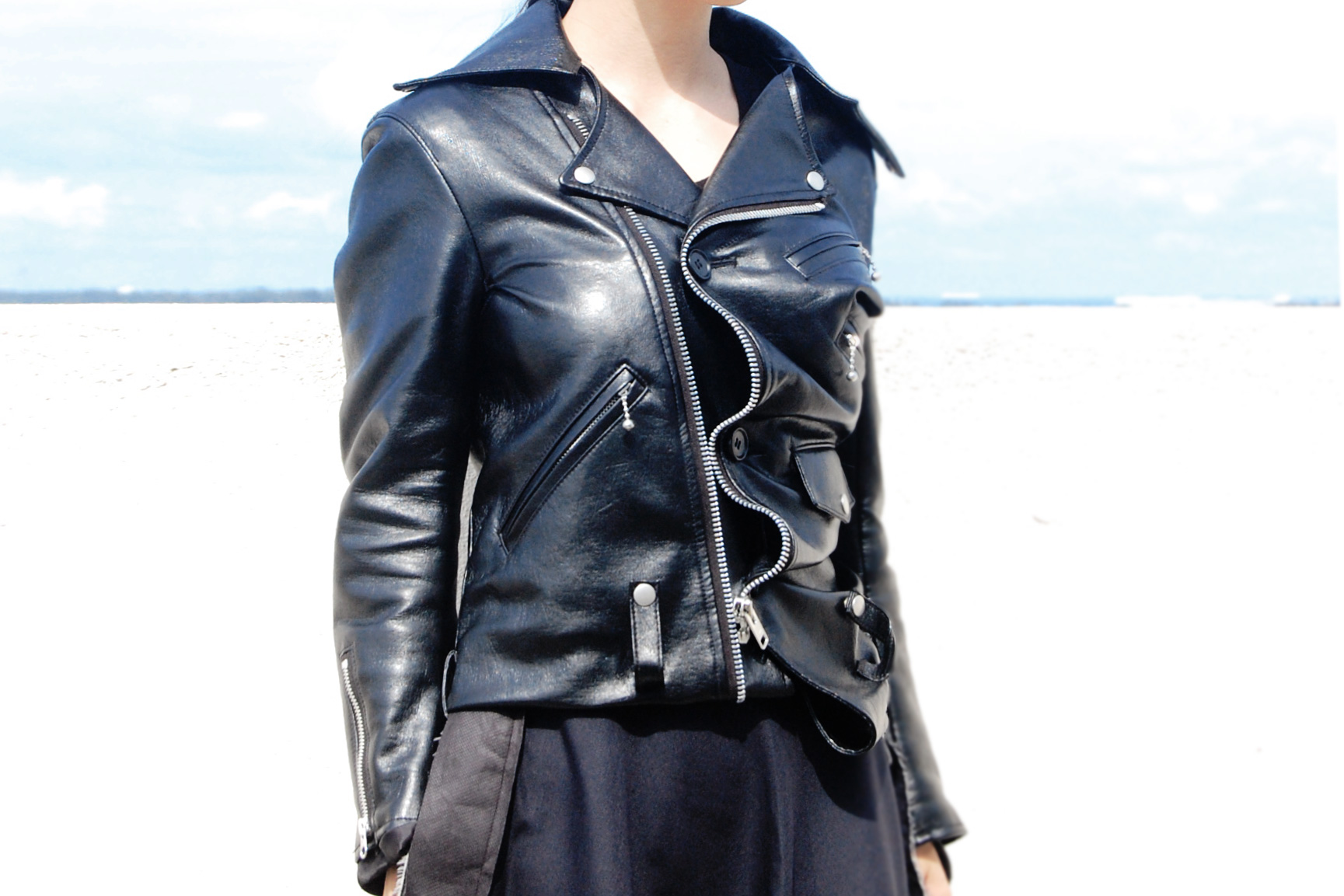 Watanabe first started working for Comme des Garçons as a pattern maker in 1984, before being promoted to chief designer of the Tricot line three years later. He established his own line in 1993 assisted by another Comme des Garçons protegé Chitose Abe who now helms Sacai. There is not much online evidence of his works before the turn of the millenium, but I can safely say that he first started pushing his biker jackets aggressively from Fall/Winter 2007 onwards.

As a designer, Watanabe is far more interested in manipulating synthetics. With the exception of Fall/Winter 2011 in which he sent down plenty of outerwear in genuine leather, his jackets are mostly made of PVC or PVC-coated cotton. In the Fall/Winter 2007 collection, he showcased a few versions of 'faux leather', such as the one soft thin one I'm wearing in this post, or a tough one that closely resemble goatskin, which you can see here. Similar versions made their appearance again in the Spring/Summer 2014 show. Such was the significance of his biker jackets that they were reproduced in leather for the collaboration with Spanish leather maison Loewe. For his Spring/Summer 2012 and Fall/Winter 2014 collections, he juxtaposed feminine frou frou onto the traditionally masculine Perfecto, blurring the line between gendered clothing (cues gender and body politics).




It is his fixation with biker jackets that drew my attention to Junya Watanabe's works. As an avid collector of this particular garment, one can't help but to appreciate the intricacies and innovation that are needed to re-invent them. Large maisons like Balenciaga continue to churn out the same iteration every season, with little to no variations in design (change in zipper colour doesn't count!), simply because it's their best selling garment and can continue to ride on its popularity to survive. Wearing Watanabe's complicated jackets do take some mental investment because they are so in your face. Mental in the sense that one has to have the ability to ignore the stares from strangers, the same kind that would be given to anyone who suddenly bursts into song and dance in the subway. Whatever your tolerance to outré clothing is, Watanabe's works deserve more recognition than what he's currently receiving.