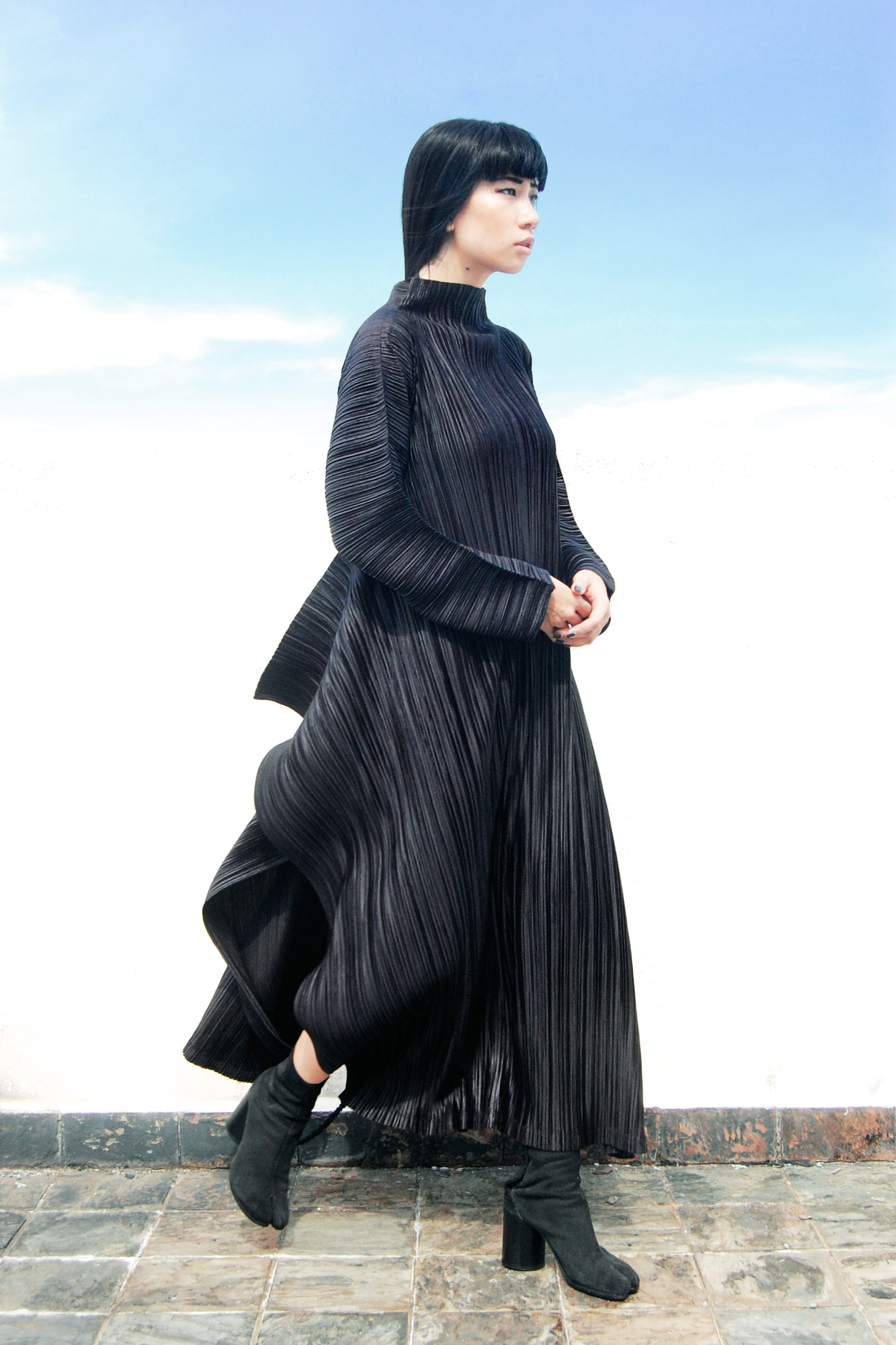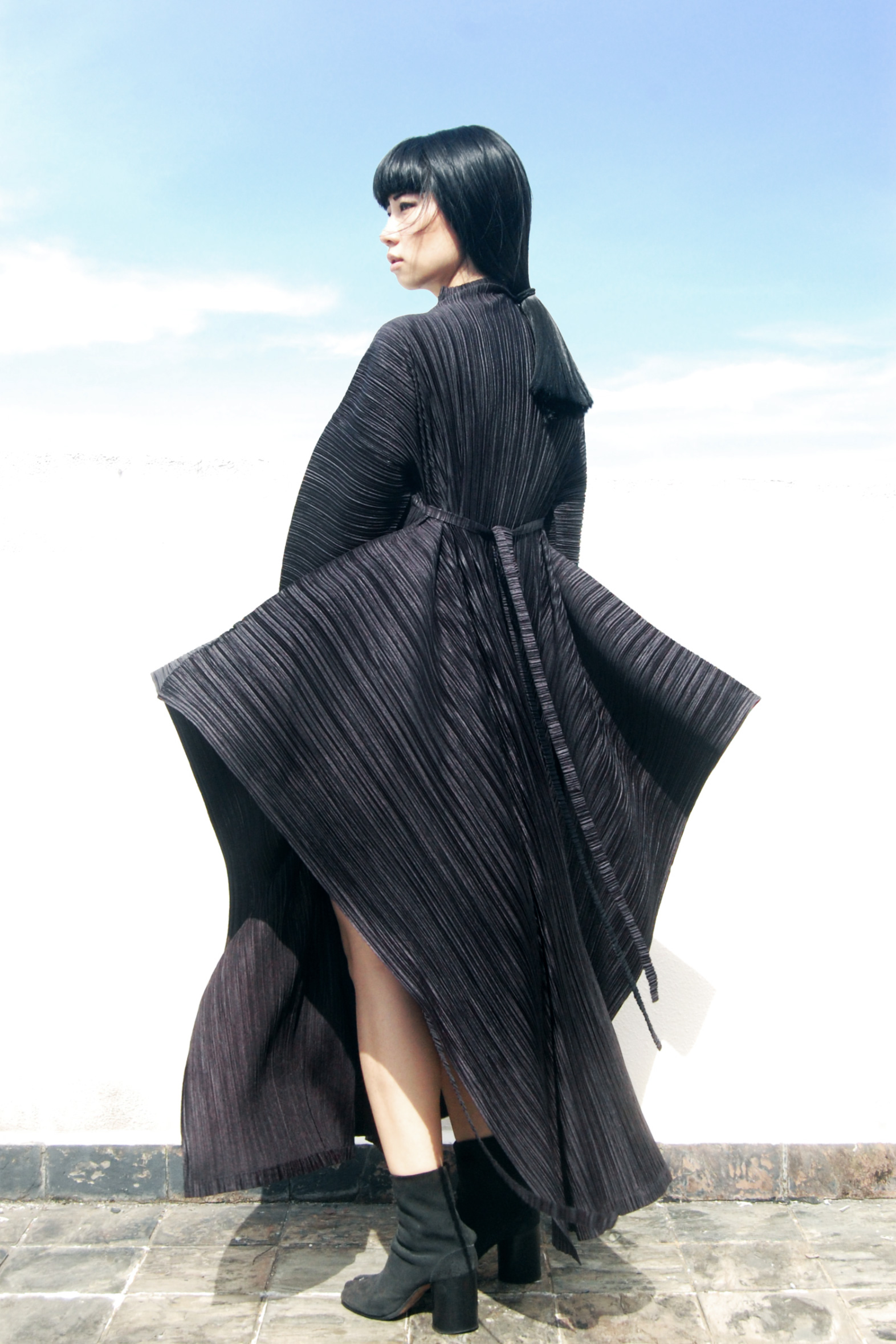 Here's another attempt to drum up some hype for Issey Miyake. The (niched) fashion blogsphere and tumblr are consistently filled to the brim with Rick Owens and Comme des Garçons, while male avant-garde fashion worshippers never fail to show their loyalty to Yohji Yamamoto in various fashion forums, strutting around in oversized bulbous pleated trousers and even larger overcoats reminiscent of the Forties . Meanwhile, Issey Miyake is left in the lurch, barely surfacing once in a while when the subjects of Japanese fashion history and fashion technology are broached.

While most of Issey Miyake's Pleats Please garments are cut in a fuss-free pattern to fit and move with the body, once in a while this sub-label produces gravity-defying, architectural works. This dress, for example, moves beautifully in motion, especially as I was sauntering around Tokyo in the transitional summer/autumn weather. It bounces and flutters in the wind while retaining part of its structure, and combined with the shimmery surface they create the semblance of a mesmerising yet slightly monstrous liquid substance.

I did not realise how many diffusion lines Issey Miyake actually has until I was in Japan. Prior to my trip I knew about a few of them aside from the mainline and Pleats Please, such as:
Fête: a more sculptural version of Pleats Please, which has now been merged into the mainline since 2009

A-POC (A Piece of Cloth): No longer a line per se since mid-2000, it has now become a manufacturing method which is incorporated into the Pleats Please line, using computer technology to create clothing from a single piece of thread in a single process

HaaT: classic Issey Miyake garments such as oversized coats focusing on textile treatment with artisanal qualities

me Issey Miyake: shirts produced in colourful prints and patterns with pleated textures that differ from the Pleats Please line, again there is a focus on technology and innovation for this line

Bao Bao: Bags in tiled pattern

Then I discovered the Homme Plissé line for men, well when I say men there's nothing to stop the ladies from wearing them, as I've found out personally how well the coats fit me. It's a combined effort by the Issey Miyake Men design team with the Reality Lab team (which I will come to later). Basically the line is reminiscent of Pleats Please for men made out of sturdy waterproof techno fabrics. Photos of Homme Plissé items in store can be found here and here. I wish I had taken some photos in the store, as well as a particularly fascinating pleated cocoon coat from the EDGE series that I tried, but I was just too shy about it. So here are a couple of photos of the exact coat I've tried in grey. The fabric itself is rather difficult to describe. It has the characteristics of rubber with the texture of suede, extremely lightweight and certainly feels waterproof. Best of all it's able to retain its beautiful pleats and silhouette.


Another notable line which I came across was 132.5 Issey Miyake. The designs are conceived with a computer scientist with the use of mathematical algorithm, and what was remarkable about the clothing was that they can all be folded flat like origami. Personally I am not too much of a fan of this line but it was most strikingly clever, what with all the calculative design and production methods which reminded me of how Tool carefully incorporates awkward time signatures in their music.

In short, all the lines that focus on textile innovations and productions (Homme Plissé, 132.5 Issey Miyake, Bao Bao etc) are the brainchild of Miyake's Reality Lab, which also happens to be the name of one of the stores in Tokyo. The list of brands I have mentioned are by no means exhaustive, as yours truly is unable to keep up with all of them.

The sheer level of modern technology that Issey Miyake consistently relies on in its creations is certainly almost unmatched by most other luxury labels. Admittedly it may also be one of the reasons why it's so difficult to keep up with the line. It seems like most of the capital has been sunk into research and development, instead of generating buzz to keep the consumers constantly informed of its presence. Having too many diffusion lines also may not help their cause. Not only are they spreading themselves too thin, most people will not be able to keep up with the various offerings. And when consumers get confused with too many options, they usually end up not being able to make up their mind, hence hampering the purchasing process altogether.

With that said, I hope this short article has shed some light on the tremendously fascinating clothing that Issey Miyake has to offer. The best part is, out of the three most esteemed Japanese labels, Issey Miyake tends to be the most affordable one, especially for the equally beautiful diffusion lines. The Homme Plissé coat that I tried in Tokyo cost a little over five hundred 'Murican dollars, AND it's actually very practical as it is a waterproof garment. Compared to Yohji's jackets which on average is always above four figures, many of Issey Miyake's items can be considered chump change.