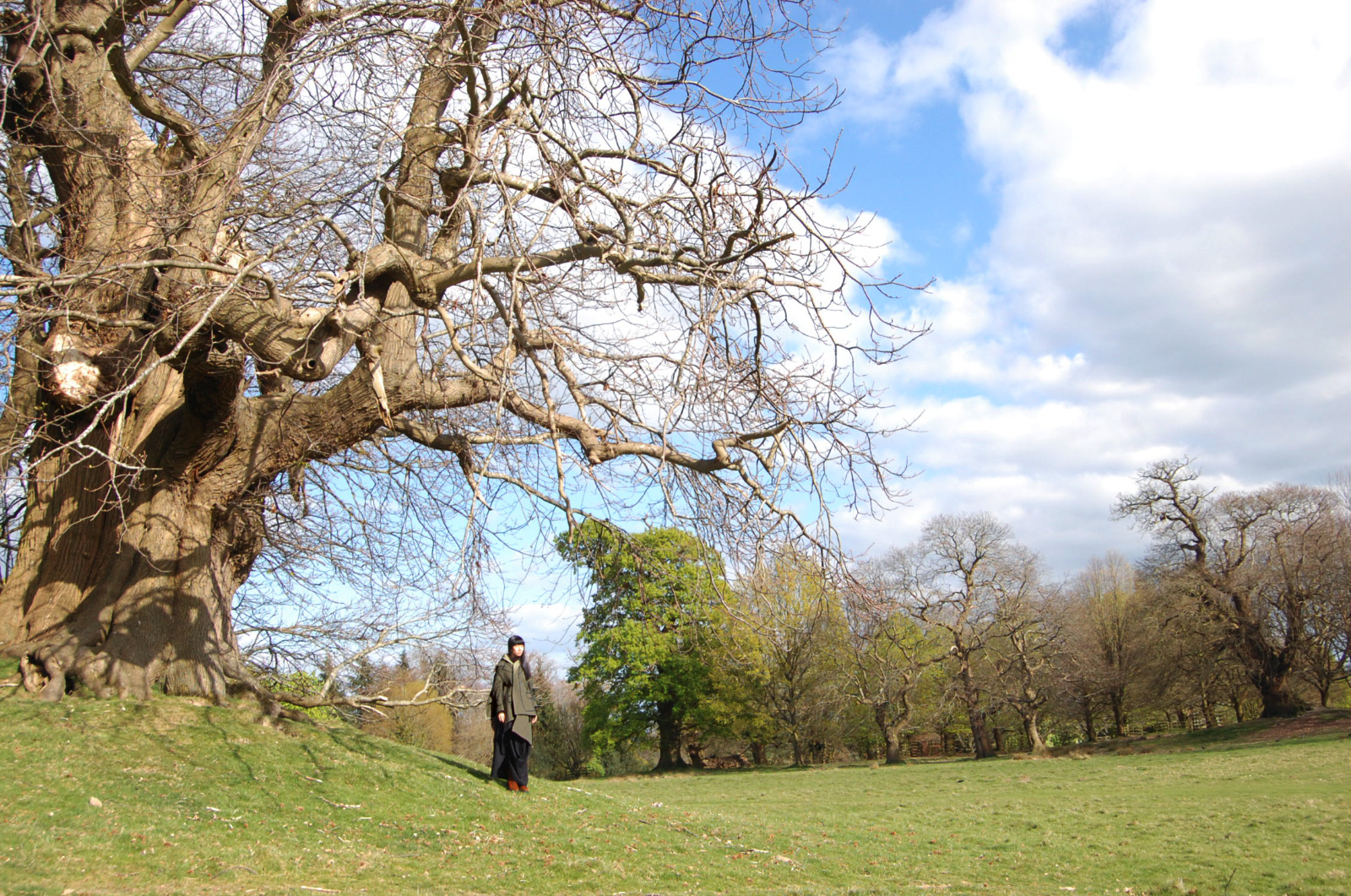 There's a small town in West Sussex called Petworth, and in the middle of it lies a national heritage site called Petworth Park and House. We got there on a bike through the beautiful English countryside, which was blooming in yellows and purples as spring was giving way to summer. Despite the terribly small size of the town, the first thing I noticed when we arrived was the significant number of luxury cars parked by its centre. And there were more furniture shops selling posh wares in such a small area than any other place I've ever been to.

During the bike ride I had to wear a proper riding jacket for safety reasons. I had my Comme des Garçons coat packed in the bike case to change into as soon as we got off. As windy and cold as the ride was, I was kept very much warm and toasty in the jacket, which was incredibly light despite its protective qualities. Once I changed into my wool coat, however, I realised that the bloody sunlight wasn't accompanied by heat. Sure, all those photons were blazing strongly as you can see in the pictures, but what you couldn't tell was how much I shivered most of the time as I was walking about. It was probably around ten degrees Celsius, which I reckon would be a comfortable temperature for you temperate climates lot to prance around in. I might as well have been walking about in the South Poles, at the rate I was sneezing.

So anyway. Petworth House. It looks like a palace in the photo but really it's consideredjust a manor with many rooms. Once a private property that was inherited from a member of the royal family, it has now been handed over to the National Trust. It houses several important art pieces, notably from J.M.W Turner – one of England's most revered landscape painters. The manor is built on a private ground 700 acres wide, 7 times larger than Winnie the Pooh's neighbourhood. As I walked on the undulating hills, around the lake, through the bushes and trees and back to the mansion again which loomed majestically in front of me, I had a faint idea why the ruling class was at the butt end of resentment of the peasantry. The feudal lords had all these huge fancy grounds handed to them by virtue of their bloodlines while the poor folks were dying of various poverty-related calamities. 10/10 would highly recommend this place as a picnic ground especially during high summer and maybe experience a bit of a Jane Austen moment.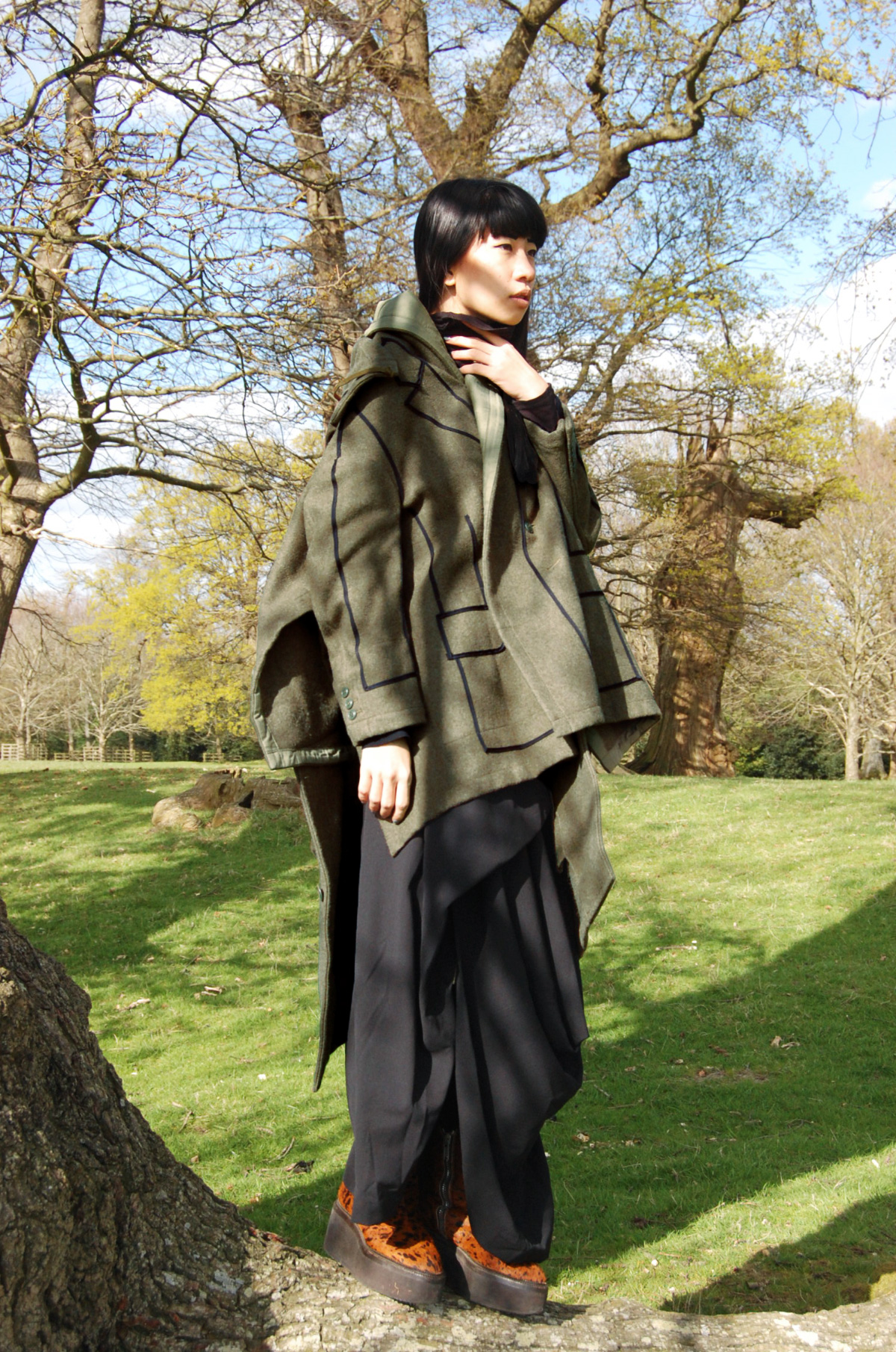 Now let's get back to the subject of fashion. As I shivered and fidgeted and sneezed through my walk I began to wonder why my Comme des Garçons coat, thick and heavy as it was, failed to do the most basic job of protecting me against the elements, particularly when compared to the lightweight riding jacket. I do realise there is a difference in construction between both garments but I expected the bits of me that were covered to be somewhat warmer, but nope.

Then I pondered why functionality seem to be a low priority when it comes to designing avant garde clothes. In other branches of design such as furniture, interior, and visual communications etc, form usually follows function. But in fashion, aesthetics reign supreme in designers' minds. The reason why I love the cold season is that I can wear my shearlings and leathers and wools and pile them on top of another to keep myself warm and cosy. Unfortunately they weigh so much that by the third hour I get visibly tired from trudging in all these layers. I suppose it's the same with stilettos – comfort and experimental aesthetics are mutually exclusive. Or are they really? While high heels by virtue of design alone make walking more difficult than flats, clothing and textile design could potentially work hand in hand to produce radical designs that are also more functional than the current crop available to consumers. For example, I love boiled wool, but it can get incredibly heavy. I do wonder how hard it would be for textile designers to come up with the most luxurious wools that are extremely lightweight but still keep out the cold and moisture as well as say, gore-tex shell. Could Comme des Garçons create deconstructed garments in super light boiled wool? Would Rick Owens be capable of producing supple leather outerwear that are as warm as puffer jackets without the bulk? So far Gareth Pugh has shown that neoprene and leather can work hand in hand. And mixing elastane with leather is now so prevalent that every other label is making stretchy leather leggings. Not to mention the myriad of wonderful textile technology Issey Miyake has produced throughout the years. Yet I do believe there is still so much untapped potential in merging innovative textile design and cutting edge ideas to make comfortable weird clothes the norm rather than the exception.

These are just some preliminary thoughts that I have with regards to the subject hence I'm terribly sorry if I sound incoherent. If you have any views or examples pertaining to this matter, or about anything at all really, please don't hesitate to leave a comment. Thank you again for reading my rapid fire gabble.



Wearing Comme des Garçons coat; Zara turtleneck; Yohji Yamamoto skirt; Damir Doma boots