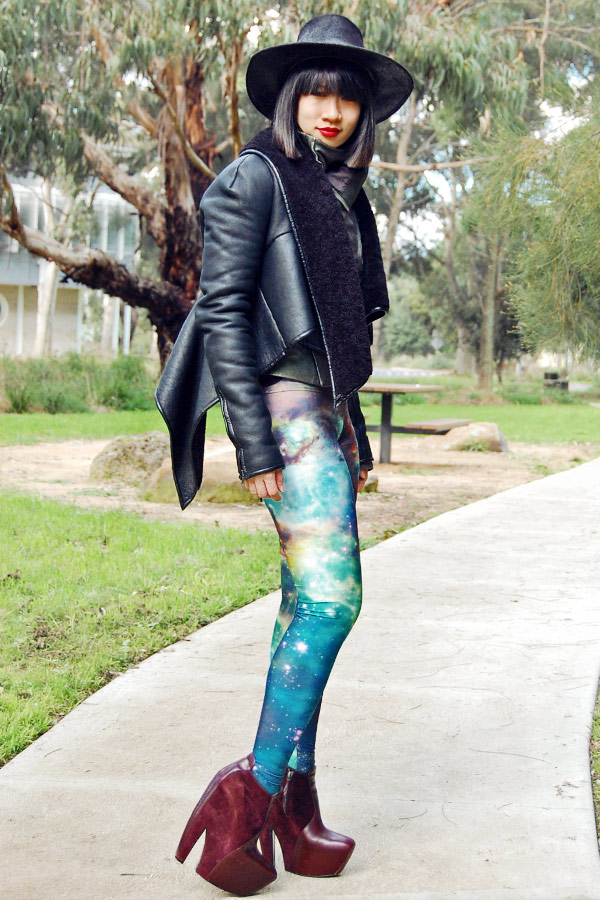 Rick Owens scarab jacket; Gareth Pugh coat; Black Milk galaxy leggings; Balenciaga boots
At this point in time, I am currently spending two weeks in Singapore, en route to the UK. This afternoon, an old gentleman started a conversation with me on the bus. While this may seem no more unusual than finding a penny in cities such as Melbourne, most locals here DO NOT talk to strangers unless necessary. Heck they will even avert their gaze automatically if you throw a smile at them. The general practice here is to mind your own business, everyone going their own way in order to not over-complicate their lives, resulting in a rather cold and sterile society.
So back to the gentleman on the bus. He spoke of his relatives scattered all over the world, recalled fondly of his 45 years of adventures onboard a Swedish ship as the only Chinese among the Scandinavians, and how he had had two lenses sewn onto his eyeballs. He was so fluent in Swedish, Danish and English that his Chinese is probably almost forgotten, along with it the typical attitude of his less well-travelled Chinese counterparts. With every word he bellowed (he's 80 so perhaps a wee bit deaf), I could sense the bewildered stares of other commuters burning on my neck. A girl my age and a rather ancient character exchanging life's anecdotes, it was indeed an unusual sight.
While most kids are finding satisfaction in being the first few people through the crap that is H&M tonight, I much prefer the experience of a warm, earnest conversation with a stranger.