This post is so long overdue that everyone would have seen the bags at least ten times by now, but I'm going to publish it anyway so I can keep track of which bags to purchase if I happen to win the lottery.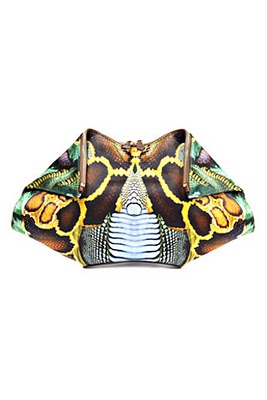 Alexander Mcqueen
Knowing Mcqueen (that man, bless his soul, should be knighted by now!), this bag might not even be reproduced for the mass. But if he decides to be kind to us common folks I do wish the bag would be made of digitally printed leather.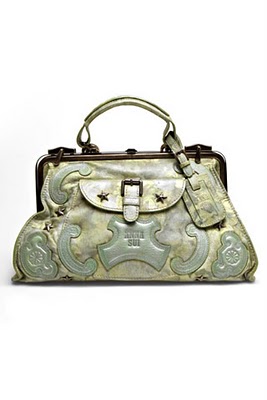 Anna Sui
I'm sitting on the fence with this one. I love the distressed look which goes well with the vintage shape but what is with the extra panels?
You know a brand is going to win the It bags of the season award when everyone googles for it non stop. Judging from the number of people visiting my Celine 'Luggage' page (which is the name of the bag on the left), I say Phoebe Philo has certainly revived this brand. I'm lusting after the Luggage myself, and if I have the heart to fork out US$2,500 on a bag then it'll be the Luggage.

Chanel
This bag needs no introduction. With all due respect, I don't have much love for the 2.55, so a straw version isn't going to impress me. Quoting the words of Trent Reznor, I do not want this.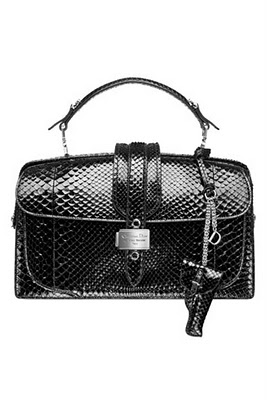 Christian Dior
There were several versions of these briefcases made in different exotic skins. As much as I love structured bags (and briefcases), I feel that this one might be too ostentatious, plus it wouldn't be a hit among the feminine ladies.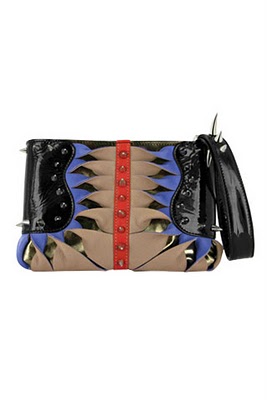 Christian Louboutin
I was quite excited when I received the weekly newsletter from net-a-porter telling me that they've stocked up on this clutch. When I clicked on it I couldn't believe my eyes. They were sold out despite the hefty price tag of more than a grand. You'd think the recession, or the slow recovery of it, would make women think twice about spending a ridiculous amount for a tiny clutch. But I digress. Personally it's a very interesting bag, very art-deco inspired which I favour. I can see much work is required in its production, what with the leather pleats and such. With that said I'd rather spend my money elsewhere on something beautiful AND practical.
Mr Lam is going places with his accessories line, just like his counterpart Alexander Wang (times like this I'm so proud to be Asian), although my preference would be the former. His bags are very well-thought, and the colours he picked are so amazingly delicious, yet out of the norm.
While these bags do not really appeal to me, I must say I like how the chains and the lace go together. The colour scheme is excellent too.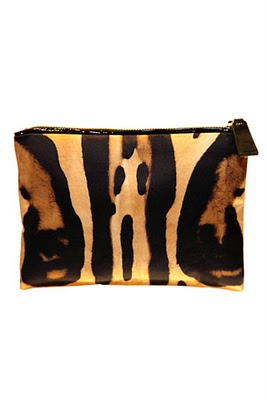 Giambatista Valli
It's like a pretty painting that you can carry around, no?
While I'm not too fond of the shape of the bag, I'm amazed by the subtle detailings that makes them look so futuristic.
Gucci
Uhhh.. If Predator has a wife she'd look great with this bag.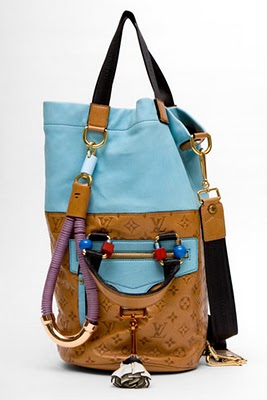 Louis Vuitton
Noone would look good with this one though. I doubt even Rihanna could rescue it. Big ew from me.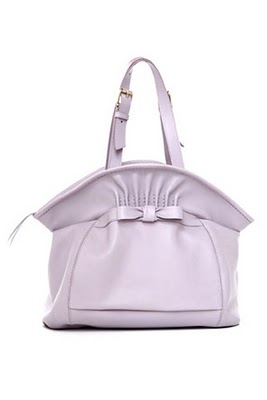 Nina Ricci
Just like the shoes, this season Nina Ricci has offered very girly, feminine designs that princesses from Disney would wear. The chosen lilac is very lovely, and when coupled with the bow I can see Snow White trotting through the forest with this tote.


Roberto Cavalli
To me Roberto Cavalli is synonymous with loud Italian glamour, so I would never expect an underestated, simple design coming from him. That said I think he's done a commendable job with this tote.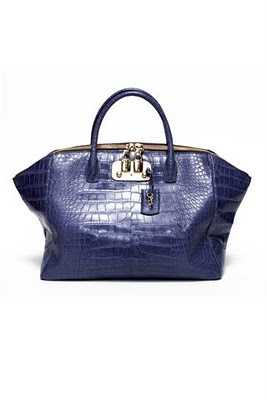 VBH
I'm loving the shade of purple and the shape. However the croc skin may be a little too smooth and even for my liking, making it look a tad too matronly. I'd have liked it better if it was made in caiman crocodile which will give it a more well-defined texture.