vs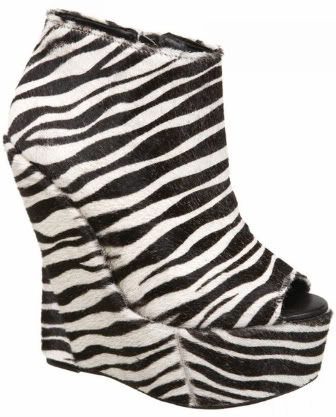 Topshop Ashish Pony Skin Wedge
Blogging is known to be pretty therapeutic, especially when it comes to my favourite subject matter – Shoes. This time round I'm bringing you the latest trend that has surfaced, towering platform boots.
Many fashion bloggers are going gaga over wedge boots, and the designers are churning them out one after another, each higher than the last. Personally while I'm a big fan of wedge boots, I do feel that there's a fine line between looking fashionably edgy and looking like one of the Spice Girls.
I remembered one of the first wedge boots that became far too popular were the Rick Owens pair. That pair was awesome in my opinion, and so sought after that Rick Owens made more of them this season.
Now looking at the two pairs of boots above, we can safely conclude that 1-inch platform is so yesterday, and anything trendy has to have platforms higher than 2 inches. I am not disliking the trend per se, because there are always different interpretations made by each designers. For example, I am terribly in love with the Finsk wedge (and eagerly waiting for them to get restocked online). I have always fancied shoes with wooden elements, and the designer behind Finsk, Julia Lundsten, has made a great piece of art by infusing different materials together.
On the other hand, I don't feel quite the same way with the Topshop pair. I do like it for being quirky and a little architectural, but the height of the platform is kinda turning me off. It might look good with anyone over 6 feet tall, but being vertically challenged, I doubt it'd look as great as it's supposed to be. I was lucky enough to spot them in the online store when all the sizes were still available, but they were sold out by the next morning. I do wish Ashish had designed the platform a little lower, that way Topshop would have a better chance of getting my moolah .