WARNING: Make sure you can spare at least 10 minutes to fully appreciate every single shoes in this post. I can't be blamed for making you late for work/school/date/funeral/wedding because trust me, the designers seemed to be trying to outdo each other in the footwear department, despite the present depression mood.
Best seen on a 1600 x 1050 resolution and above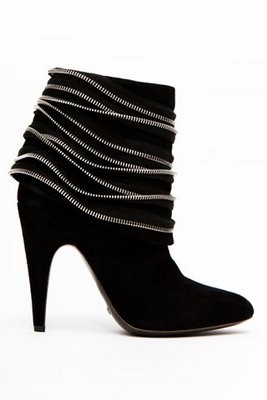 Alexandra Neel
Among all the thigh-high boots I have been seeing on the runway, the one on the left is by far my favourite. The part that goes all the way up the leg is quite like the original leather leggings worn by WWII soldiers, and the heel shape is just perfect. However, these boots have the potential to shorten woman's lower torso and increase the girth of the thighs. Definitely not for a five foot five like me.
On the other hand, the zipper bootie is something everyone can wear. A little dash of rock and roll will give an edgy touch to any outfit.
Balmain
I am suspecting the French Vogue team to be wearing this baby out soon. For those of use who love loud zips but not wanting to join Emmanuelle Alt and gang, best option is to get the Alexandra Neel above.

Bottega Venetta
I am not that much of a Bottega Venetta person, but the wingtip boot is something I would wear everyday, especially on days when I know I am going to be late. It would be great for an all-black ensemble (with a touch of gold).
Now the shoe on the right is a different story altogether. The colour combination is strangely hypnotic, not something I would expect from this brand which always makes me think of brown. I must say it is quite a looker.
Brian Atwood
Dangerously high heels that requires an equal level of self-confidence. Perfect for those who knows how to trip and fall gracefully.
Bruno Frisoni
I have never been much of a Bruno Frisoni fan, but there is just something about this wedge that makes it so gorgeous. Perhaps it's the eye-popping gold details and the silly little yet adorable ribbon.
Christian Dior
This is truly an ingeneous design! I don't know about you, but I'm seeing a substantial level of oriental inspiration here. The shape of the heel reminds me a lot of Japanese samurai swords, and the flap looks like the helmets they usually wear. *dies*
Christian Louboutin
Christian Louboutin's heels have always been very elegant. I can see he is pushing the heel height even higher now. The thigh-high metallic boots are gorgeous, but certainly not for everyone, even if you count yourself as a true blue fashionista, no pun intended. The shine will probably make your thighs look larger by two inches.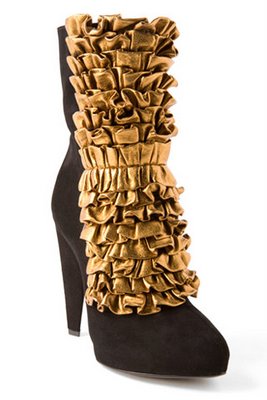 Dolce & Gabbana
Yes, I am a sucker for gold. If I were to pick a single shoe out of the whole list, this would be it. It'd go perfectly well with black jeans or leather leggings, and I'll be out of the door in no time to show it off to the world.
The four wedges at the bottom are from Dolce & Gabbana as well. I love the gold one (what else is new?), but honestly speaking, I am not sure how anyone can carry these off without looking like a clown.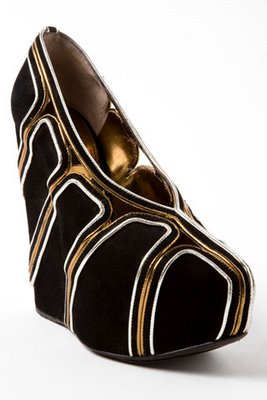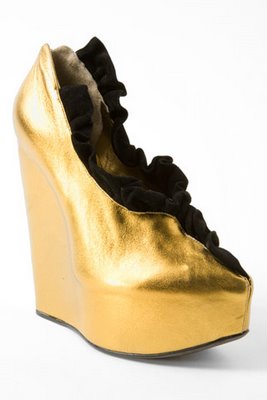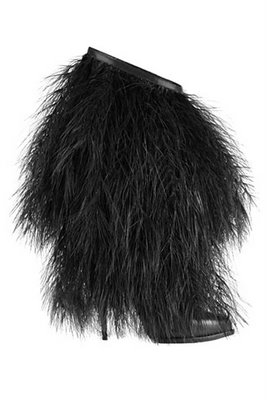 Givenchy
Ricardo Tisci did not stray away from his usual penchant for black. However this time he moves away from his rock n roll leather collections to umm… feathers? The way the feathers are put together is quite like the calf wrap that I often see on Amazonian tribes, except that those were in brown. I think I would rather have more of the leather and denim please, thank you
Unfortunately he is not the only one jumping on the feathers bandwagon. (I did not feature the other birdies, but you can check them out on style.com)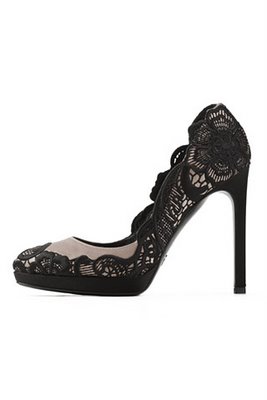 Giorgio Armani
Again, I do hope they are comfortable enough, at least for a short walk from the car to the dinner table. Other than that, it is a very elegant heel, which is getting to be a minority among the fanfare of designers going wild with chunky platforms and loud designs.
John Galliano
The British designer has never strayed away from the loud, wait, make that screaming designs. His wedge resembles those from Dolce & Gabbana somehow. And like the latters, I can't see anyone pulling them off elegantly. Granny tapestry + elephant-sized wedge? Definitely not for me. Then again, most of Galliano's works are pieces of unwearable art.
Rupert Sanderson for Karl Lagerfeld
VERY NICE. ABSOLUTELY LOVE the little axe. I can hear it scream, "Buzz off!!", pretty much sums up what I would like to tell the people I meet these days. And if I can do it with my shoe? That would be the icing on the cake.
Loewe
Colour = perfect
Arch of heel = perfect
Toe shape = you said it babe
Heel = Give me my effing credit card!
Louis Vuitton
Gold, gold, gold and more gold. Thank you Marc Jacobs. Now can I request for a different heel shape please?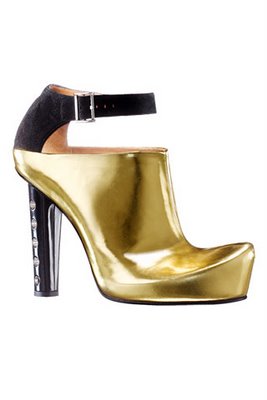 Marc Jacobs
I can tell this is going to be an amazing season with the amount of gold I'm seeing.
Marni
Trust Marni to liven the gloom and doom with candy-coloured shoes, as always. However, I am not too sure whether I like the platform shape and the arch of the pump.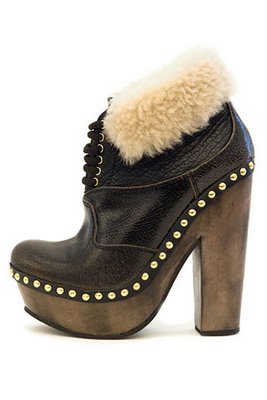 Miu Miu
Miu Miu has seen a more elegant collection, that much I can say. But this time, the comfort factor seems much, much higher. The boot looks so stable and sturdy that it prolly cuts down the chances of you twisting your ankle by 90%.

Edmundo Castillo for Narciso Rodriguez
Why does the print resembles cow hide? Cow print, which might be wonderful on some other items, does not do any justice to the wonderful design of the boot.
I do hope this boot would be recreated in plain colours, or some other kind of prints that would look good on the feet.
Nicholas Kirkwood
Mr. Kirkwood and his platforms. 'Nuff said.
Pierre Hardy
Pierre Hardy has gone architectural with the upcoming collection. The shoe on the right would fit perfectly into Jil Sander's sculptural collection.
Prada
After spring's boring phyton slingbacks (IMHO), Miuccia Prada redeemed herself again. My favourite would be the black pumps because it looks so good with the gold studs. These shoes are not for every woman though. They are for the strong and independent girls who exude a sexy, untouchable aura. On any other women they would look like they're wearing dead turkeys on their feet.
Another of Prada's unusual boots. Galoshes meets riding boots meets bondage?
Proenza Schouler
Is it a tapestry sock in a shoe? I sense a nomadic-tribe influence here. The pop of yellow is a genius touch.
Roberto Cavalli
This goes beyond thigh-highs. It's a crotch-high. The mild olive colour would create the illusion of bigger thighs, unlike those in black (eg. the Stellas below), so the criteria for wearing these would be:
1. You better be a size double zero or smaller
2. You are at least 1.75m tall, and your lower torso is longer than your upper.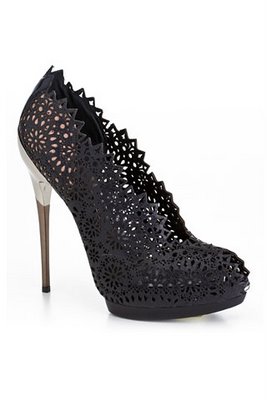 Salvatore Ferragamo
Though I am very impressed with the intricate designs of the laser cut-outs, I am not finding this shoe very ground-breaking. However, I think it would look gorgeous for a formal dinner party.
Sergio Rossi
This shoe would have been pretty dull if it wasn't for the squiggly wiggly heel.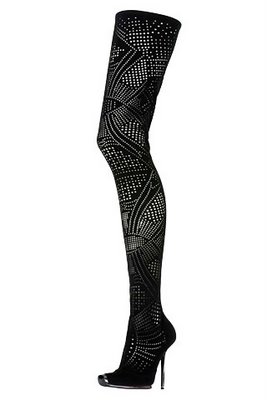 Stella Mccartney
Stella has been making thigh-highs for the past seasons. This boot looks like patterned tights conjoined to a pump. With the number of thigh-highs being churned out next season, I'm waiting to see whether the trend will pick up. The question is, can thigh-high boots become staples, or are they just novelty items like the other 99% of fashion?

Tory Burch
Bamboo heels + delicious plum purple? YUM
Viktor & Rolf
Kinda like wearing sequinned warmers, doesn't it? I am loving the colours though, and the ruching falls in the right places.
Yves Saint Laurent
I am always inclined to the colour red, especially on shoes. This one is no different. I absolutely adore the platform shape, an the heel is so dangerously high, the most I can last in them is probably 50m before I trip and twist my ankle.
YSL's latest range of pumps is a breath of fresh air after all the Tribs/Tributes that have been worn to death by a bucketload of celebs.
One thing anyone can see from all these shoes is that designers are pushing the limit with heel height. Platfoms are getting chunkier, heels are getting tinier and much, much higher. I do hope they would reduce the heel height when they start mass producing the shoes, because some of us are not chaffeur-driven, and need to walk more than a mere 100 metres. What do you guys think? Should women just take what is given to us? Will the designers even listen to our pleas, or rather, our feet's pleas?
Now I had better get back to my essay on business ethics.
All images courtesy of style.com