Like Coco Chanel once said, a woman must be two things, classy and fabulous. Those words incidentally describe the perfect pair of black pumps, which EVERY WOMAN MUST OWN, regardless of whether you want kitten heels or stilletoes, peeptoe or covered, round toe or square toe, and the list keeps going.
While black pumps might be the most available shoes in the market, finding the perfect one for myself is a daunting task. To me, the heels has to have the perfect heel height, shape, heel curve, design, material, comfort, and also be within my budget, the last stopping me from buying these four:
Left to right: Prada
, Gucci
, Christian Dior
Isabella Zocchi is not a very famous name, yet, but her shoes are amazing. The print you see there is her trademark stingray inserts. I love how her shoes have these killer curves that makes he chunkiest heels so droolable.
Top on my list of unaffordable black pumps are still these Chanels: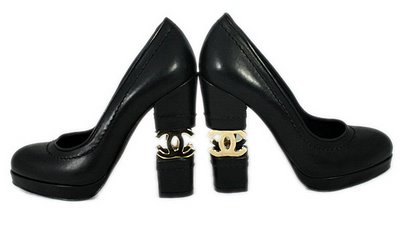 Coming back to earth, I searched around for more black pumps on the almighty Internet, and found these:
Left to right: Pedro Garcia, Bally
They're both made of suede. I can see the Pedro Garcias being worn for a night about town, while the Ballys are perfect for adding a touch of class to any outfit, though they may be a tad too matronly.
BUT, they are still not my perfect pair.
The pumps I have in mind has to have about 5 inches of heel, with about 1 inch of hidden platform because well.. I'm addicted to towering heels now.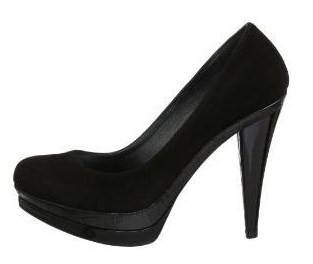 Charles David
Platforms are generally associated with forbidden professions, but when applied to the right shoe, they become simply fabulous. They add the extra height to your heels and you feel like you're on top of the world, simply by creating the illusion that you're walking in a six inch heels when in fact you're only stepping on four. How awesome is that?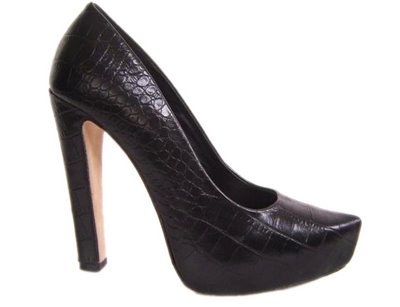 Bebe
Now the Bebe pumps above are simply to die for. Why, you may ask? The first thing that caught my eye are the chunky heels. Chunky heels tend to make shoes shorter than they really are (if you don't believe me compare it with the Isabella Zocchis), but this one doesn't. You can still see that they are pretty steep. Also the platform is more discreet because it's hidden. The other gorgeous detailings are the almond-shaped toe and the curve of the sole. And the best thing about it? They are in my affordable range.