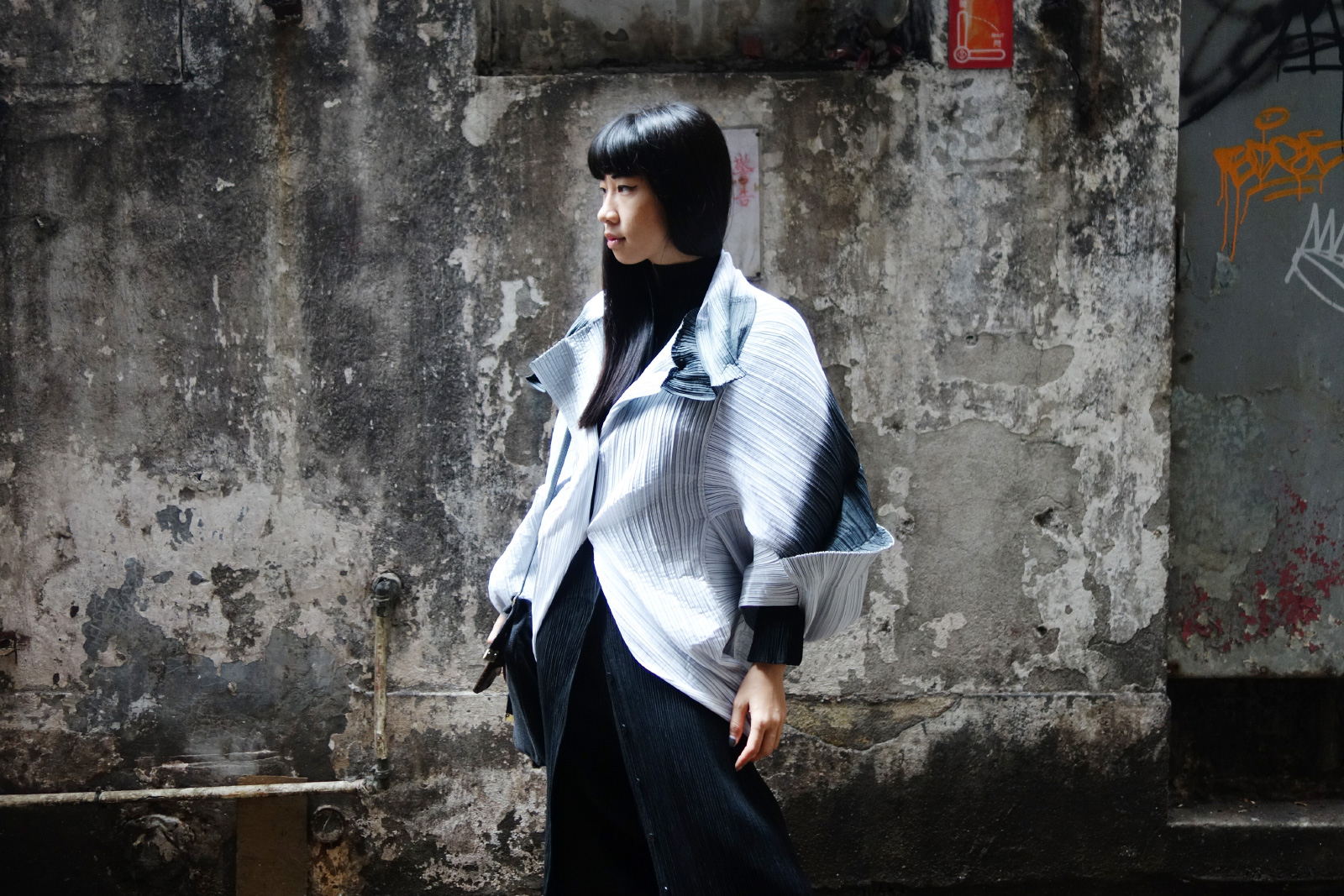 Issey Miyake cardigan, dress and trousers; Jil Sander shoes
The alleys of Hong Kong provided the perfect backdrop to take photographs of pristine Issey Miyake garments, some time before the world went (slightly) tits up, what with the Republican nomination, Brexit, rising racial tensions and refugee crisis. In times like this, I keep reminding myself of Steven Pinker's book - The Better Angels of Our Nature. One of my favourite books of all time, Pinker is a prolific writer who spins humour with statistics. The book argues that this is the most peaceful period we've lived in regardless of the illusion of regression that the media is portraying. Most of us live in a world where we can argue over our belief system without getting beheaded. Domestic violence - most of which are targeted at women and children - is no longer tolerated by law in most countries, and that number is increasing. Despite the growing far-right movements in the west, and possibly Japan, the majority of the world condemns them with words and Facebook posts instead of arming themselves. We may be a generation or two away from world peace, but statistical evidence points towards a downward trend in violence while pluralism, feminism and humanism are on the rise.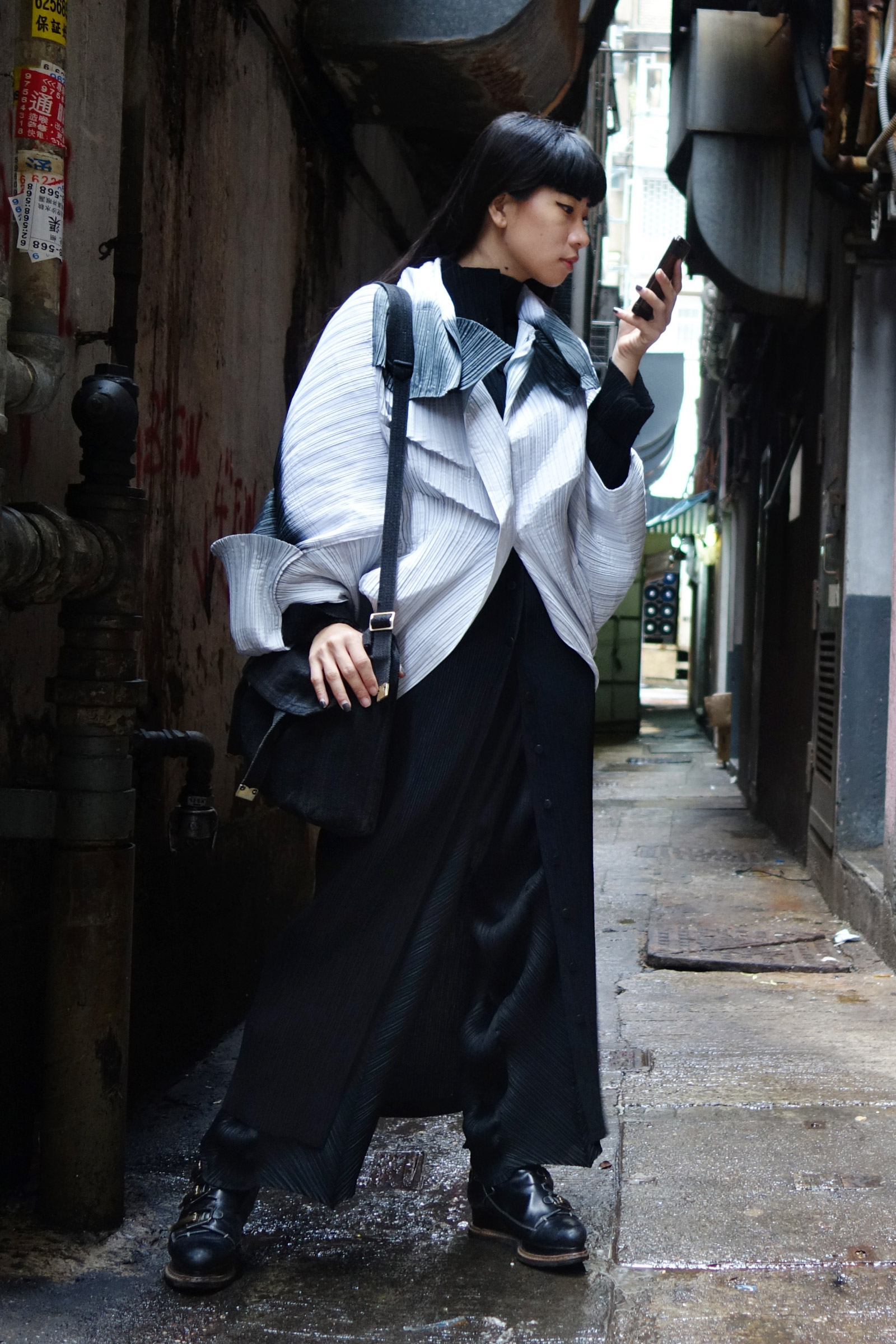 I too, have my version of Pitti pose, i.e. checking the phone for nonexistent emails. Except I was trying to control the camera shutter.
Humans are strange creatures. We pin our self-esteem on our beliefs. When our beliefs are validated, we feel good about ourselves. When they're being contradicted, we often take it as a personal attack. The same holds true about our choice of dress and how other people view it. We feel terrible when we receive comments that disparage the way we dress, because it feels like an attack on the entirety of our existence and life choices, made by a person who most likely cannot relate to your thought processes or has no knowledge of your life experience nor reality.
I am of the opinion that we should be able to give and take criticisms in our clothing choices. As the recipient, no matter how hurt we feel we should be able to disassociate our choices from our esteem. As difficult as it sounds, it would help us in taking criticisms like a champ by assessing them objectively, and we would not retaliate defensively like a cornered bear. As a critic we should avoid using sweeping statements and ad hominem attacks, while bearing in mind that our aesthetics preferences are no more superior than those of others. This is why Saint Laurent has done so well despite the scathing remarks Hedi had received during his tenure.
Someone else's choice in dress, and any other life choices for that matter, is only the tip of their existential iceberg, certainly no grounds for dismissive insults. We're the total sum of genetics, life experience and education. Exercising a little empathy in any argument would foster a more inclusive environment for discourse, even when debating the most controversial subjects, rather than shutting out dissenting opinions that would eventually burst like an infuriating zit in the most unexpected places (e.g. the rise of Trump). Unfortunately this ability and patience to argue logically against the 'other side' may be at peril when Facebook algorithm and our Internet space increasingly shows opinions that only align with ours (e.g. Brexit). People who resort to name-calling to make up for their inability in providing any forms of logical reasoning are as guilty as smug pseudo-intellects who are not aware of their own biases while dismissing other people's realities.
The Internet has given most of us a voice. It's a pretty splendid place in general, but as with life we're going to meet people who disagree with us. The question is, how do we engage in a productive manner that does not exhaust our patience and mental capacity? I have yet to find the answer.