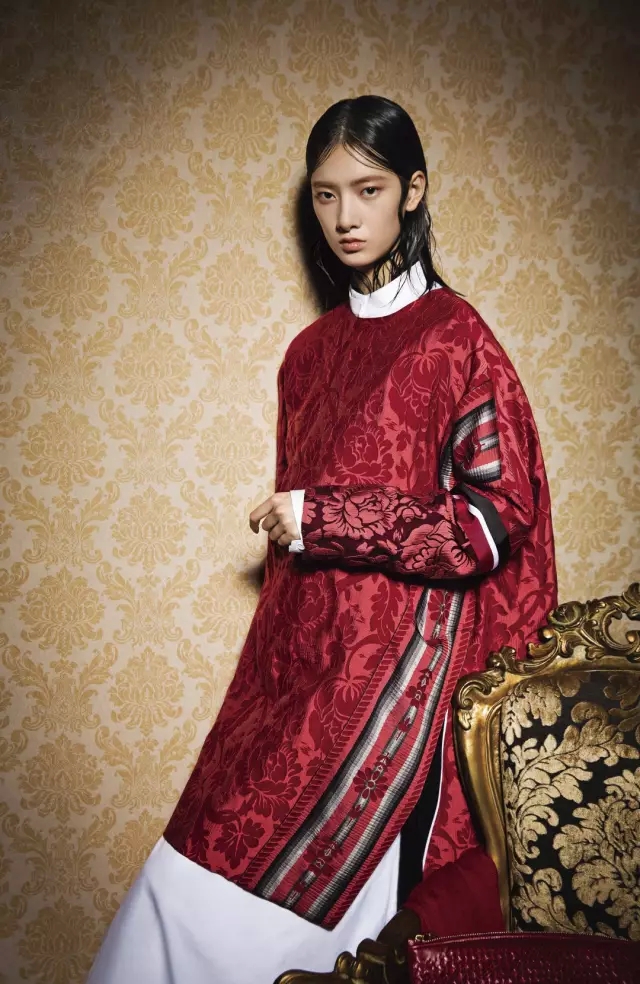 Try going to a website of a Chinese fashion label. Chances are it's choke full of outdated flash, html codes that break outside of Internet Explorer, or simply non-existent.
If there's one lesson I've learnt about China so far, it is that hardly any valuable information gets posted on traditional websites. Everything that is important can be accessed via mobile phone apps, notably WeChat. Before coming to China, I had the impression that WeChat was simply a combination of Facebook and WhatsApp, a way to communicate amongst one's network of friends and families. And I was sorely mistaken. From this single app alone, one can pay the bills, call a cab, make payments to vendors online and offline including airline tickets, transfer money between friends, just to name some. Few businesses in China can succeed without a WeChat presence.
Which is why we hardly hear about the burgeoning and vibrant fashion industry growing within the modern Middle Kingdom. Whenever one speaks of fashion relative to China, most people think of knockoffs on Alibaba and Taobao. Taobao itself is an amazing marketplace (side note: I bought an amazing antique reproduction working desk from there), but that's another story altogether. We hardly see the full extent of Chinese fashion on the mainstream press. Due to the Great Firewall blocking access to Google, most Chinese companies do not see the need to work on their SEO - which proves especially problematic when they pick names that consist of common English words - nor maintain a fancy website for their largely localised customer base. As a result, international press faces difficulty in accessing information about Chinese fashion companies. Once in a while we come across Uma Wang's artisanal garments, Guo Pei and her superfluous gowns, or Chinese graduates from prestigious fashion schools in New York and London. However, the amount of information to be found on the traditional Internet 2.0 websites pales in comparison to the conversations that take place on everyone's mobile phones. Labels disseminate the latest updates on Chinese social media platforms while leaving their own websites almost untouched.
That was what happened when I googled for the official ZhuChongYun website. My first attempt was thwarted by a landing page reassuring me that a new one would be launched soon. And it wasn't even on the first page of the Google search results.
---
Zhuchongyun, the owner and designer of her eponymous label, would be considered an extremely successful businesswoman. She has several hundred stores worldwide, and recently acquired an Italian label called Krizia. Yet her name hardly comes up in the fashion presses. Zhuchongyun - the label - belongs to the parent company Marisfrolg which Ms Zhu also owns. In contrast to Zhuchongyun the label, Marisfrolg has a more youthful and contemporary approach to fashion. It's to Zhuchongyun what Miu Miu is to Prada, except the parent company is the former. Imagine if Marc Jacobs falls under Marc by Marc Jacobs. You get my point.
My first discovery of Zhuchongyun occurred in Singapore. The store drew my attention from afar because of the large photographs hanging in the store, a series of imagery that provoked the ancient orient. It was hard to find more information on the label online months ago, so I did not pursue it further until I had arrived in Shanghai. In my attempt to learn more about the city I remembered the Chinese store I had sorta kinda liked, and decided to give it a visit.
And boy what a great flagship it was. That ribbon on the store front was beautifully sculpted. Hey, here's a little gift for yourself. Go on, you deserve it. Never mind that every piece costs several hundred dollars to a couple of grands. I had fallen head over heels in love with the beautifully-embroidered cocoon coat from the current Spring/Summer 2016, which unfortunately fell into the upper limit of their price range. I couldn't help but to admire every piece that hung in the store. Magnificent long coats made from textured fabrics of muted colours, elegant dresses that fall to the floor yet strangely practical for the needs of modern women who brunch and sip coffee on the go, not to mention chunky platform sandals that would easily rival those of Marni's.
But the thing that impressed me most was her pride in the Eastern heritage emanating from the clothes. Many Chinese designers talk about how much they're inspired by their heritage, but their final works tend to look no different from other European labels. In the midst of young Chinese graduates pursuing the sculptural, oversized and embellished Minimalism/Maximalism aesthetics, here is one person who has unabashedly tapped into the opulence of the Orient. I say Orient because there are hints of traditional Japanese and Korean garments juxtaposed with intricate Chinese motifs and embroideries. While the collection was meant for women, there is nothing stopping men from donning these lush garments. These clothes are generously proportioned for bodies of various shapes and sizes, upholding the long-standing East Asian construction of the body dictating the clothes, as opposed to the other way round so prevalent in European tailoring.
---
I shifted the focus of my search away from my browser to WeChat. True enough, Zhuchongyun's WeChat account is much more informative and up to date. I could finally see proper runway photos and brand campaigns. It's true what they say about the power of Marketing. Being able to immerse oneself in the universe that a company occupies creates a sense of attachment within the consumers. I found myself becoming a fervent supporter of this amazing brand, so much so that I spent hours scouring for every morsel of details of this company. Suffice to say I have become a self-appointed brand ambassador for the label, preaching the gospel of Zhuchongyun to anyone who has an interest in Chinese fashion. At the time of writing this, the official website has finally launched, and it is rather marvellous.
It's high time that the Chinese fashion industry gets the recognition it deserves. I can only hope that Ms Zhu would be the role model for China's future fashion stars, encouraging them to look inwards for the richest sources of inspirations.
PS. Should anyone wish to acquire any piece of garment, feel free to contact me. I might be able to offer some assistance.