I am writing this on the high speed train from Beijing to Shanghai, in which an inconsiderate tourist (most likely French) has been blasting his playlist for the last five hours. I despise people who think so highly of their own music taste that they have to announce it via loudspeaker in public spaces. If you've passed your sweet sixteen you should stop thinking that blasting Metallica make you seem cool. Sadly this dudebro is probably twice the age limit.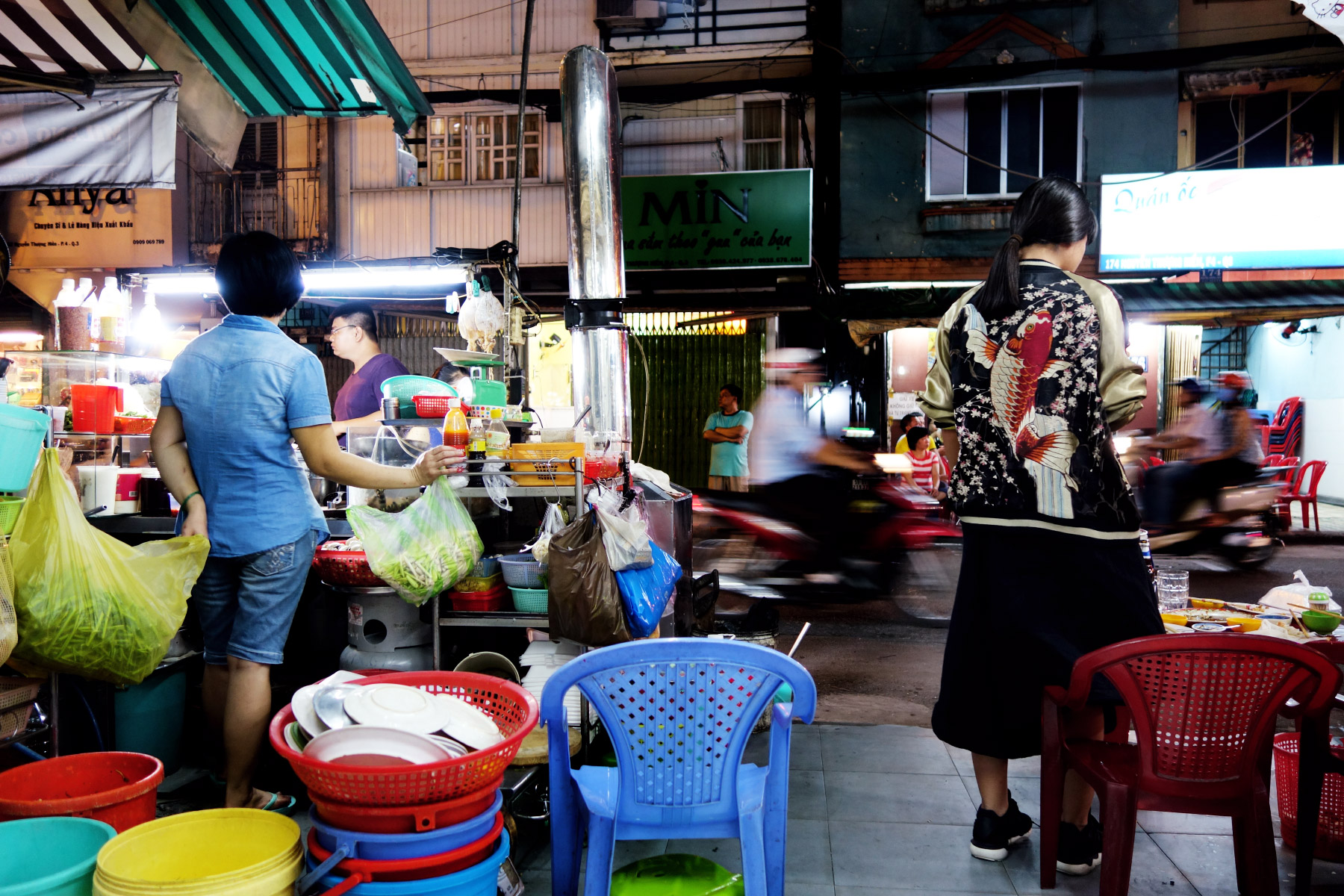 Wearing: Sukajan; Comme Comme culottes; Adidas tubular sneakers
Some time back I travelled to Saigon for a weekend of food and travel debauchery on a motorbike. While Vietnam is known for its pho and spring rolls, I must say my favourite spot would have to be the so-called Snail Street, where one can feast on seafood and various types of snails. We took the idea from Anthony Bourdain's No Reservation episode in Vietnam, in which the sight of cooked snails reminded me of a dish my grandmother used to make. It's the perfect spot to savour beautiful mix of sauces and spices, accompanied with cold beer while watching the locals go out and about on their bikes. Seeing the number of people they could fit on a single Yamaha scooter was absolutely remarkable
If you had been to Vietnam or watched Top Gear's special episode on it you'd have seen the sheer number of motorbikes on the road. The traffic is chaotic, yet the road users are courteous enough to look out for each other, and honks are barely utilised unless absolutely necessary. Accidents seem to lurk in every corner, but they really are far and few between. For bike rides around tropical cities, I would highly recommend wearing a sukajan. The soft and silky material keeps one warm on chilly nights on the bike without causing one to sweat.
On the streets of Beijing where I had spent the last couple of days, I saw several variations of subtle sukajans being sported by the fashionable crowd. It's highly probable that sukajans have always been around on the streets outside of Japan, or that it really is gaining in popularity. One thing's for sure though, I still think that the best sukajans are the loud and gaudy ones.