New update: Due to the demands I've received, you can now shop for embroidered Japanese sukajans, which I have personally selected and inspected, in my store. New items arrive weekly so don't forget to sign up for the newsletter at the bottom of this page.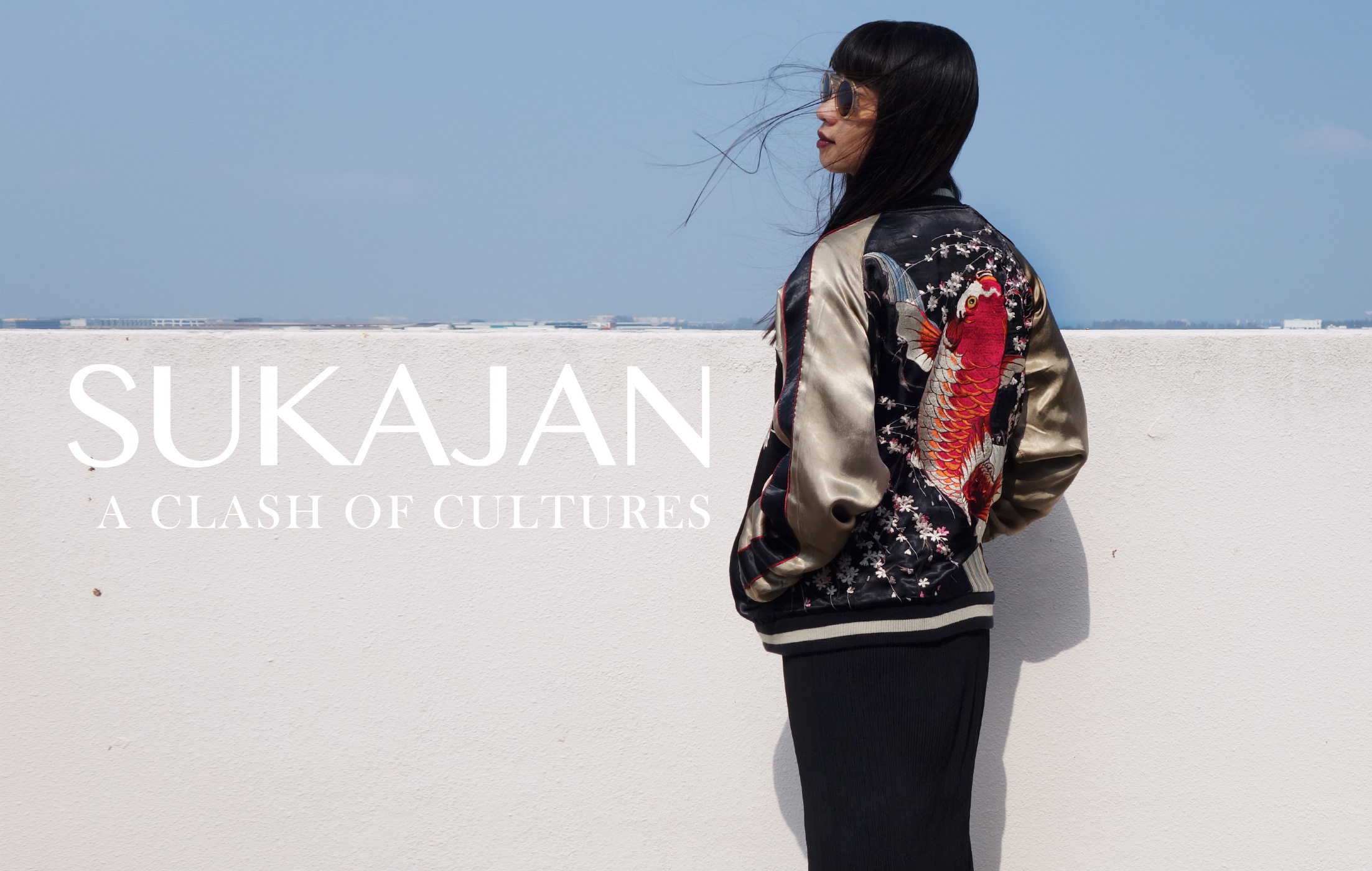 If you are social media followers of Comme des Garçons and Undercover (or fans of various celebrities), you might have seen their recent releases of embroidered varsity jackets pictured on instagram. While they look like the orientalised version of a classic garment, there's a specific name and story behind them.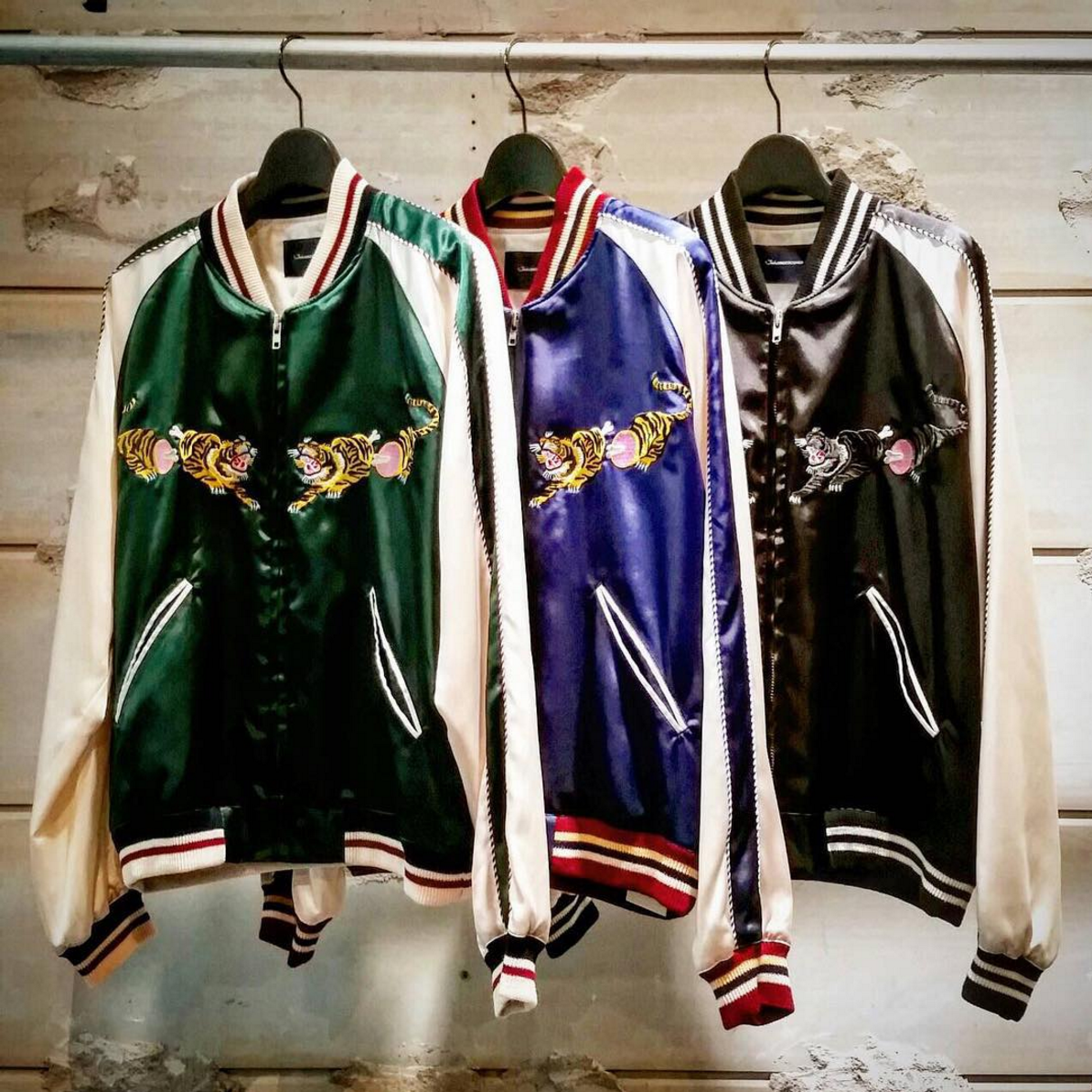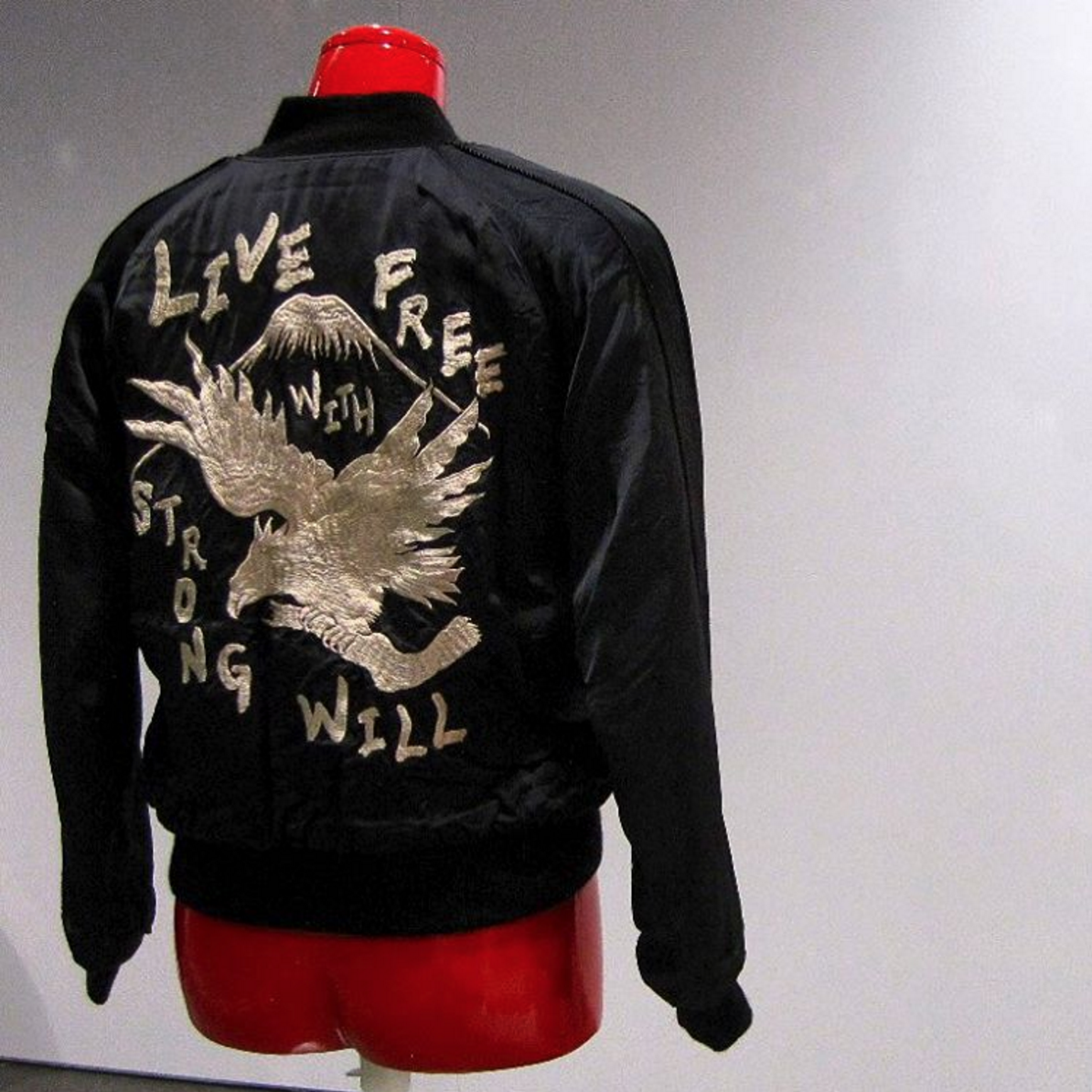 Left - Undercover; Right - Comme des Garçons
While it is sometimes called a souvenir jacket, Sukajan is the name that's been given to these pimped up jackets. Its origin most likely stems from Post-WWII Japan. Some sources have claimed that the word Sukajan is an amalgamation of Sky Dragon Jumper, but the accepted history took place in Yokosuka where the US military was based in during its occupation. Combine the word Yokosuka and Jumper and you get Sukajan.
During the Post War Occupation, American soldiers wanted to commemorate their time spent in Japan, so they decided to stitch on vaguely Japanese designs onto their varsity jackets. I say vaguely because to these soldiers, the Orient was just a mixture of culture that was interchangeable for them, which is why Sukajan designs often sport traditional Chinese designs that reminds one of Chinese silk pillows.
Original sukajan embroideries were linear and simple as they had to be handstitched. Anyone who has ever tried hand embroidery would know how time-consuming and laborious the process is. With today's advanced machinery, embroidery no longer has to be done by hand, which allows for more complex designs and colour combinations.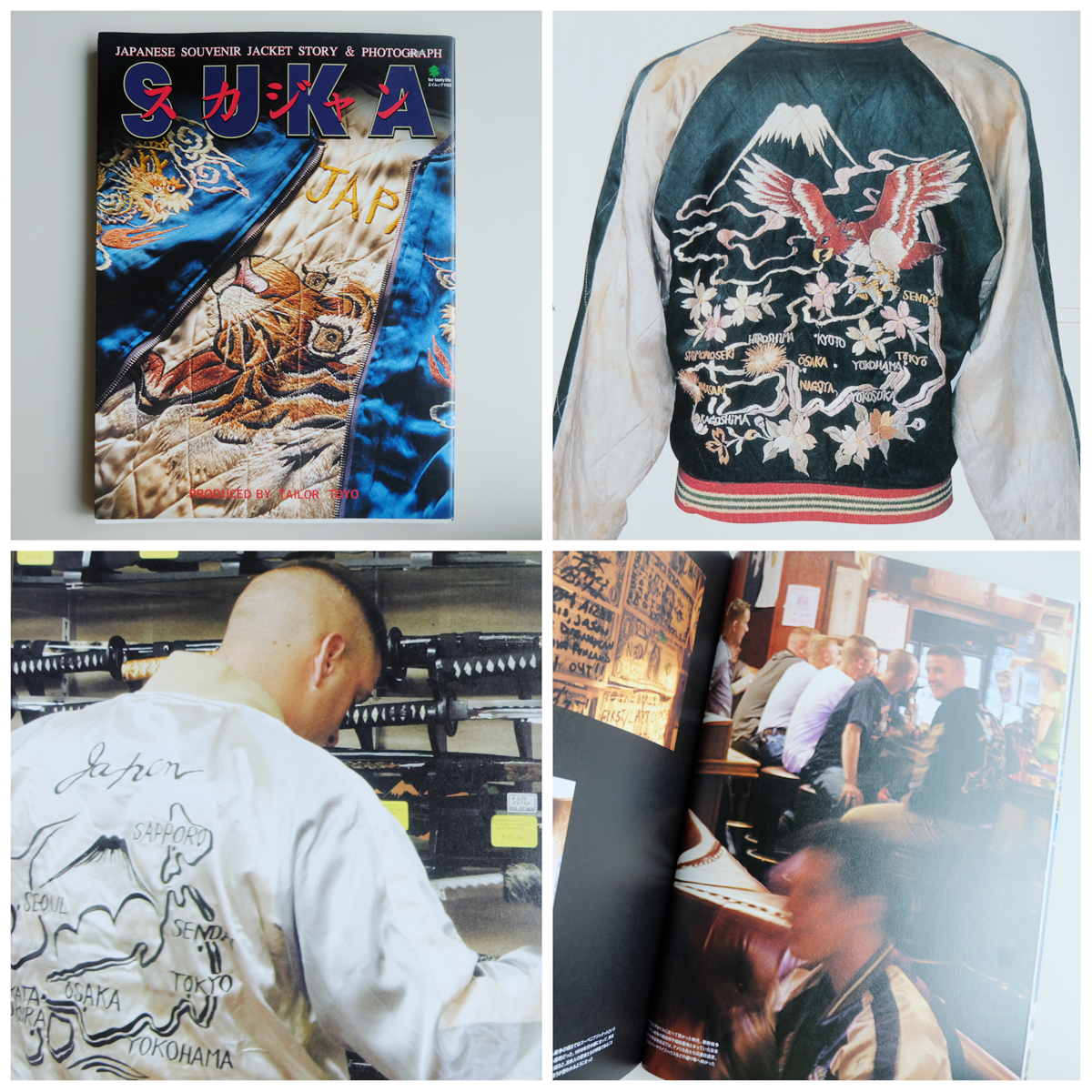 Vintage Sukajan. Picture via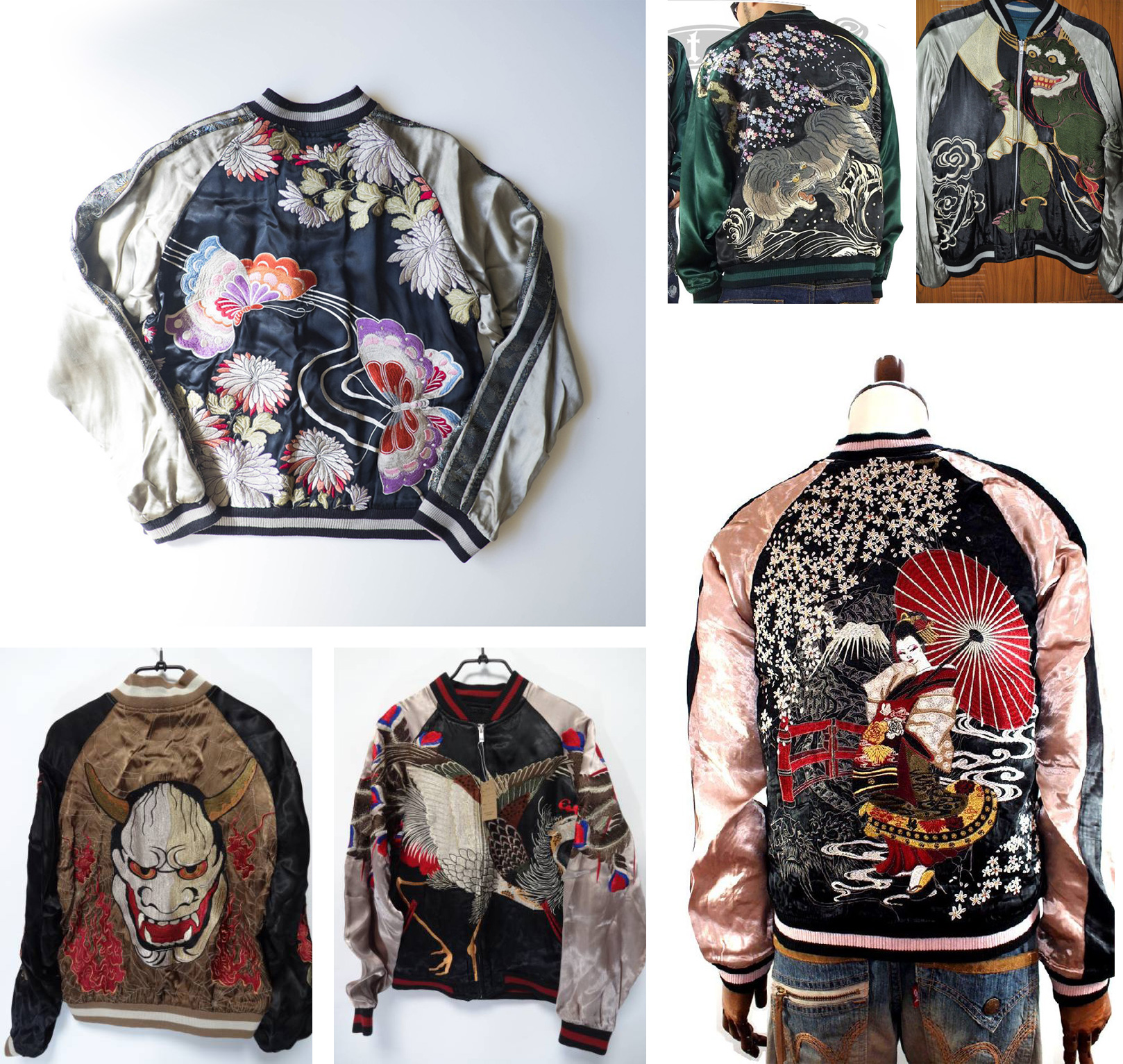 Modern Sukajan
Sukajans evoke a rebellious juvenile delinquent-like vibe due to its gaudy design, but no self-respecting gang member would be seen in one. Instead it is relegated to another form of street wear that has taken off in and outside of Japan. Stella Mccartney did a few subtle ones for Resort 2016, while Louis Vuitton has recently released a slew of them for the Men's SS2016 show. Zara and Supreme, and perhaps other high street stores, have produced their own versions as well.

Margiela did a reinterpretation of the jacket for its Artisanal collection. And yes, even SLP did it too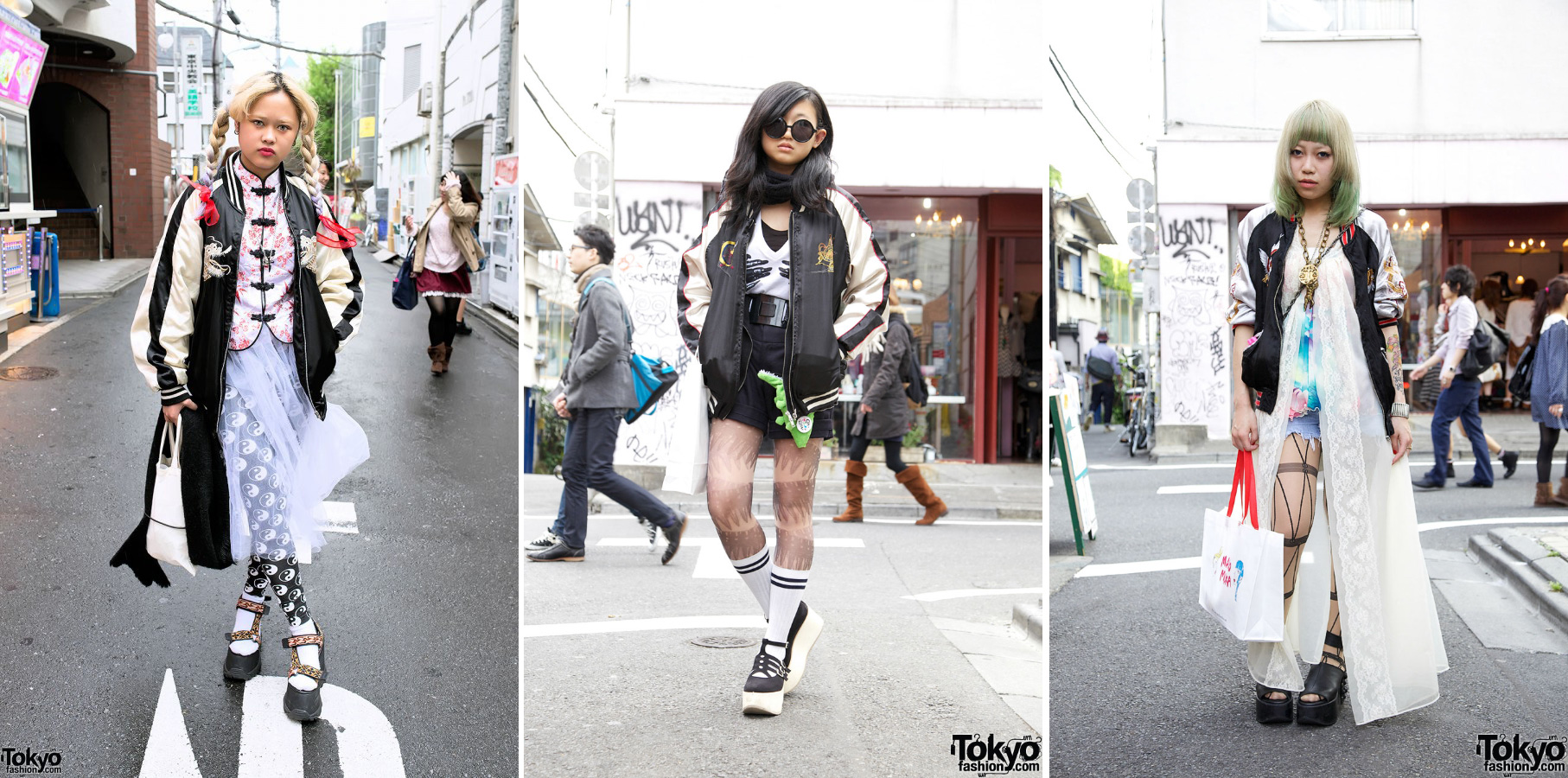 I do believe the first two are from Zara, and the third one is from Isabel Marant. Not sure about the fourth.
---
My first encounter with Sukajans took place as I was strolling along Ameyoko Market, a touristy part of Tokyo that sells Japanese tea, snacks and various other food items, both fresh and dried. In the midst of all those local delicacies, I was attracted to a stall selling shiny varsity jackets with the most lurid designs I have ever seen. While I do fancy a good dollop of vibrant colours, it was the quality of embroidery that snagged me. There are variations in depths and layers of stitching creating three dimensional textured surface. They certainly do not skimp on the numbers of shades to depict subtle colour gradations. Some designs are so intricate that those particular jackets were heavier than others due to the thread density. What with my affinity for carps and goldfish in Japanese traditional art, I caved and bought myself one. It's served well as a lightweight travel jacket and cool summer outerwear since.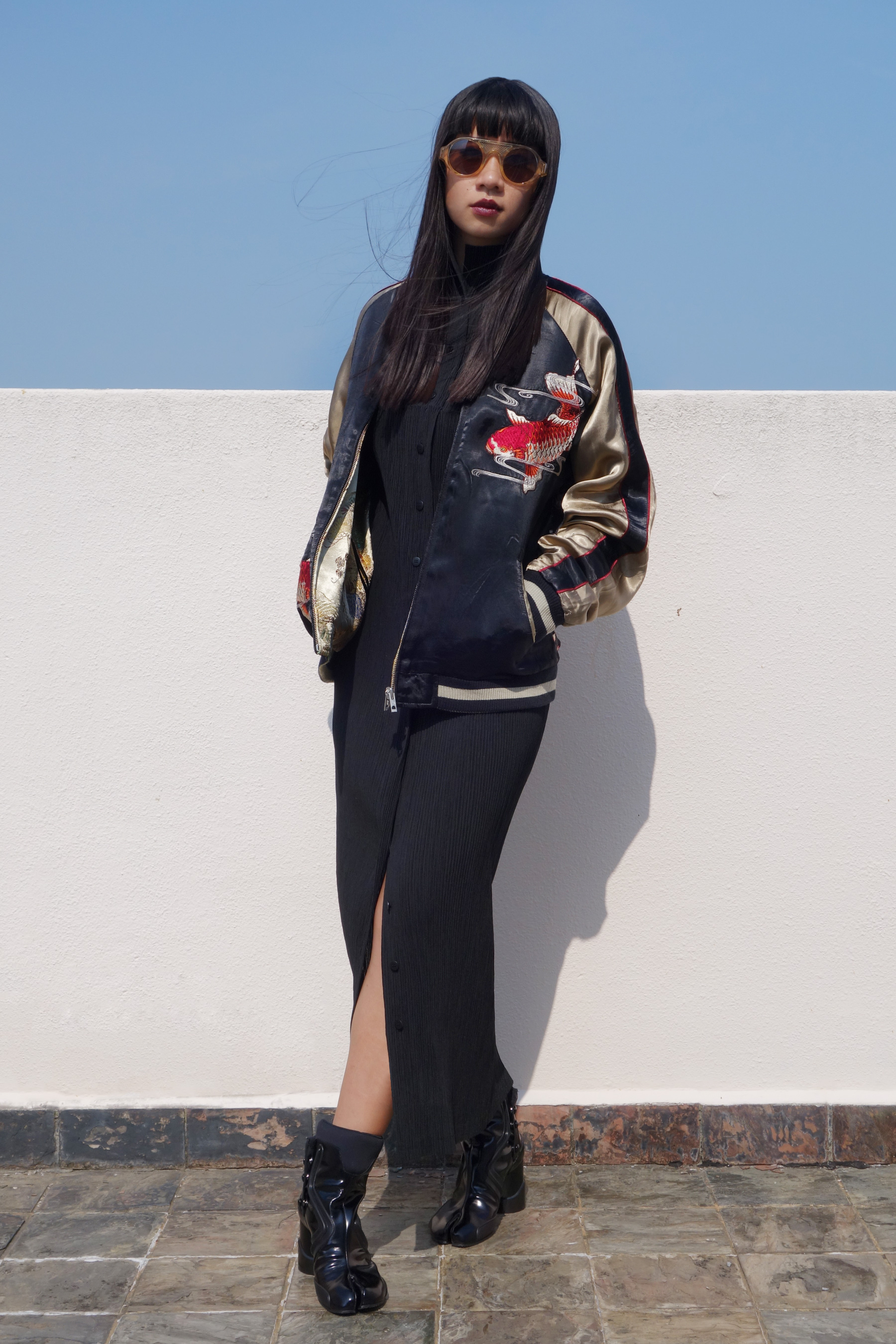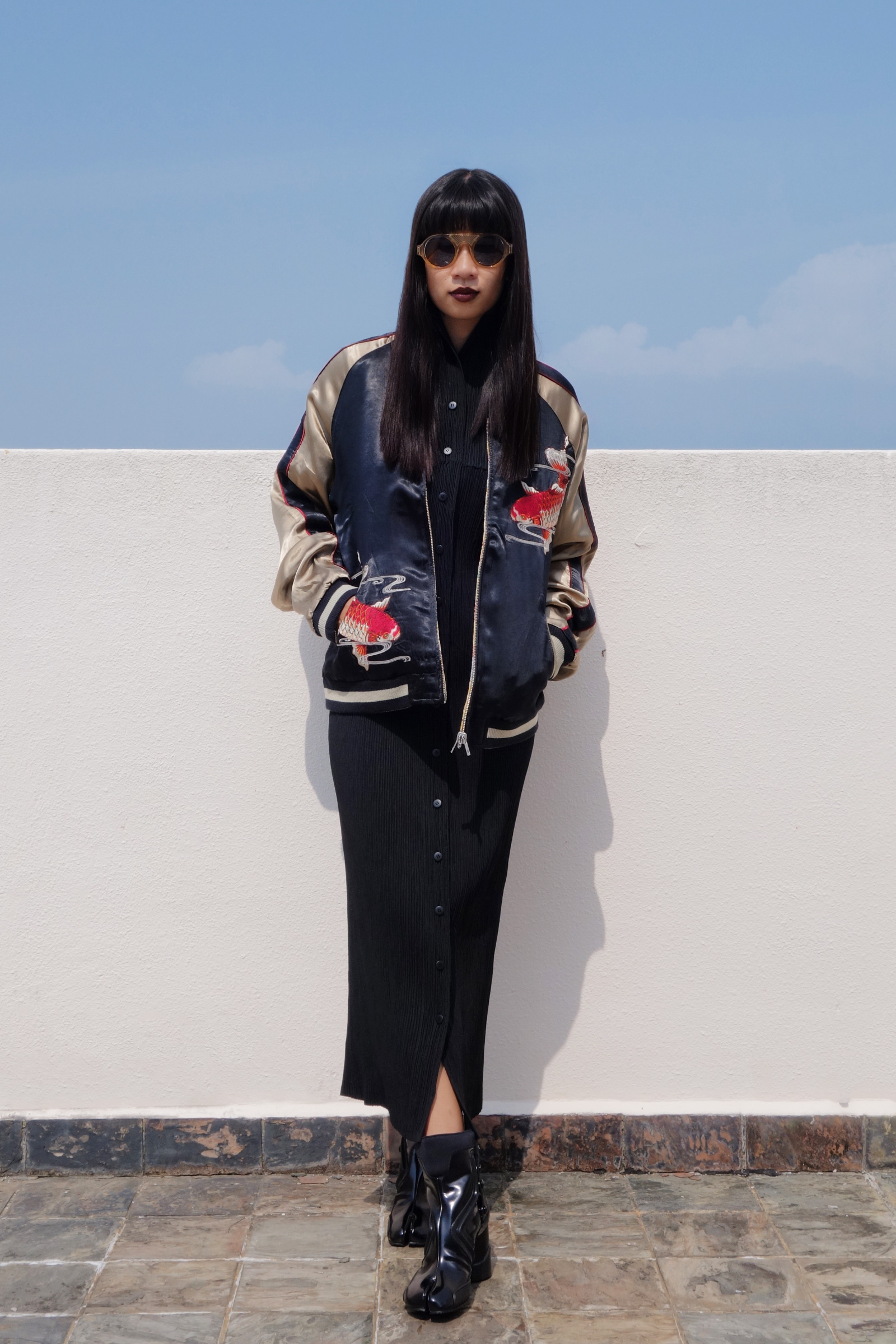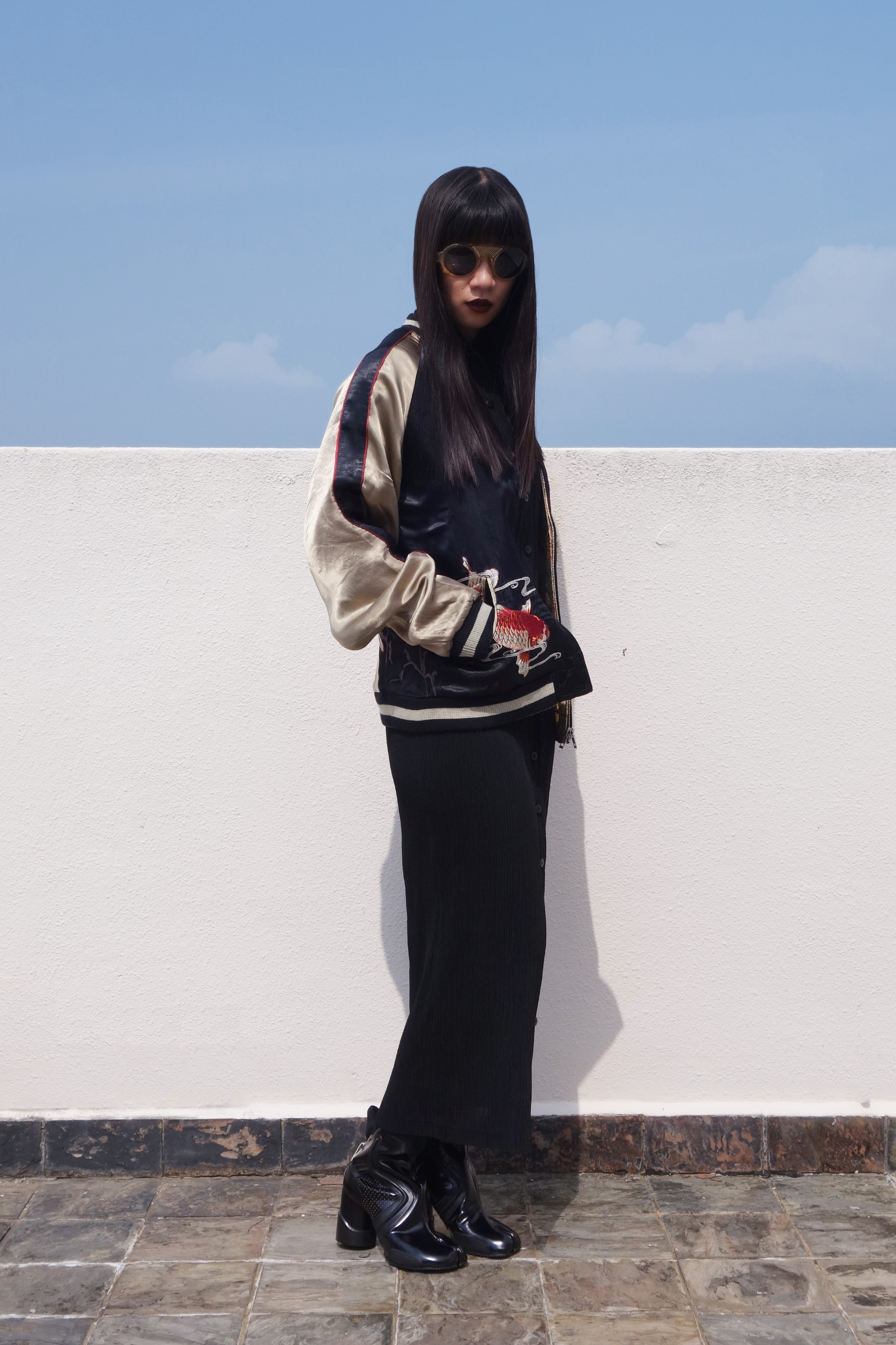 Wearing: Sukajan; Issey Miyake dress; Margiela techno tabi boots
---
Should you find yourself wanting a piece of the action, there are plenty to be found on ebay, from tigers to dragons, demons to gods, Oiran to skeletons. I would, however, like to highlight some of the weirder, not-so-authentic ones I have encountered which I suppose one might wear ironically.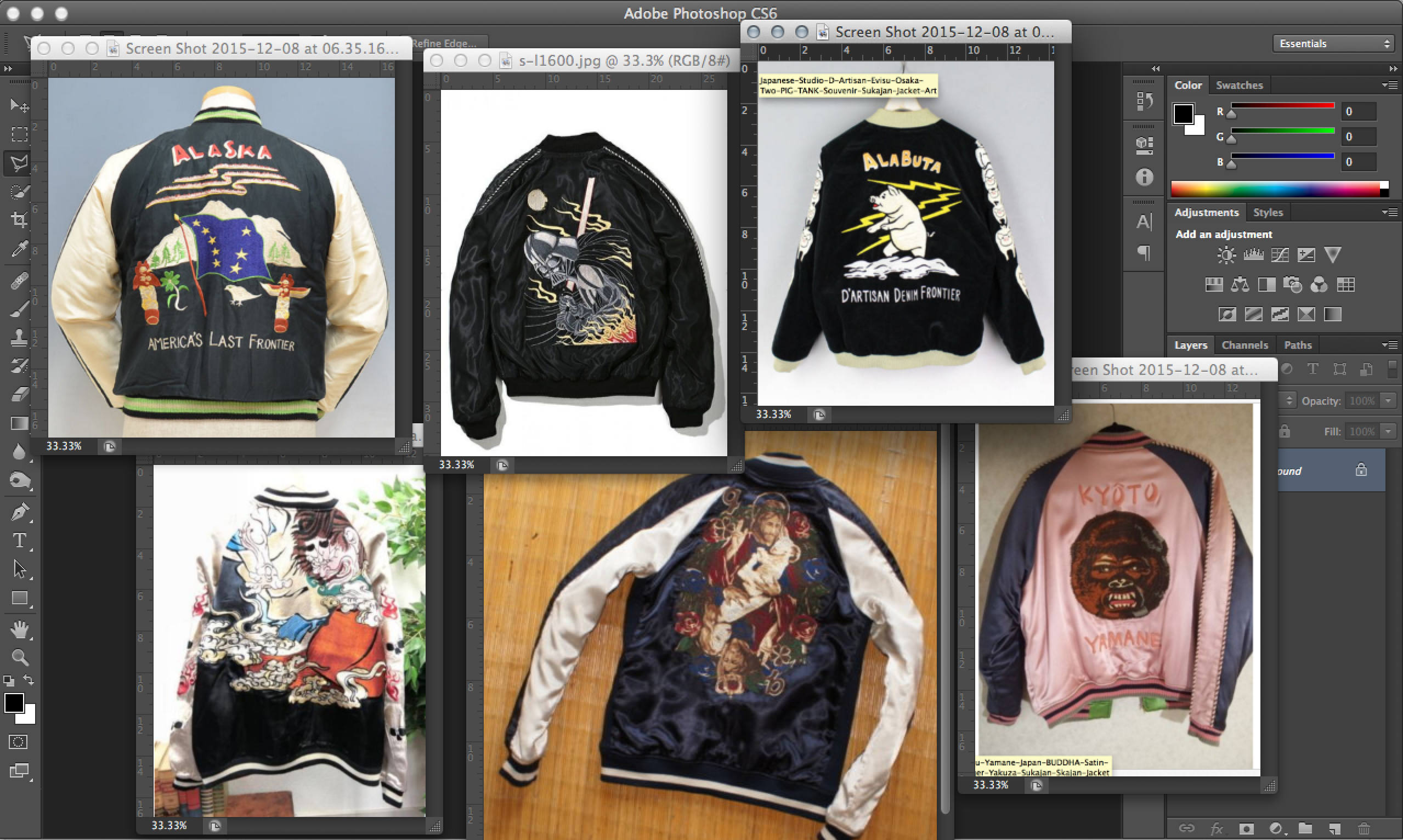 From left to right, top to bottom:
Alaska; Darth Vader by Beams; Alabuta the Pig; Evil Demon; Jesus Christ Lord Almighty Shepherd of the Lambs Wait WTF is he hugging down there; Some overpriced gorilla design by Evisu