"I called it the Ceremony of Separation. It's about how the beauty and power of ceremony can alleviate the pain of separating, for the one departing as well as for the one saying goodbye." - Rei Kawakubo
What with all this talk or separation, departure and goodbye, is this Rei Kawakubo's way to warn us of her potential retirement?
This is the fourth collection in which Rei Kawakubo has left all her inhibitions behind, abandoning all hopes for wearability and practicality, not that Comme des Garçons was synonymous with the latter to begin with. It started in the spring of 2014. Prior to the change in design strategy, most runway pieces would be produced for the masses alongside some watered down pieces. Then came that spring collection; the first instalment that pushed the boundaries of pragmatism even by Comme standards. Clothes no longer looked like clothes. They became sculptures that reduced mobility and visibility for the wearer greatly. While Kawakubo-san welcomes anyone who would take up the challenge, she does not expect anyone to do so. As each collection metamorphosed, the number of looks sent into production plummeted. Kawakubo-san picks out what would be reproduced. Loyal clients are allowed to order the runway pieces that have been chosen. The rest of us lowly devotees can only wait for the tamer interpretations to hit the stores.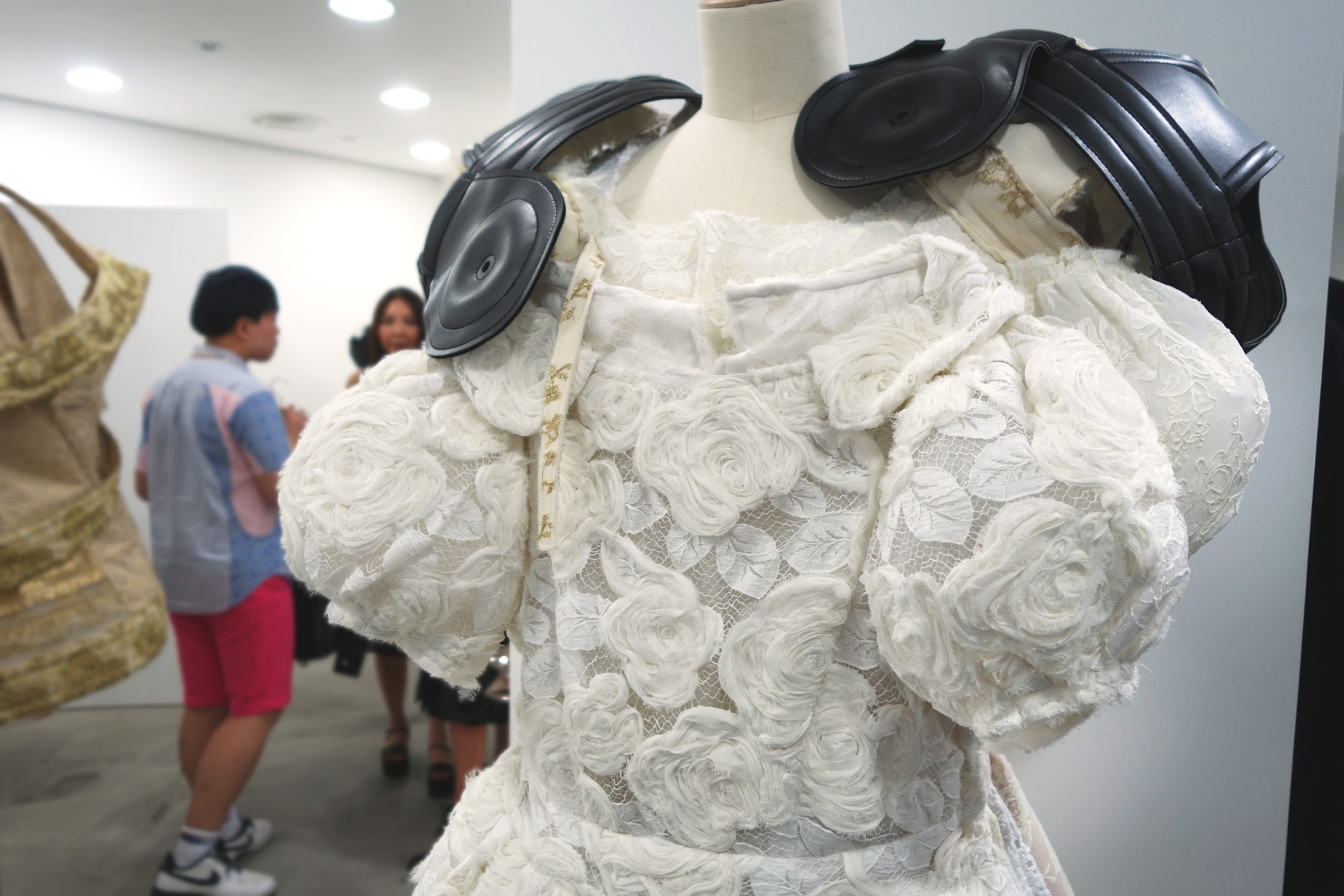 A little over a week ago I had the pleasure to attend a Comme des Garçons party marking the arrival of the new fall/winter collection in the Singapore boutique. So take this as a report of sorts.
---
Rei Kawakubo's forte is creating opulence with modest materials. Polyester, cotton and wool, woven and treated to create the illusion of silk, lace and leather. The lace motifs and empire waistline one usually associates with weddings are used in a melancholic context, which brings to mind her other famous collection, Broken Bride of Spring 2012. The gold cage reminds one of watabōshi, the hood of Japanese bridal costume, combined with the traditional funeral veil that has heavy trimming at the hem. I have no idea what those shoulder pad/helmet-like things are.
It was only after a closer inspection of this faux leather coat did I realise that the embroidery on the gold hoods were haphazardly arranged like a child's doodles, which was then translated on the flat surface of the coat. The reworked motifs such as cages and ribbons have been reinterpreted in a much subdued manner on plain coats and shift dresses. Some were too plain for my liking. Others, like the coat with caged hem below, managed to balance the outré with the commonplace. Ribbons once again featured heavily in this collection, which has been making a frequent appearance in the last few years. There's something restrictive and freeing about this holey cage, or is it caged holes?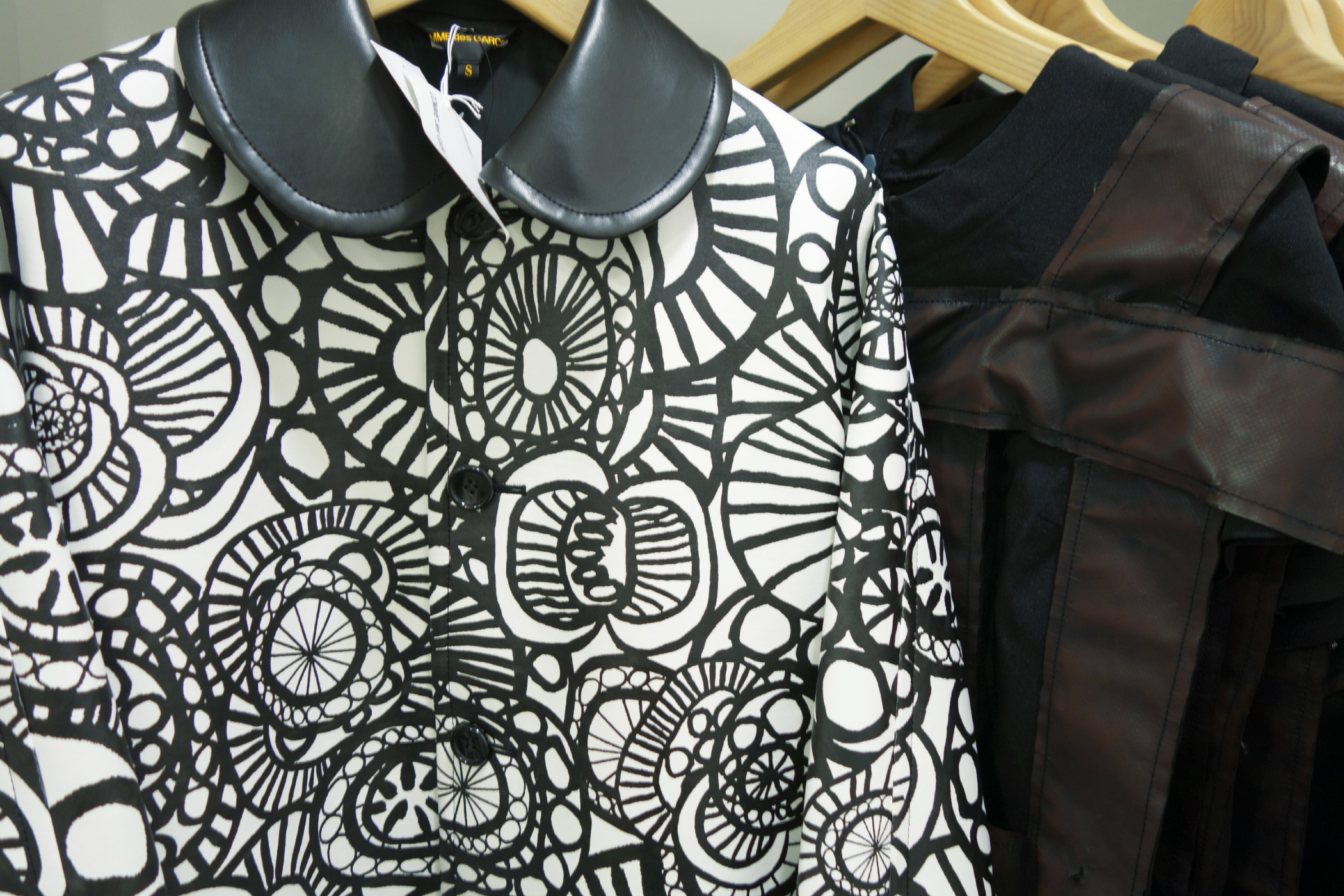 The Homme Plus collection has not gone through the same exaggerated evolution as the mainline. A jacket still looks like a jacket despite having extra zebra sleeves. If you had searched beyond Vogue's frontal 2D shots you would have seen the disturbing illustrations by the South African artist Roger Ballen, who had also worked with the equally freaky Die Antwoord. The biker jacket and blazer were made of faux leather, available for sale in stores and various online retailers such as Farfetch (here and here).
And then I met Mr. Joffe himself, whose attendance was unbeknownst to me until my arrival. I had a lovely chat with this gracious and soft-spoken man abut his digital doodles and Yoox. He came with some of the Comme des Garçons staff from Japan, one of which some of you might recognise in a photo below. He was wearing the grey slanted suit from the latest Homme Plus collection. Anyway Mr. Joffe. Despite being a person who holds so much power in fashion next to Rei Kawakubo, he was not one who put on airs. Some people were reluctant to approach him, while some others couldn't wait to get hold of him. If it wasn't for the power vested in me by this Wonderland coat I might have been standing in a far corner muttering 'Senpai please notice me'.
I have never seen this many Comme des Garçons-shrouded people in Singapore in my entire fashion life, ever. There were women in some major runway pieces like the sequinned flat seam dress of FW2012. Some dudes in the 'Preme collab (ugh). But overall it was a fun visual feast for the evening. Just look at the well-dressed attendee on the left. I do wonder if I've been going to the wrong parties.
---
"When fashion is driven by creation, I suppose it can be called an art form. But I have no concept of art in my work. Clothes are only completed when somebody actually wears them. If they were art, they could be more abstract. As long as something is new and has never been seen before, I don't mind if people call it art. Wear them if you dare." - Rei Kawakubo