If you've been reading these pages for some time you'd be aware of my hatred for Hedi Slimane, specifically what he's done to YSL (Dior Homme is irrelevant in my books now). Like it or not when one reads fashion news constantly, one cannot avoid being exposed to the latest Saint Laurent collections.
Before I go on, have you ever read of the delusional girl who left comments all over the internet claiming that Marc Jacobs stalked her and stole her ideas? You can read more about her here and here. Aside from stating that Marc Jacobs is not gay and he's in love with her, she also did this:
Barta posted a whole catalog of images on her site, each with seasonal dates on them, claiming that Jacobs copied her look and style to a T. But there's no real way of knowing which came first — the Jacobs ad or the Barta photo. Not to mention, most of the images are rather benign — and anyone could have pulled off the poses and looks.
So that's Barta the batty lady.
Back to Saint Laurent. As soon as I had a quick look through the latest menswear collection, I was ALMOST claiming the very same thing that Barta had said (on copyright infringement). There were so many looks that reminded me of my years in university where I took photos in my tiny dorm rooms showcasing my latest vintage buys. Things that cost me a mere $20, soon to be reproduced in ~higher quality~ fabrics to be sold for a thousand times more.
Let's take a look, shall we?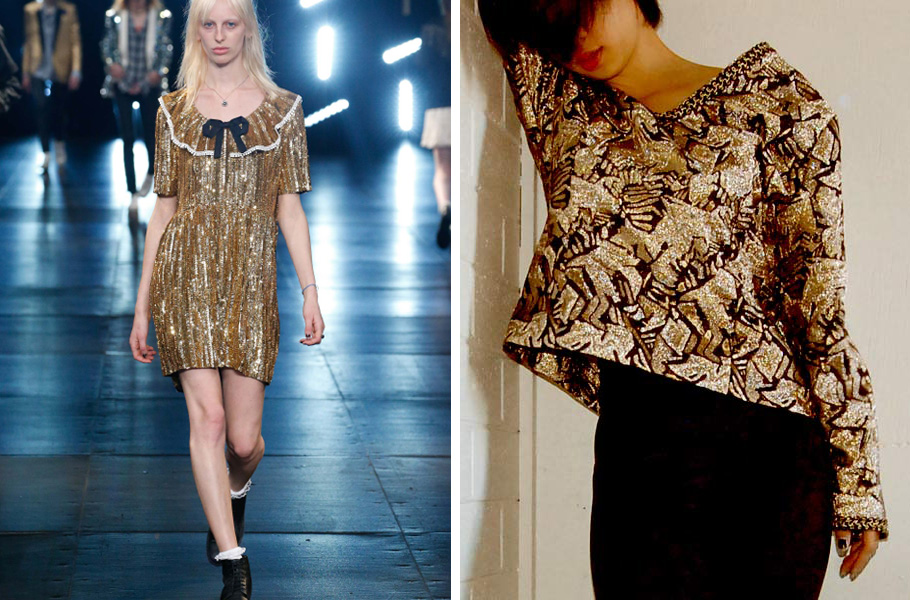 Right: me liking shiny things back in 2009
Okay so gold was big in the 80s. At least he reworked it into a 90s tea dress. He gets a free pass.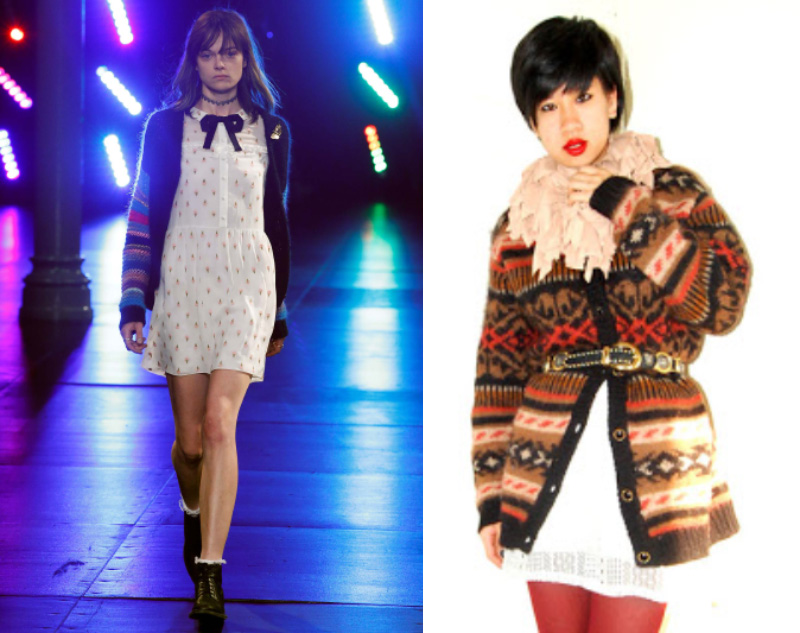 Right: Year 2010 in which I attempted to be experimental
Lose the weird scarf and gaudy belt and we've pretty much got the chunky-cardigan-over-dresses uniform of university kids in Melbourne.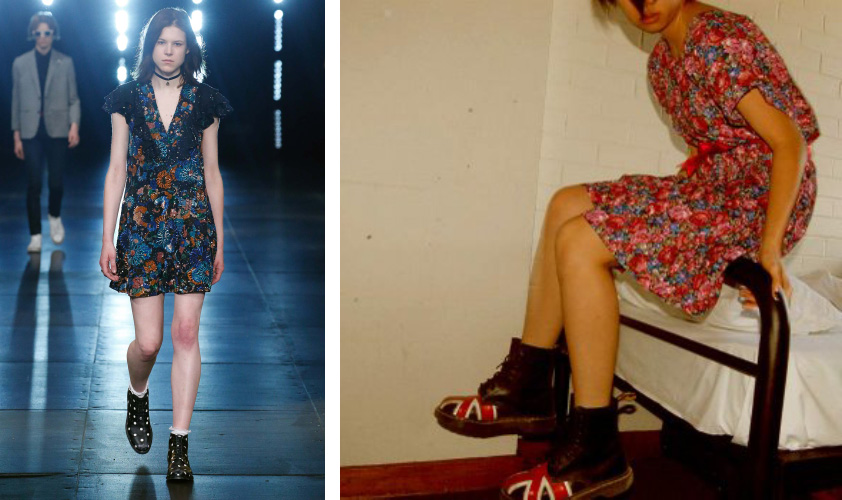 Right: The time when I saw Sienna Miller in a tutu and floral docs and copied that 90s look religiously
He's getting into tea dresses big time now. Wonder which garage sale he picked that dress from.

Right: From 2009, when I was still wearing my trusted Union Jack Doc Martens
Long jumper underneath short jackets over skinnies. Not too similar but cutting it close.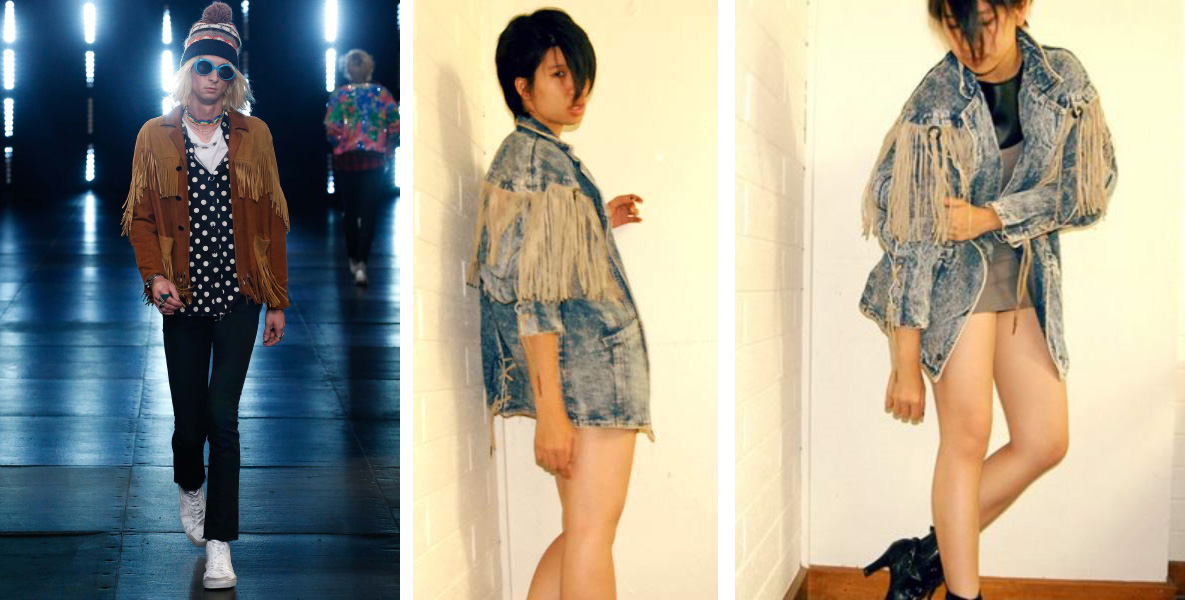 Right: Also from 2009 when I was totally on point with my 80s obsession
Wow a fringed jacket straight off the back of some kid in Coachella so #edgy so #fresh.

Right: From 2011 when I was starting to sober up
Jacket and boho dress. I don't think I've seen that combination before. Oh wait.

Right: Regressing back to 2009
Long blazer over mini dress. I'm sure the Olsen twins haven't done that a gazillion times.

Right: January 2009, when I had just started to fashunz, pigeon toes mandatory.
.....ah feck.
I'm not in any way saying that Hedi stalked me and stole my ideas. But if a highly-acclaimed designer shares similar ideas as my twenty-year old self (who copied them from washed out rock stars), I cannot fathom how he's able to sit on his throne with good conscience while the masses lap up his overtly literal works that involve so little exploration. Proponents argue that he's redefining the youth culture as what he's done with Dior Homme yonks ago. Yoof culcha my ass. You want youth culture there's the old guard Rick Owens and young bloods like Craig Green, Christopher Raeburn and Ximon Lee who actually have something new to say.
This is not Topshop where ideas are regurgitated. This is a bloody huge fashion maison for goodness sake. You're supposed to innovate and reinterpret, not reproduce old ideas verbatim. Even Isabel Marant puts in more effort than him. And this is why I maintain the opinion that Slimane's work is shaite and he does not deserve the position of 'Creative Director'.
As for the people who actually buy these garments, there's the ol' thrift shops to scavenge in. You might actually save loads of money and do a bit of charity while you're at it.