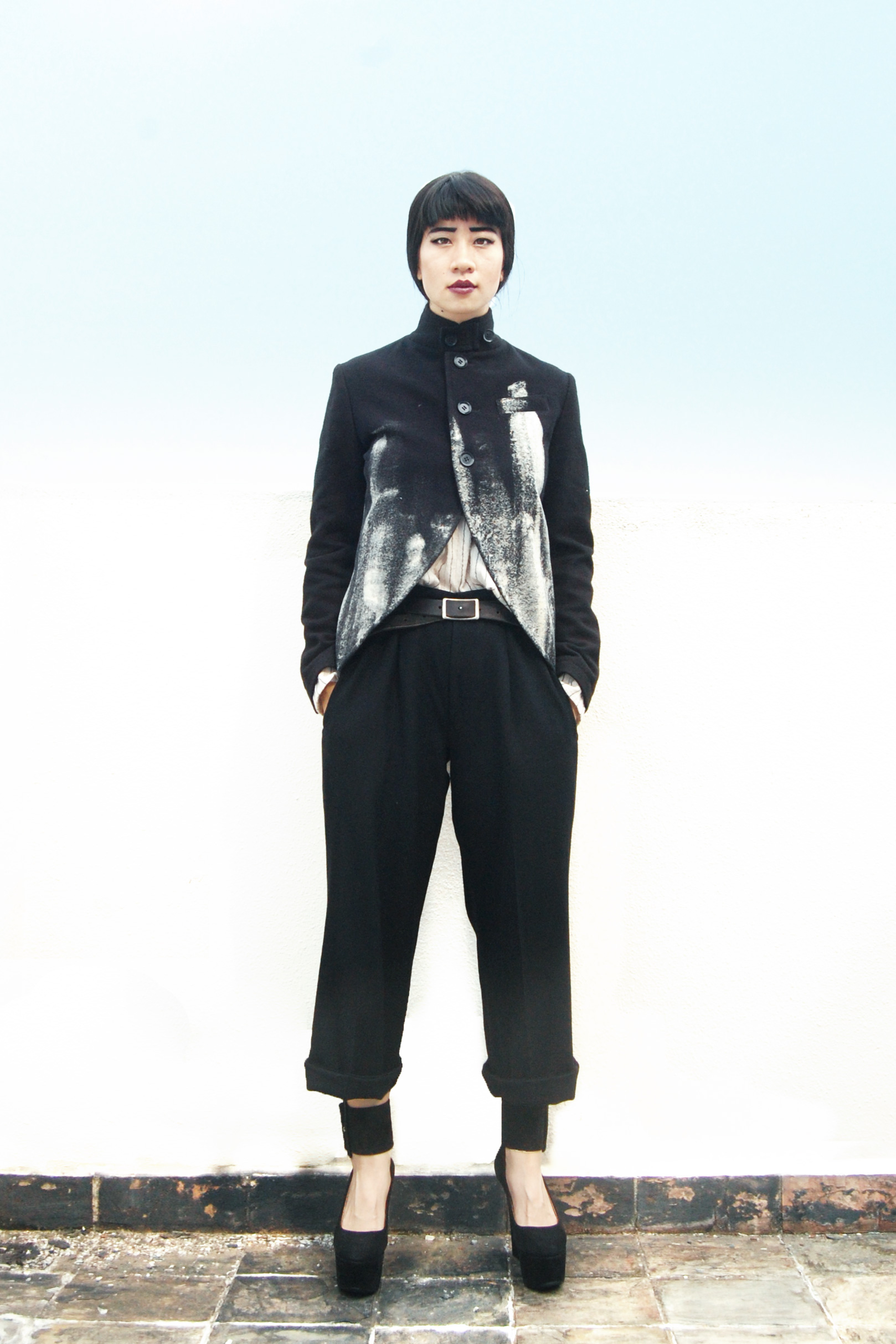 Wearing: Yohji Yamamoto Y's jacket and shirt; Comme des Garçons Tricot trousers; Celine heels
If there's anything we can count on the Japanese clothiers, it's their expertise in romanticising the passage of time. Unlike the equally-adept Italians who strive for perfect beauty in their various wools and cottons, the Japanese are more inclined to reconstruct age and experience in tangible textures.
In my experience, the more I begin to appreciate this alternative philosophy of textile manufacturing, the stronger my love for unconventional silhouettes grow. Conversely, there is a decline in my fondness for fashion that is entrenched in the showcase of overt sexuality and glamour. I maintain the opinion that mainstream definition and portrayal of sexy is one-dimensional, hence boring.
What got me truly fascinated with Japanese fabrics is its pragmatism. When the very fabric of the clothes are built upon humanity and humility, the garments are made on a similar vein of philosophy void of a need to impress. There is less emphasis on precision of tailoring and how tightly clothing should hug the body. When I wear some of my Comme des Garçons pieces I'd turn a blind eye to where the shoulder seams fall, or how my butt would look in that dress. I can wear a size XS or M and be okay with how both fit me even if they look different - as long as they're not falling off me. When it comes to Issey Miyake I pretty much disregard the sizing altogether. If it fits, I sits. I'm not saying it applies to all clothing, but on a slightly different tangent it might explain why the Japanese don't kid around with their one-size-fits-all clothing. They can really fit quite a large range of sizes with plenty of room to experiment with. We'd all just look rather different, and that's the beauty of it.
Maybe it shouldn't come as a surprise that the old guards and young graduates are now adopting large silhouettes. It's the new form of Minimalism - with a focus on volume and texture, but that will be a story for another time.