I'm back to my all-black look, having gone astray somewhat with colours recently, a foray I'm quite keen to continue with. However black has always been a source of comfort, something I believe all my fellow black-clad, Rick/Ann/Yohji-loving soldiers would concur with. I think I can safely assume that black on the whole allows us to remain anonymous, to disappear into the crowd or hide in our own safe mental space. And I have always taken that for granted. Until one day when I asked an innocuous question to a group of people. Given the same coat from Rick Owens, one in all black, the other black and white, my fashion-inclined friends agreed that the latter was more conspicuous. When I asked another friend who has little interest in fashion, he felt that the all-black spoke louder, an opinion that threw me off guard. Have we then, in our attempt to stay hidden in our blackness, become more prominent? While I reckon we should reconsider the way we think of black vis-à-vis the rest of the world, there is no need for anyone to abandon their favourite colour. But let us not delude ourselves in thinking that we are ever more hidden amongst the crowds.



Wearing some old hat; Issey Miyake Haat coat; DIY vest; Tricot Comme des Garçons wide-legged trousers which I've had professionally tapered; Damir Doma Falka creepers

Blackness aside, I would like to highlight another piece of garment from Issey Miyake, this time from one of his numerous sub-labels – HaaT. Just to recap from my previous post on Issey Miyake , the HaaT line is a mashup of modern technology with traditional textile craftsmanship which results in garments of artisanal qualities.

Like many of Issey Miyake's creations, this coat is rather airy considering its length and material. Everything about the coat oozes subtlety, from the light texture that reflects light off its blackness, the curve towards the bottom, to the slight cocoon-like silhouette. These light touches allow for major layering fun while avoiding being overwrought.




To get the apocalyptic gunslinger look, one should don a wide brimmed hat and a high-necked wraparound of some sort. The higher the neckline, the more mystery you exude. Rather like preserving your chastity by keeping the ankles covered à la Victorian ladies. You can of course make a similar draped vest as mine, first featured here, inspired by Mika. Various styles of shoes would complement the look quite nicely, such examples include a pair of thick-soled Dr. Martens derbies, Underground creepers, or crepe-soled Grensons. With the outerwear and trousers I have taken the liberty to show a selection found from good old eBay.

For Men: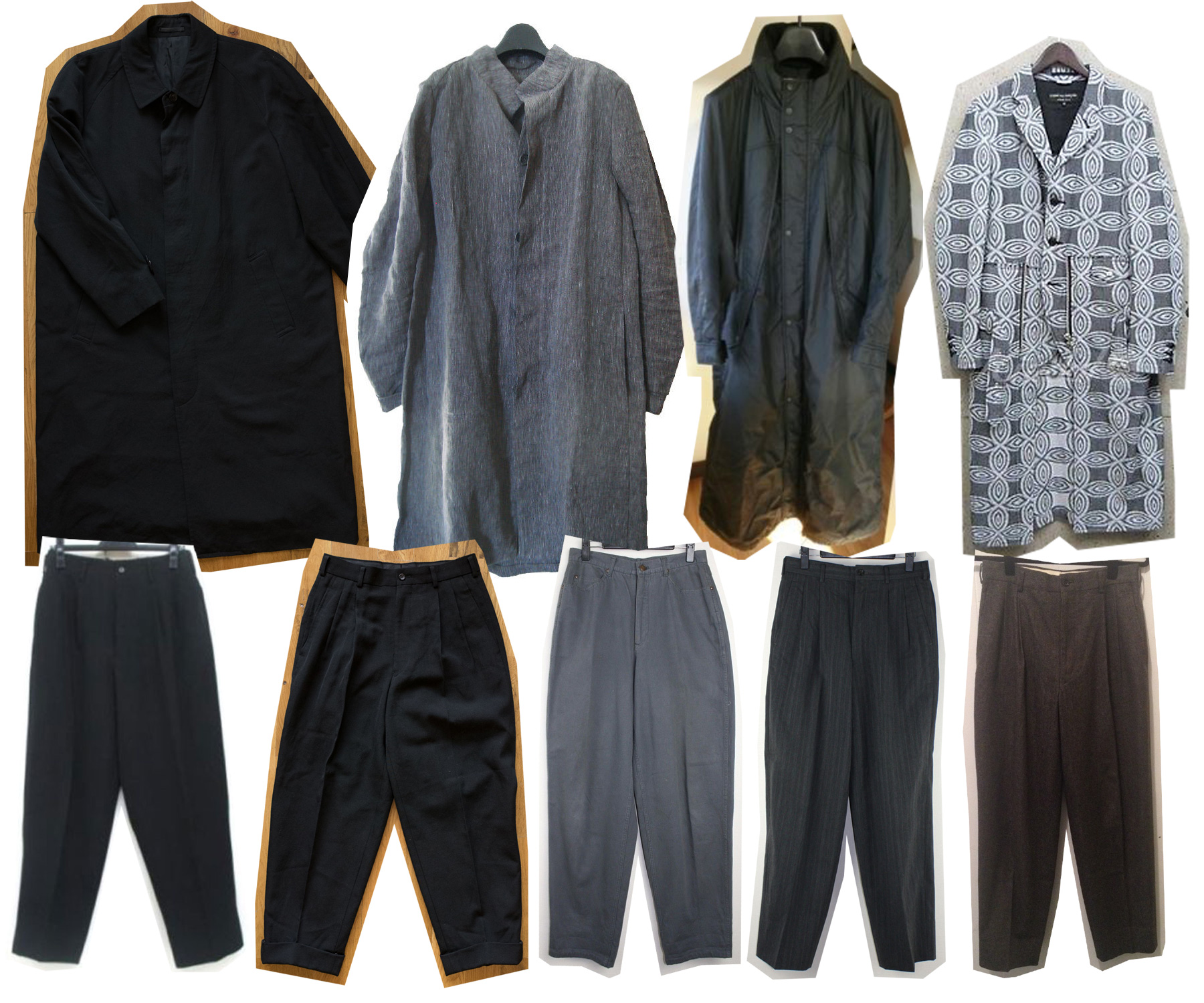 For Women:

There are of course plenty of other garments suitable to re-create this look, but the key points to watch out for is the flare of the coat, the taper of the trousers, and the high neckline. Most importantly, your trousers must have roomy pockets to hide your hands for maximum coolness, and that way your coat too will drift even higher in motion . I hope these suggestions have been useful in some ways. Till next time.