Hello and welcome to my travelogue. I don't usually document my trips much because I tend to get caught up observing and absorbing the sights and sounds of new environments I find myself in. I'm also not the greatest nor keenest photographer. Therefore you'll find this photos essay to be rather short. However I still have to split them in two because of the heavy images. Here's part one.
Budapest
My first stop in continental Europe was Hungary. My background knowledge of Central/Eastern is sketchy at best so I flew to Budapest not knowing what to expect. Being a massive fan of old architecture I was most surprised to discover the grandeur of the city. The buildings in the capital are centuries-old, judging from the style they were built in, and have mostly been rather well-preserved from what I can see on the outside. There are hints of Communist era influences nestled in between, such as the subway stations. Even though the subway system is the oldest in Europe, some of the stations were built during the Soviet era, with fittings that reminded me somewhat of Mad Max, complete with reflective pillars.




While I was there my friend persuaded me to try Acro yoga, which I agreed to without actually knowing we were going to do it in a crowded park. This was my first attempt, having never done any form of yoga prior to this, and I must admit it was rather exhilarating. 10/10 would do Acro yoga and Budapest again.


Antwerpen
I stopped by in Belgium for a couple of days, spending a full day in Antwerp to pay homage to the Belgian masters. It turned out that the Belgian Margiela store is located in Brussels. Ah well, at least I've been to the one in London.

I did visit Ann Demeulemeester's store though. As I expected it was sparsely decorated and well-stocked with her runway pieces. I was eyeing this gorgeous dress, and lightly caressing it – would have rubbed it gently on my face if noone was around – before I decided to ask for the price. A well-dressed sales assistant glided over when I called out to him. Having posed my million-dollar question, he started fumbling for the price tag while casually muttering 'It's not cheap'. 'Yeah well I think I know that', I replied, looking at him squarely in the eye.




Antwerp is a little like Budapest when it comes to architecture, but without the off-kilter charm because it's been scrubbed up well. More old buildings in the style I have no clue of (Medieval? Renaissance? Baroque?) but still caught my fascination nonetheless. The station itself (left photo) is rather huge and more importantly there's a helpful information booth for tourists. It might have been my lucky day because the dude behind the counter immediately circled on the map various spots I should visit as soon as I answered his question: "Which designers do you like?"

On the right is the path towards the shopping district – the Meir – flanked by fast fashion chains. One has to walk past it to get on the road called Nationalestraat that leads to the ModeMuseum, and various other luxury stores (hello Dries!). There are a couple of notable 2nd hand designer stores which I would highly recommend – Rosier 41 and Labels Inc.

The store below was an accidental discovery. It's called Seven Rooms and I can safely say it is the conceptual Antwerpen counterpart to London's LN-CC before its administration.
"Laid out around an indoor garden you will find a living room, where the hosts provide you a warm and personal welcome, a library to quench any thirst to lifestyle knowledge, a bedroom, a bathroom and a kitchen that provides in refreshing drinks or heart-warming snacks for the guests to carry out our idea of slow shopping in a homely atmosphere."
Roma
So having done Belgium I hopped over to Italy. I'm sure many people have either been to Rome, or have an inkling what it's like, so I shan't prattle on too much about it. There are more statues and churches in every corner than kebab shops in London. My main complaint was the poor timing which I had chosen. During the same weekend I got there, the Vatican was canonising a couple of deceased Popes. Rome on its normal days can barely contain its swarms of tourists. Imagine having another million of them descending upon the city in one weekend. You could tell which groups were specifically there for the canonisation because they were waving their national flags with much gusto and pride. Some even went as far as wearing their national costumes.




Despite the throngs of devout Catholics there were still some quiet spots to be found. I took the photo on the right at Piazza del Campidoglio, purely out of amusement in finding a car parked there.



Wearing: Tricot Comme des Garçons cardigan over COS cardigan over Dries van Noten shirt dress over Yohji Yamamoto skirt over Harley Davidson boots

Firenze
The crowd in Rome reached its peak on the Sunday the service was to take place, so I was glad to escape to Florence. Being a touristy town it was still rather crowded but at least I wasn't banging into people every couple of steps. I paid a visit to PNP Firenze, and I'd highly encourage anyone to do the same. You might want to skip Luisa via Roma though, unless you like gaudy fluorescent decor. There is still an insane amount of churches but with much less grandiose. Compared to ostentatious Rome, Florence is the sibling with good taste who knows how to show off while keeping things classy at the same time.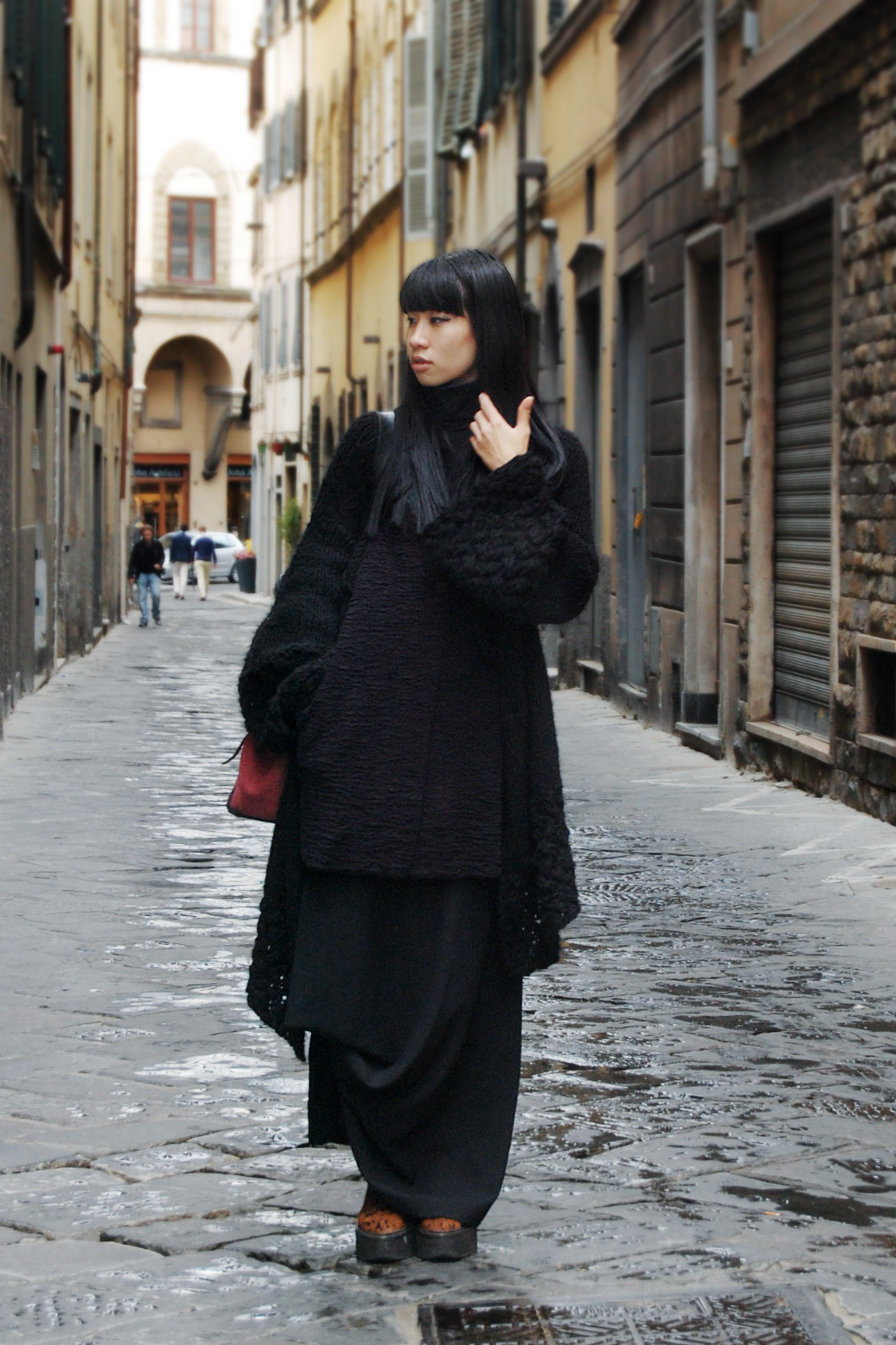 Wearing: Tricot Comme des Garçons cardigan over COS cardigan over Zara turtleneck over Yohji Yamamoto skirt over Damir Doma boots

So that concludes part one of my travelogue. I will post the next half pretty soon.