So I'm finally writing this overdue essay about a specific collection of Comme des Garçons from fall/winter 2009. Frequenters of this blog would be aware of how often I've been going on and on about Wonderland. As I've mentioned in the previous post I will instead look into the major themes of the collection that I've swallowed hook, line and sinker. Warning: may turn into a big fangirling fest.

Reconstructed utility outerwear

Parkas. M65. N-3. Safari jackets. Bombers. All of these outerwear have been re-appropriated endlessly by the fashion industry with very little to no variations. That is until Rei Kawakubo decided to extract the most distinct elements of these jackets and embed them onto wool blankets, or reconstruct them in such a way that the finished garments bear little resemblance to the original designs. Hard edges gave way to softer, rounder silhouettes, removing some of the overt masculine connotations along the way. Ironically, and perhaps unfortunately, one can argue that the re-worked garments also lose some of the practicality these jackets were associated with. They are either bogged down by the tremendous amount of fabric (not necessarily terrible), or come with in-built shoulder vents that let in cold drafts (there's room for a sweater though). Then again if one buys a garment purely out of utilitarian purpose one shouldn't be looking at Comme des Garçons in the first place.

But I digress. Being an outerwear fiend, I have probably seen and touched a few hundred (possibly thousands?) of them, hence it takes a lot for me to be impressed. Yes call me a jaded old woman. However, coming across this collection was not so dissimilar to tasting my first creme brûlée. I'm not a fan of most forms of utility/non-dress military jackets, and neither am I a fan of milk (loathe it, to be honest). Yet when these ingredients go through their respective treatments they become heaven on my taste buds (creme brûlée) and sensibility (CdG). This novel way of treating conventional garments was a breath of fresh air amongst the sea of very pretty yet mostly mundane world of high fashion. Noone says an M65 has to remain an M65. Instead of simply recreating the garments in a more luxurious fabric (see YSL and safari jacket), Rei dissected various outerwear, gave them completely new shapes on new exoskeletons and thus the Franken-coats were born. They're huge, ghastly, puzzling and endearing. If that doesn't heat up my tepid cup of fashion tea I don't know what will.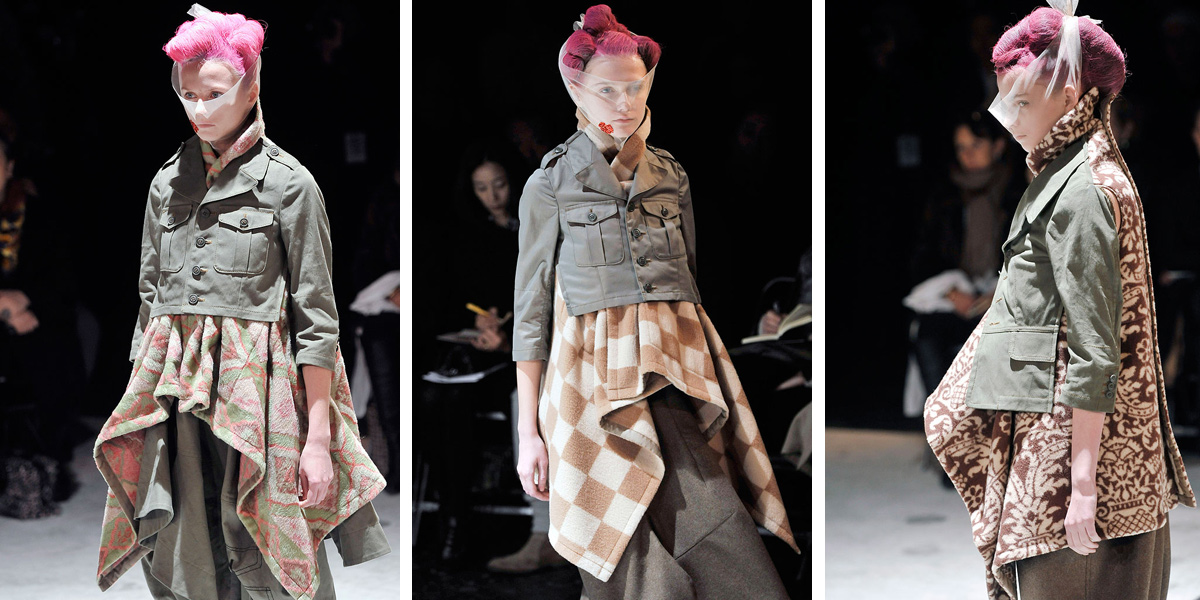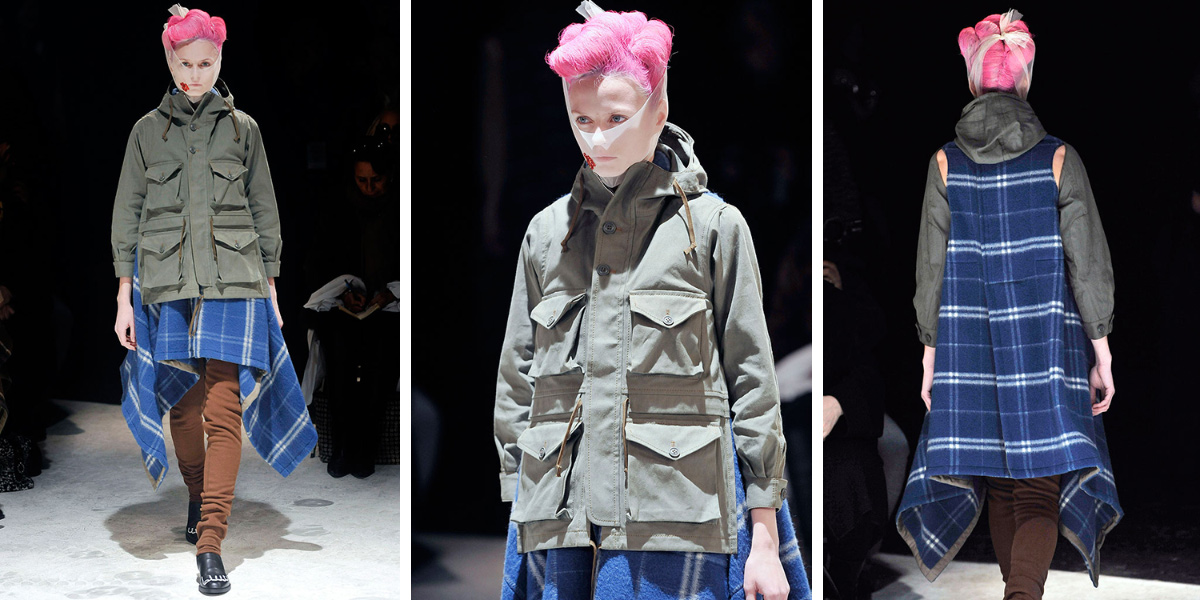 Flared Silhouette

I suppose this bit needs the least amount of explanations. As a huge fan of potato sack dresses and voluminous silhouettes, gargantuan frocks with beautiful textures is the perfect recipe to light my loins on fire. Given the choice between a handsome bloke and one of these grail pieces I probably might not end up choosing the former.


Trompe L'œil and Juxtaposition

Ho hmm. Where do I even begin with this one other than exclaiming "that's bloody genius!". Do you remember the cheesy tuxedo print t-shirts that used to be the rage yonks ago? I have no idea who started that silly trend first but it's safe to say that Rei et al. obviously saw its comedic value and decided to stitch on the idea onto this collection. Outlines of various different jackets can be seen on the overcoats. The complexity of the construction alone was staggering as it is, but who knew such a simple idea could elevate them to a stratospheric level? I think what impressed me most is the way in which the trompe l'œil stitches were kept proportionate to the body and base garments. That, and the fact that the Franken-coats were made out of incongruent components that fused so perfectly with each other – a signature of CdG's and Junya Watanabe's – heightened my appreciation for the label.

Don't even get me started on the shoes. Like the tabis, my initial sentiment towards them was best described as bordering on bewilderment and disgust. But plenty of ugly things make me think. And having done much thinking I came to the conclusion that I love the clever little idea very much. To this day am still hoping that I can get hold of a pair of the derbies.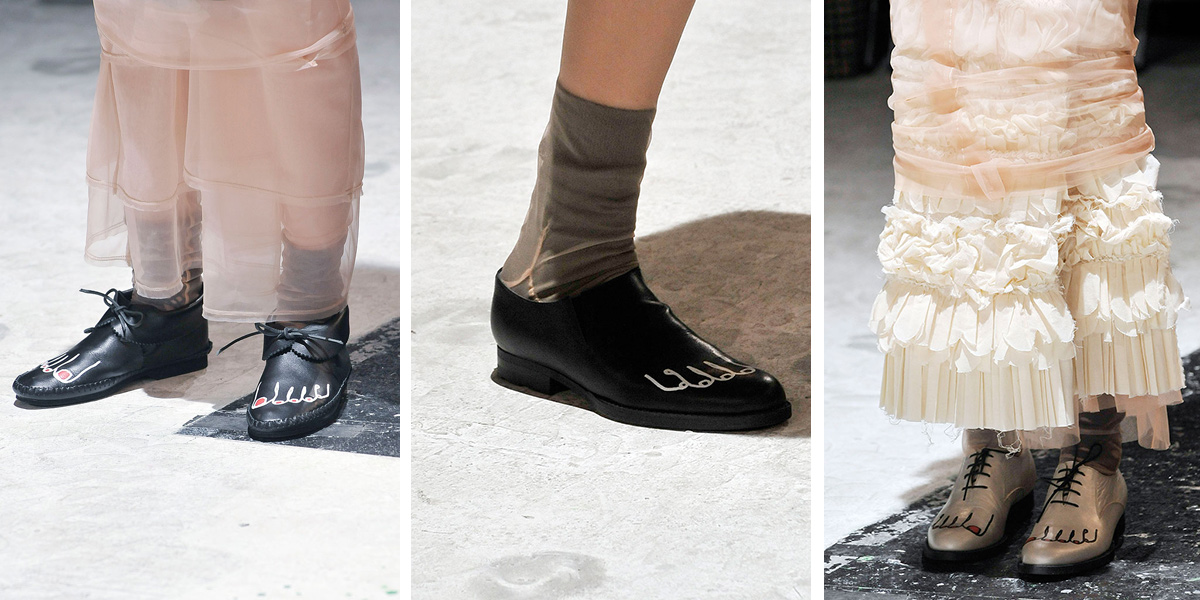 And of course all these wouldn't be as significant if the fabrics and prints had been lacklustre. From the close up shots one can recognise the fantastic boiled wool that Comme des Garçons is known for. The various colour schemes, as far from black as they may be, are not in the least bit jarring nor gaudy. As with any other CdG collections this one did not skimp on the amount of fabric used. I would highly encourage you to click on the images to enlarge them. Just look at them folds and stitches! The generous sizes of the pocket flaps set my heart racing, and those high collars scrunching under the chin and swaddling the back of the neck, like babies enveloped in Mother Rei's blankets. Excellent stuff all round for sure.