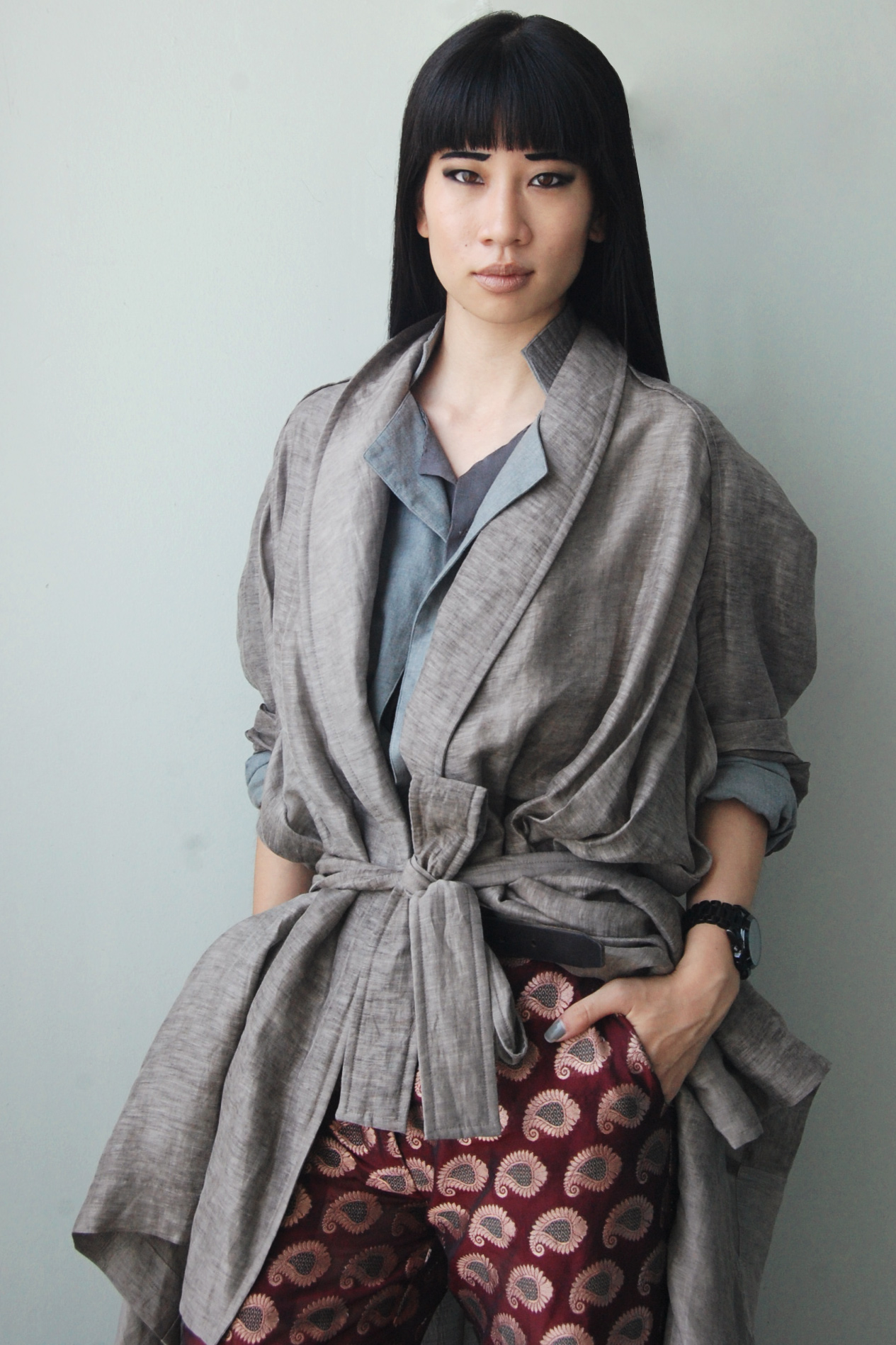 Wearing Haider Ackermann robe, shirt and trousers; Ann Demeulemeester boots

Let me tell you a story, one that is so grim, Shakespearean tragedies have got nothing on it. This has nothing to do with fashion, but it is of utmost importance that the world knows about it. It is the story of a roach. Not the butt of a joint, but the despicable insect capable of paralysing a full grown man, leaving him sobbing in terror.

It all began one lousy evening in my bathroom. I wasn't in the best of moods, and was about to step into my bathroom when I spotted a brown, oval exoskeleton scampering on the floor. Oh hell no. This roach, which I could only presume was a teenager judging from its size, or possibly an adult midget by roach standard, was terrorising my bathroom.

I had to think fast to end his reign of terror. I wasn't about to gas him because this wasn't Auschwitz, and also because I didn't have the spray. I didn't want to squash it either. It hadn't killed anyone and I'd probably be too slow for it. So I took a small container, predicted its trajectory – WHAM – slammed it down on the floor to imprison the roach.

Welcome to Guantanamo Bay.

I was hoping it'd die quickly either from the lack of food or air. Obviously it didn't, not even after being trapped for 24 hours. The container was roomy enough to provide enough oxygen for its tiny anatomy, and being a bloody roach it probably could survive without food for ages. Despite that I had had enough of torturing him. I may have been a dictator of my bathroom but even then I am somewhat benevolent. So I had the idea of slipping a piece of stiff paper underneath the container to keep the roach trapped as I walked towards the window where I would release it. As soon as the paper was in place though, I knew it wasn't quite the brightest of ideas. No matter which way I tried to lift the paper-bottomed container, the not-so-stiff paper would bend and leave gaps for the roach to escape out of. I tried adjusting this way and that – Oh to hell with this – and then went for it. No sooner had I lifted the paper by mere inches than the roach escaped out of its tupperware prison.

My killer instinct took over and I lunged to slam the container over the roach again. And I did. Almost. The edge of the container had landed squarely on his body. Oh shaite. I lifted it up to re-capture it properly and to my horror I saw a small pool of liquid where its body had been, that and a leg. I peered into the container again where this time the roach was re-captured proper. It was still moving, but barely. Half of its body was almost completely severed, only just latching on to its front with a string of what I can assume was its innards. I sobbed a little inside – I didn't mean to do this to you Mr/Ms Roach – as I watched it drag itself, fighting for its life, before it did the equivalent of a car sputtering, and died. In that split second I had gone from the US Government to become the Spanish Inquisition.

Overwhelmed by guilt, I lifted its body on paper and decided to give it a proper air burial by throwing its body out of the window. The wind would carry it off from my eighteenth-storey window for its one last awkward dangly flight. By virtue of the small size of my window however, my plan went slightly awry and the carcass landed squarely on an unreachable part of the ledge. There is no God for this roach. And so helpless in my throes, I left it there to waste. Forever.