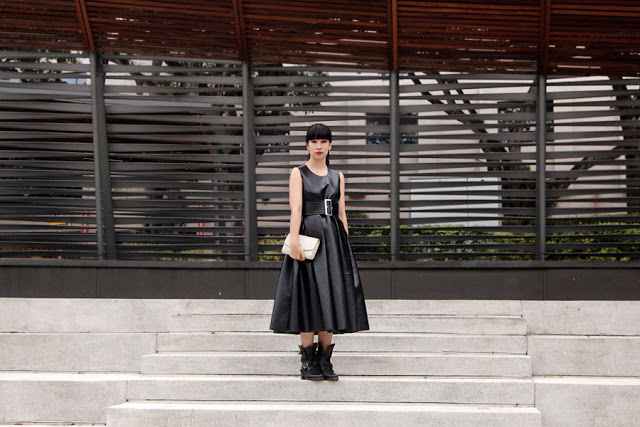 There's a lot to be said about Rei Kawakubo's sense of humour. No matter how much she denies it, one can usually read the satirical messages underlying her collections. For her SS2011 collection, she sent out a few dresses reminiscent of what mothers love to put on their adolescent daughters, big puffy dresses with in-built scratchy tulles. I used to cry whenever my own mom forced me into one of those heinous pink monstrosities because they were so uncomfortable, plus all I wanted to wear were t-shirts and shorts (to say that I was a tomboy is an understatement). And here I am finding myself in a dress of similar silhouette and loving it, partly because Ms. Kawakubo didn't need to add tulles to give the dress volume.
In a way the entire collection is a successful exercise in shapes and structure, many of them made of PVC, a material most people shun for being cheap. Yet it is so like her to use the most unexpected material to create her weirdly beautiful babydoll dresses (unlike Mr. Slimane who probably used fantastic fabrics for his unoriginal version of grunge-y ones). It offered an insight into my own preference, in that I value ideas, techniques and craftsmanship over materials, just as long as the materials themselves are not of poor quality. I did think it would be rather nice if the garments were re-made in the best leathers, but to do so would be losing what is quintessentially Comme des Garcons.
Disclaimer: these photos were taken two months ago.