So the new year has come and been forgotten (almost). We're back to our own dreary little existence, carving our way through this overcrowded space. Whatever resolution that has been made will soon be erased by the daily humdrum reality throws at us. It's always the same year after year, hoping that it will be better than the last, but who are we kidding? Noone, save us.
Naaaaw I was just kidding. How are you people doing this holiday? I've been enjoying mine tremendously but I shan't bore you with details, just a few extra photos. We good? Yeah we good.
So on the day I wore all this drapey mountain of clothes, I was headed to this art space (which you can see faintly behind the poles) to have coffee because I'm pretentious like that. The surrounding area was so nice I decided to bug my boyfriend to take a photo of me because I thought I look omg-so blogworthy plz. And then I strutted my thang around the park, thank god there was barely anyone around except a few passerbys so I didn't have to pretend I was doing everything else but having my photos taken, much. The main victim was Louis (boyfriend) whose blood was clearly the favourite fodder for persistent pestilent mosquitoes.
After a few rounds of strutting on the same spot (again, thank god the park was empty), I got tired and sat down and took out my phone, when clickity snap, Louis snapped this photo of me in which I decided was worthy enough to get on this blog out of the 43873895 photos that were taken. Yeah all you bloggers know what I'm talking about. So here's me looking almost nonchalant with a phone that is not an Iphone because all my money goes towards building my steez and having pretentious coffee.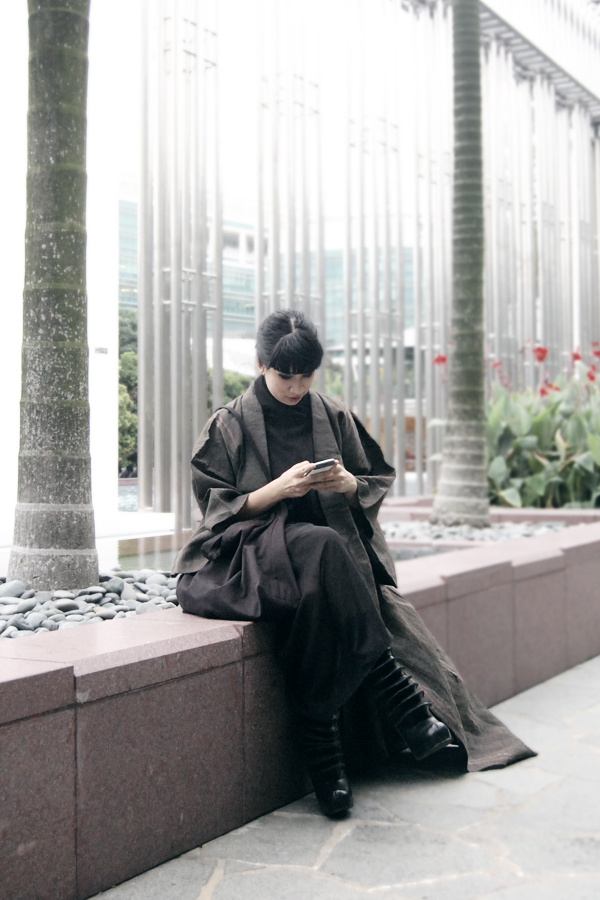 Okay so stay tuned for the next round of holiday report. Or not. I'll be catching up with all your blogs and new clothes bit by bit. Toodles.