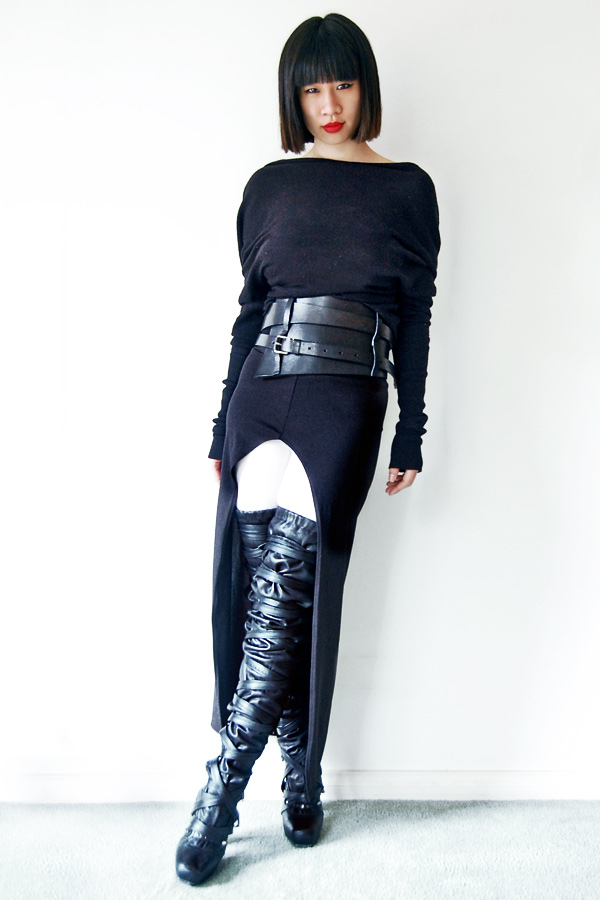 I love Haider Ackermann, way before I fell in love with Rick Owens. But every single piece of his clothing is so darned expensive, and rather difficult to pull off on an individual basis that I have a hard time shelling out my money for anything he made, not to mention the fact that I'm very reluctant to spend on silks and wools.
Having examined Haider's collections more closely, I've come to realise that he has a rather basic formula he follows religiously (thank goodness!). Some common features include a wide belt that defines the waist, lots of drapery and an exposed part of the body, be it back, shoulder or thighs (avoid cleavage unless your chest is sufficiently flat for planes to take off from).
Now what I did here is simply wear my ratty cardigan back to front, add a wide belt to hold the drapes in place and voila, you can show off your summer tan in autumn while channeling a (cheap) Haider Ackermann. Obviously you can make it more complicated than this so have fun!
Cardigan – Forever 21; Belt – Damir Doma; Skirt – Gmarket; Boots – Nicholas Kirkwood pour Rodarte