This is not a new trick, but it is often not executed properly because the devil is in the details, which are often overlooked. It's especially useful on lazy days when you can't think of what to wear. Note that I am not suggesting a trick that creates a slimmer silhouette, but somewhere along the way it may help.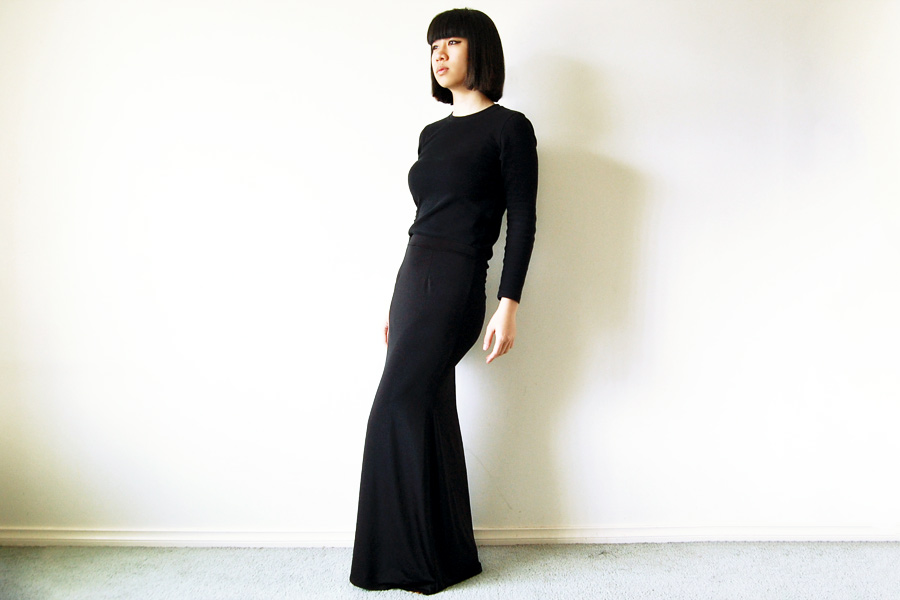 So here goes:
1. I tend to choose black for its convenience and slimming effect, but not everyone can carry off an all-black outfit without looking like a funeral attendee or worse, washed out, so pick out a colour that's flattering for yourself.
2. The basic outfit can consist of either a shirt and a maxi skirt of the same colour, or a maxi dress, and in my case it is the former. It's important to choose a shirt with the right neckline for your neck/face shape but in all cases, cover as much skin as possible. My personal favourite is the high neck/mock turtle neck.
3. Now the bottom: it has to be a fishtail skirt, not flared nor column, the kind that clings to your bum and flares out at the knees. Not only does it accentuate your behind, it also allows you to walk freely. How far should it go? In terms of length, the skirt has to touch the floor regardless of whether you're wearing high heels or flats. A skirt that trails would work even better but it's not practical for outdoor activities.
When your skirt is hiding four inch stilettos, it creates the illusion that you have mile long legs. The success of pulling the trick is to create a continuous, streamlined vision from neck to floor.
4. Material: Choose slinky fabrics that clings like a second skin, such as cotton jersey or viscose. The thicker the fabric, the more stumpy you might seem.
5. Posture: As with any outfits, stand straight, tall and proud.
6. Part of the reason why I always turn to this basic formula is that it can easily be paired with a kickass outerwear, so don't hesitate to experiment. Remember that the length of the outerwear can reduce the torso lengthening illusion, so pick something that ends around the waist.