It's that time of the year again when this shoe lover jumps up and down in glee. Yes folks, style.com has launched its Spring 2010 Accessory Report, and that means hundreds and hundreds of delicious items, or so I thought before going through the photographs.
Designers seem to be copying one another, and not in a good way. Fringes are everywhere, and kitten heel is making its appearance in several shoes, and so are clogs and mules, my pet peeves for shoes.

Alexander Mcqueen
Mama mia, Mr. Mcqueen just knows how to make a girl ignore the cries of her bunion and blister-infested toes. Just like his clothes, this heel from Alexander Mcqueen is the best out of all that spring 2010 designers have to offer, even when compared to Rodarte's collaboration with Nicholas Kirkwood. It's the only shoe I look forward to for Spring, to be honest.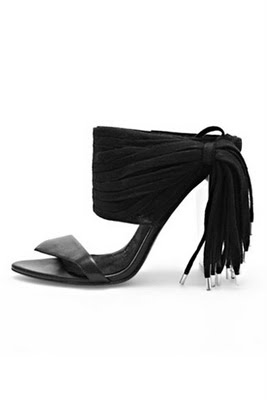 Alexander Wang
This Alexander on the other hand, is not doing too brilliantly this season. While the boot is quite alright, well a little more than alright, the mule on the right is quite awful. A mule itself is dowdy, and that fringe just made it much worse.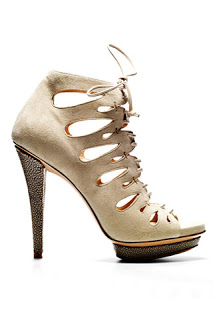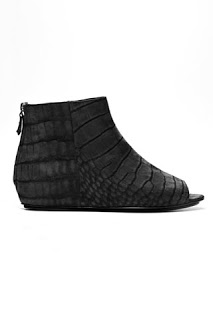 Aperlaï Paris
I tried googling this label, but there isn't much info that I can find. That aside the shoes aren't half bad. I like the croc embossed suede flat booties, kinda reminds me of the Muse Two.

Balenciaga
These boots remind me more of Dries van Noten rather than the futuristic Balenciaga I know. I suppose it is time for Nicholas Ghesquiere to change his direction. I can't say I like them but at least I can see the effort, but is effort good enough to sell?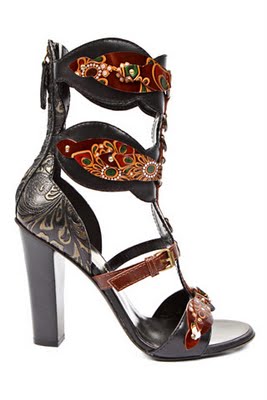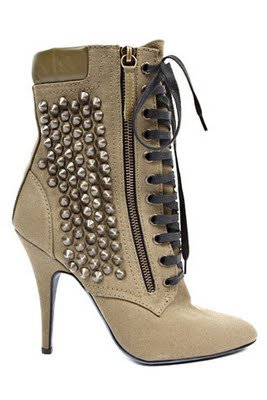 Balmain
Seems like Balmain is trying to change its direction too, but there's nothing new there if you ask me. It's a very old silhouette added with tribal tooled design. The boot on the right isn't half bad, but knowing Balmain it'd probably cost twice more expensive than usual designer heels. I could DIY my own studded lace up boots if I want to for a fraction of the price, and buy a Mcqueen with the rest of the money.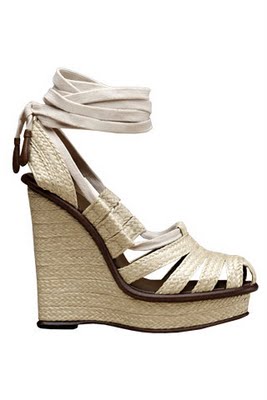 Bottega Venetta
Woven espadrilles is a common sight for spring and summer. There are two or three other similar wedges along the same silhouette so not much to be said here.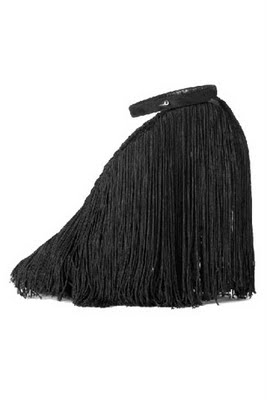 Bruno Frisoni
Ugly hairy shoe vs. trendy stripper platform. I have a feeling Bruno Frisoni created the right heel to make up for the loss of sales due to the fringy shoe on the left.


Camilla Skovgaard
I'm still not a fan of Camilla Skoovgaard's designs because of the rubber soles. I prefer my shoes to be soled in leather. Plus doesn't the wedge on the left reminds you of caterpillars? The shoe on the right is quite alright, I like the chain detail but the heel shape and thin sole is a little too dainty in my opinion.


Chanel
What was Kagerfeld thinking when he was designing these clogs? What makes him think that clogs are even ok for prêt-à–porter? And adding studs to them too? Aaaarrgghhh……
Christian Louboutin
I think Louboutin made the left shoe as a joke. Well I hope he doesn't even think of putting those into production. My grandma (bless her kind soul), could have knitted me that shoe sock with better colour combinations . As for the other two, well I can see the 60s influence of juxtaposing clashing colours. To be honest Louboutin's shoes for Philip Lim are heaps better than these.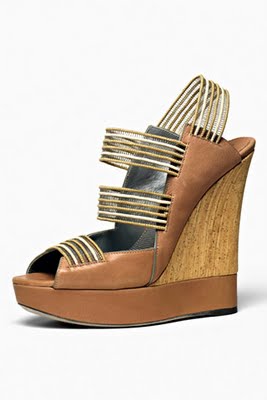 Donna Karan
Hello Donna Karan, I think we've never met, you and I, but it's about time we do. Looking at your edgy espadrilles you're finally getting on the trendy radar again. Congratulations!


Dries van Noten
I can recognise those curvy claw heels from anywhere, as well as Dries van Noten's signature quirky colour combinations and materials. If they come with reasonable price tags then they will be the perfect spring shoes.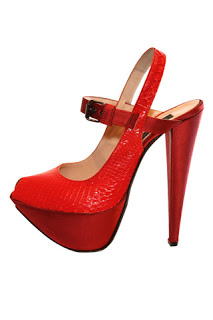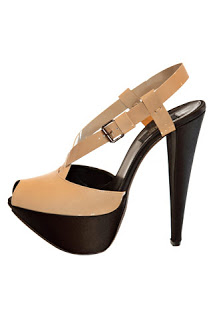 Giambattista Valli
There's just no stopping this designer from churning out stripper platforms with tapering thin heels. The pleasant colour combination doesn't save them from being boring though.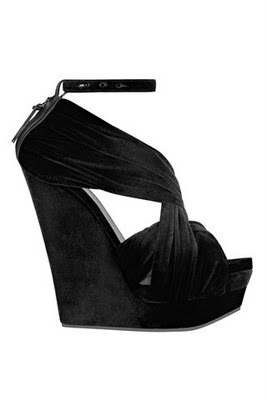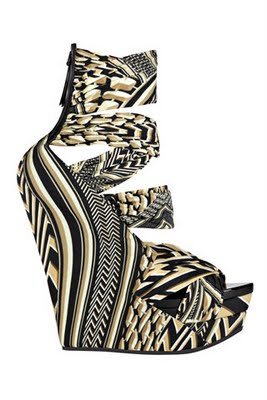 Givenchy
Geometric prints ruled on Givenchy's runway. If my predictions are correct these shoes would be on the feet of every trendy bloggers who can afford them.

Lanvin
Oh dear me, Lanvin has become quite lacklustre in the shoe department. I can find no fault with the shoe, but there's nothing there to excite my twinkly toes either.

Louis Vuitton
Never before have I seen shoes receiving so much negative criticisms, and I can see why. Boohoo to you Marc Jacobs. There are better uses to these materials. Trees weren't cut down to make these monstrosities!

Manolo Blahnik
See the only time I have ever stepped into a Manolo Blahnik store was to borrow their shoes for a photoshoot, and I don't see the need to step in there again. Firstly because the shoes are too matronly in my opinion, only favouring the likes of middle aged ladies, and secondly the price points are well, beyond what I would pay for dainty, matronly shoes. But looking at the shoes above it looks like the shoe designer is pushing for a trendier approach. Kudos to you, Mr Blahnik.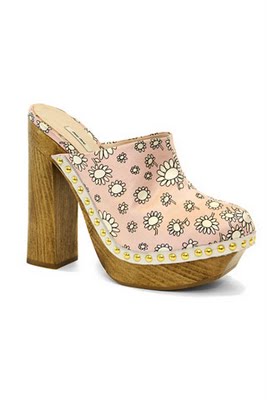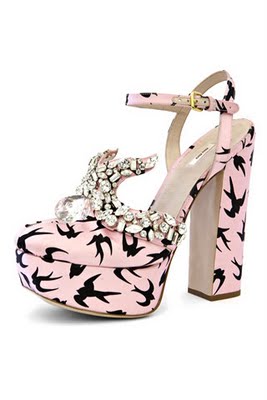 Miu Miu
Nooooo… more clogs?!??!! When will all these atrocities end? I did not make the extra effort to recycle my paper just so that designers can use more wood to make ugly clogs! That child-like pink print makes the mule clog looks like a wellington boot with its shaft cut off. And because of them all the other stores are going to make ugly clogs as well. As for the platform on the right, well it's just another reincarnation of the 70s platform. Quite blah really.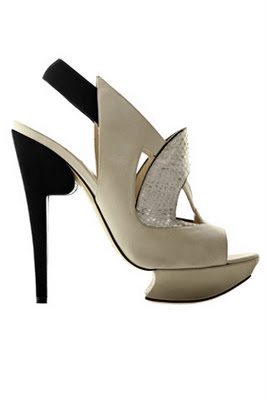 Nicholas Kirkwood
Mr Kirkwood does better in his collaborations, ie. with Rodarte. He's just reusing the same formula for his own collection, but at least the one on the left has a different clawed heel. Nevertheless I don't see his appeal wearing off on women who love stilettos.

Nina Ricci
Ooh, here's a gothic lacy design from Nina Ricci. Although it resembles the ones from Dolce & Gabbana, I favour this one due to the curvy heel giving it more character.

Pierre Hardy
I'm seeing more Art Deco influences these days. Pierre Hardy is definitely right on trend with towering heels and chunky, oh extra chunky platforms. One thing I noted is that he managed to create the illusion of the shoe on the right having a thinner platform than it actually does. That spells good news for the wearer of the shoe.


Proenza Schouler
The duo just keeps getting better and better with their shoe designs. They have been coming up with new silhouettes every season that is flawlessly drool-inducing. I hope that their shoes are more accessible this time to the masses. Speaking of which I'm still waiting for the Resort 2010 heels to hit the stores. Why are buyers not stocking up on the right shoes?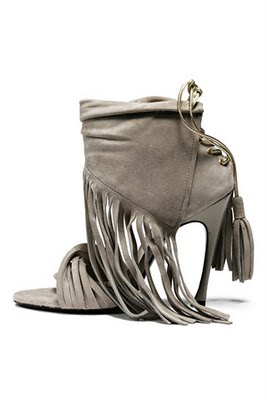 Roger Vivier
I know fashion is hardly about practicality, but I would rather not have my shoes looking like a mop, nor taking over its job. Bruno Frisoni does love his tassles, doesn't he?

Santoni
Modern, with a fresh colour scheme, this is simplicity at its best. If I didn't look at the name I would have thought this came from Jil Sander.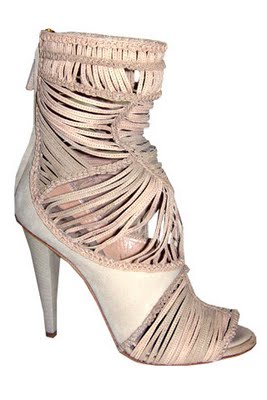 Thakoon
I love the suede peekabo details, and it comes in a delicious blue too. I just wish Thakoon would put more thought into the heel shape.
Vionnet
The House of Vionnet is old, veeeeeery old. Madeleine Vionnet closed it during WW2, and it stayed closed until some rich guy decided to revive it recently thinking that he can milk the cash cow because of the prestige attached to the name. Having read tons and tons of fashion history very recently I have grown to be very fond of Madeleine Vionnet's creations, but looking at these I am afraid the shoe designer behind it should be fired. A thong sandal? You're kidding right?
Yes I know I have been quite harsh in some of my judgements, but I'm being honest as a potential buyer who will mindlessly splurge my cash on silly impractical shoes. I'm highly selective due to my limited funds, or I may just be a bitch who's not easy to please. What do you think of these shoes?