It's that time of the year again when the fashion world gets busy, with editors, stylists, buyers, etc prancing all over the fashion capitals to see and be seen in their best clothes (and SHOES!! oh the shoes…..). On the runway, designers have been making hits and misses (eg. Lohan for Ungaro) with their spring collections. Judging from all of the shows available on style.com, there are still certain underlying trends that influence the designers, such as tailored suits and biker/rock and roll chicks. Not many of them made anything new or groundbreaking, but nevertheless there are more great creations than what spring/summer collections usually churn out.
Anyway here are my picks from the shows. These are the pieces which I find to be more interesting, or the ones I'd actually like to own if I were a billionaire. I've skipped Balmain which I found to be quite a redundant collection and A Wang since he gets too much publicity as it is.
Viktor & Rolf
The duo's doing what they do best, creating avant-garde, decadent pieces that would never be reproduced for the likes of us. They remind me a little too much of the 80s, but kudos to them for creating walking art pieces.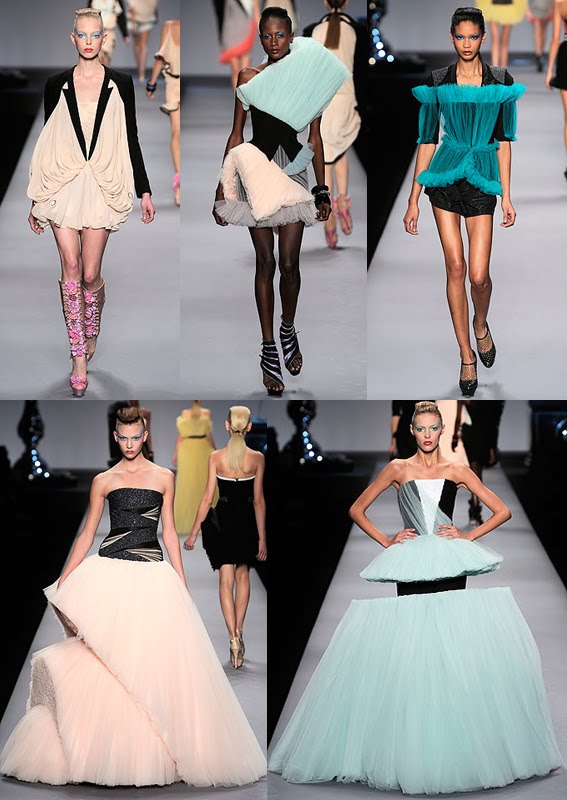 Valentino
I was very much overjoyed seeing Valentino's spring collection after the disappointing fall/winter gowns. It consists of beautiful drapings with youthful silhouettes which I would have worn myself, but alas I don't have that many cocktail or tea parties to wear them to.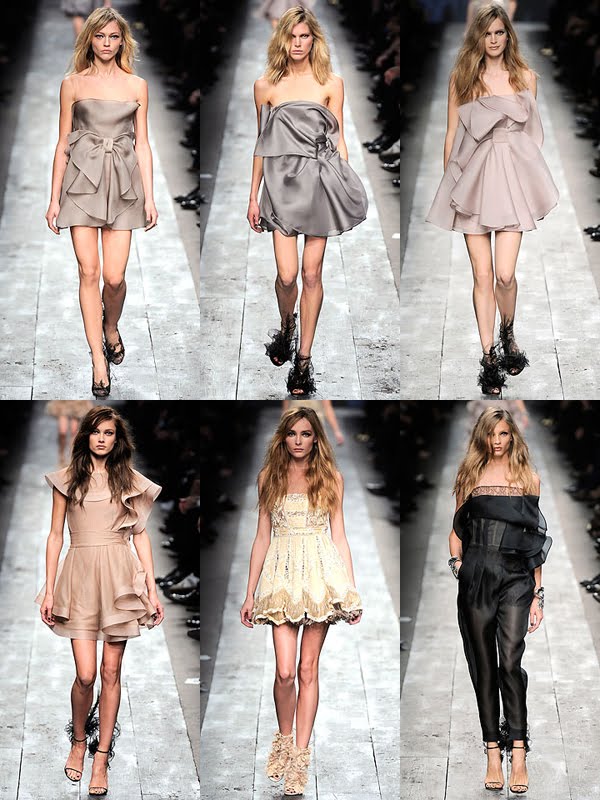 Todd Lynn
Awesomestzz shouler pads, 'nuff said.
Sophia Kokosalaki
I can never resist beautiful leather dresses. The shoes on the right look pretty interesting too.
Rick Owens
Rick Owens never fail to create media sensation with his collections. His signature architectural jackets and asymmetrical drapings are very much identifiable, maybe a little too much that I'm not seeing anything new from him.
Proenza Schouler
Another fantastic duo who constantly experiements. While I'm not a big fan of the clothes, Proenza Schouler ALWAYS makes droolable footcandies, and this time it's no different.
Phi
I'm not seeing anything groundbreaking from Phi, but I do love the rock chic vibe that is going on, plus combat shoes would never go wrong in my books.
Neil Barrett
Love love love the structured suits and coats.
Maison Martin Margiela
Hmm… where do I even begin with Margiela? I have always respected the elusive meister, but word goes that he has left the house. Looking at the collection this time I'm not surprised if the news is true. For one, it is not very consistent. I'm sensing a lot of gothic influences and yet there are happy hawaiian prints emerging out of nowhere. While there are many interesting pieces to covet, I'm not too impressed with the overtly slouchy boots AND the aforementioned hawaiian prints.
Marchesa
Pretty dresses for red carpet events.
Malandrino
I love how the styling inspires me to get myself a maxi dress and pair it up with oxford shoes.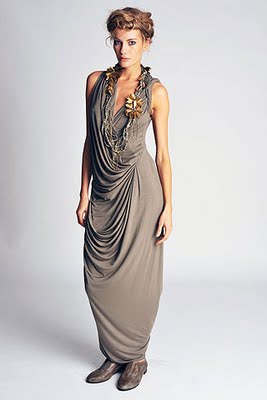 Loewe
I'm a huge fan of leather but somehow I'm not quite acquinted with this house of leather. The latest collection will not make much difference to me BUT I do love these two looks, especially the brown suede dress.
Lanvin
Albert Elbaz has always been a genius with draping, but like many other designers he's falling back to his tried-and-tested formula. With that said it is still a very gorgeous collection.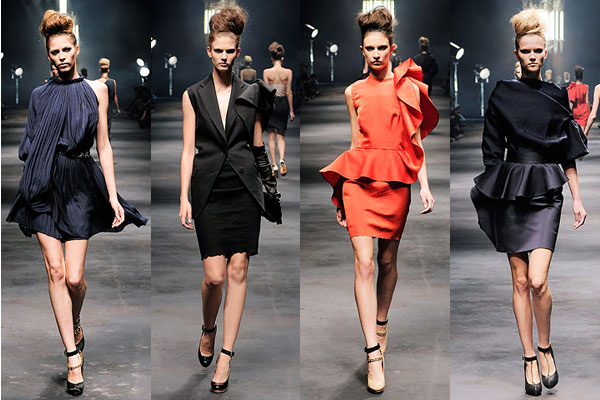 Karl Lagerfeld
To be honest I was never a fan of Karl Lagerfeld. I personally think that he's butchering Chanel because he can't seem to create good outifts except for himself. And perhaps this is why this time round I think he's doing a damn good job with his house. I can see his own outfits in this collection, the high collars, tuxedos, ties, all of them just scream Lagerfeld.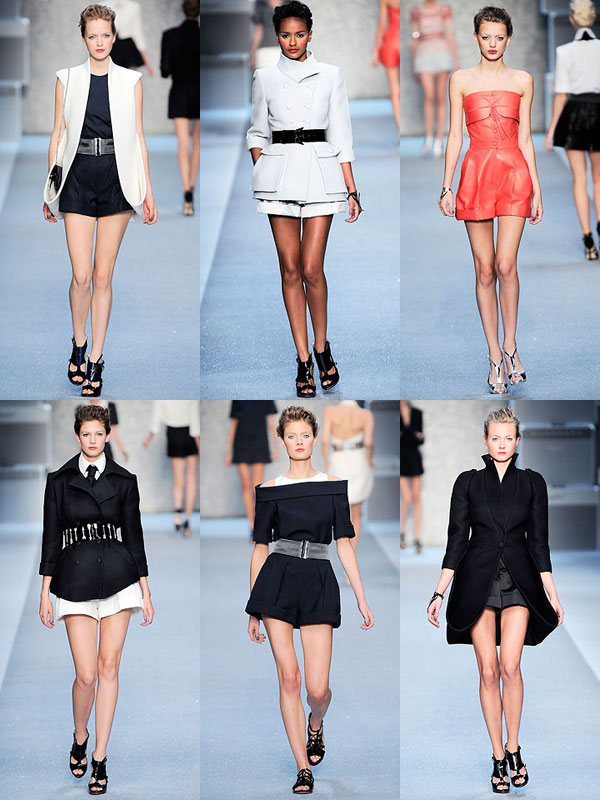 Junya Watanabe
Suits, suits and more suits!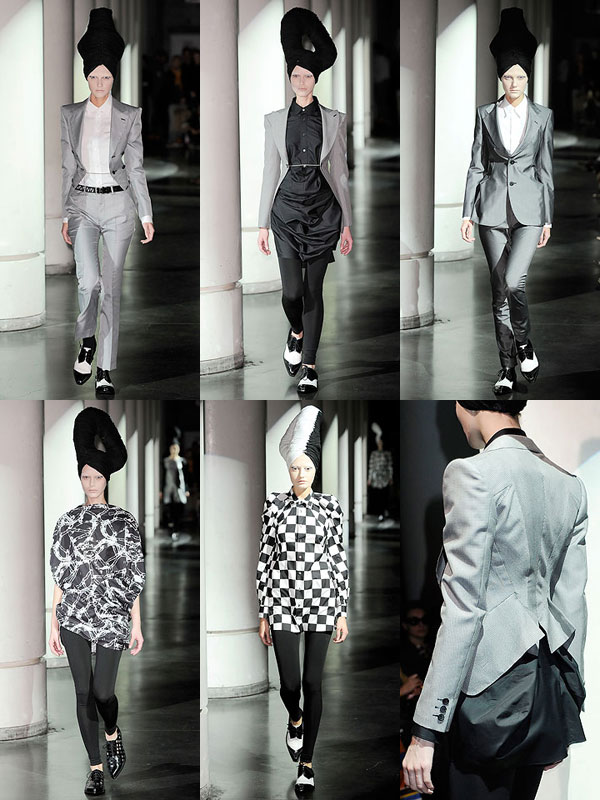 Haider Ackermann
Haider Ackermann has always been one of my favourite designers. Hailing from Belgium, his designs bear similar influences to the other legendary Antwerpen designers such as Ann Demeulemeester with the minimalistic colour approach of Raf Simmons. He's also a master in draping like Rick Owens, if not better on some occasions, but it's too bad he's always been under the radar. His spring collection is no different. I'm still in love with his long skirts and dark, layered looks.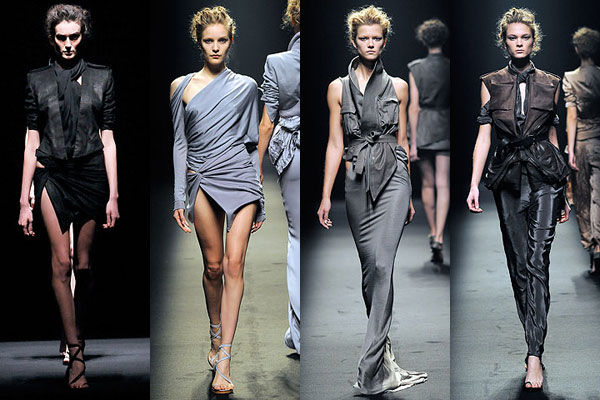 Givenchy
Givenchy's prints are quite gorgeous, I must admit. The shoes are highly wearable and versatile too.
Gary Graham
I love how the pieces exude old English charms and how ethereal the last dress looks.
Gareth Pugh
Gareth Pugh is maintaining what he does best, greyscale colour palette and almost androgynous, structured pieces.
Elise Øverland
It seems like designers are moving to leather dresses instead of just pants now, which is a good thing in my books.
Dolce & Gabbana
Looking at the looks below it is safe to conclude that heavy Spanish influence dominates Dolce & Gabbana's collection, and they are looking pretty awesome to me. It helps that they have got the different cuts of tuxedos, as well as amazing lingerie-inspired bodycon dresses. Loving the floral prints as well.
D&G
This collection reminds me of Anna Sui's western collection some years back, sans the men's suits. I'm not complaining since the looks are beautifully stylised, definitely inspirational but not worth buying IMHO.
Celine
With Phoebe Philo's move from Chloe to Celine, the latter's brand position should move up a few rungs. I would wear all of these clothes when I'm thirty and successful (and much much wealthier, therefore able to afford the clothes, I hope).
Burberry Prorsum
It's all about twists and knots over at Burberry. I can see Christopher Bailey trying very hard to make the house a cool brand for the young and hip, what with the short, bodycon dresses and sky-high platforms.
Bruno Pieters
I would wear every single piece in this collection if I have the money to buy them. Long live Belgian designers and their superb draping skills.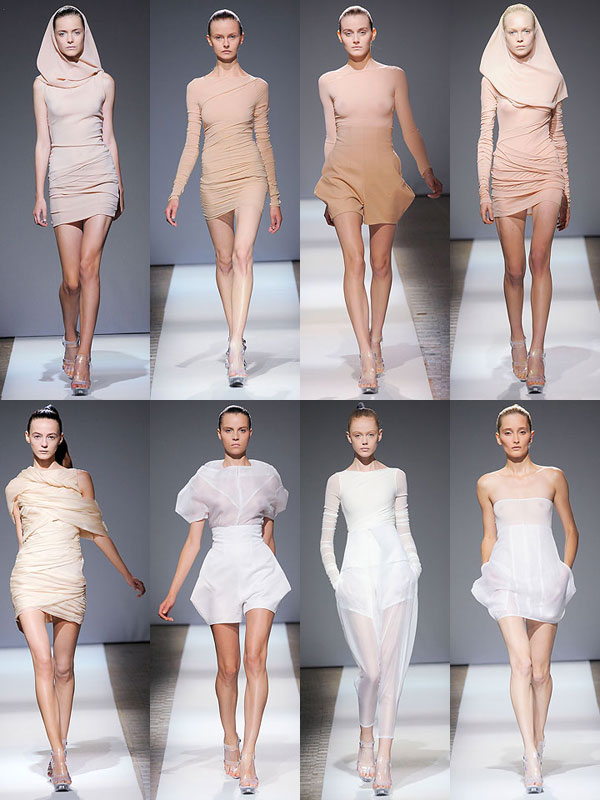 Aquilano Rimondi
Move over Lanvin, cocktail dress has a new designer, and his name is Aquilano Rimondi. If I were Albert Elbaz I wouldn't be so comfortable on my draping throne after seeing these dresses, especially when compared to his not-so-remarkable collection this time round.
Alexander Mcqueen
Ahh… The show that everyone has been talking about. Yes, I saved the best for the last. I fell head over heels as soon as I saw the first dress, and each one that comes after that. I love the dress at the lower right hand corner so much that I vow to save up for it and snap it up as soon as it goes on sale.
As for the shoes, I hope Mcqueen will create the wearable versions. They are unfuckingbelievable.