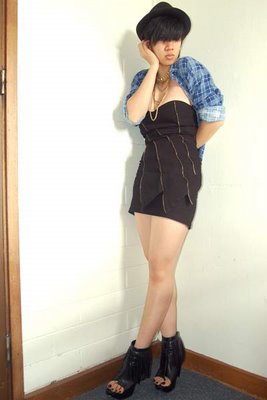 First of all, I so need a haircut. Second, yes I just bought those Forever 21 shoes that look like A. Wang's. Considering they were already sold out before I can even begin saving up for them, I guess this is the next best option. I doubt A. Wang would feel any pinch since he's sold his own stocks in the first place.
So anyway, I bought this black dress from Miss Selfridge. Despite the fact that I have a hard time squeezing into it, the dress will slip off eventually. I don't seem to have much luck with strapless dresses. So no, I never step out without an outwear in it. Not to mention that the weather is freezing these days and I'm averse to cold since I lose my body heat easily.
On a totally unrelated note, Eskimo Joe's new song Foreign Land is amazing!